Cocktail Hour
Three parties; three different themes; three signature cocktails. Not to mention nineteen must-try recipes by local celeb chef Casey Riley. Cheers to the New Year!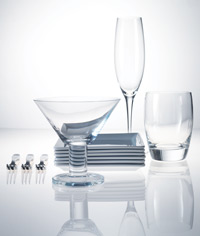 Deck the halls. Dress the table. Break out the bubbly. To celebrate the holidays and toast the New Year, we decided to throw a party—three parties, actually, with three very distinct themes: Metropolitan, Traditional and Retro. The basic formula is the same for each: a half dozen or so hors d'oeuvres paired with one signature cocktail. Our chef is Casey Riley, Newport Restaurant Group's culinary arts director, and for cocktails we turned to Evan Larson, Waterman Grille's resident mixologist. Choose the soiree that best suits your style. Now go ahead, make merry.
Styling by Angel Tucker
The Metropolitan For this gathering, we envisioned our guests raising a glass at a refurbished Downcity loft—sleek, sophisticated and unquestionably urban—with a modern yet approachable menu to match.
The Traditional Newport, navy blue blazers and pearls acted as our muse for this party. The result? Caviar, beef tenderloin and lobster. And, of course, Champagne
The Retro Comfort foods are back—in a big way. And they're better than ever.

The Shopping List Here's a cheat sheet of top-notch gourmet stores that carry all the specialty ingredients Casey Riley's recipes call for—and more.