Brown University Has a New Anesthesiology Residency Program
The program is graduating its first cohort of residents.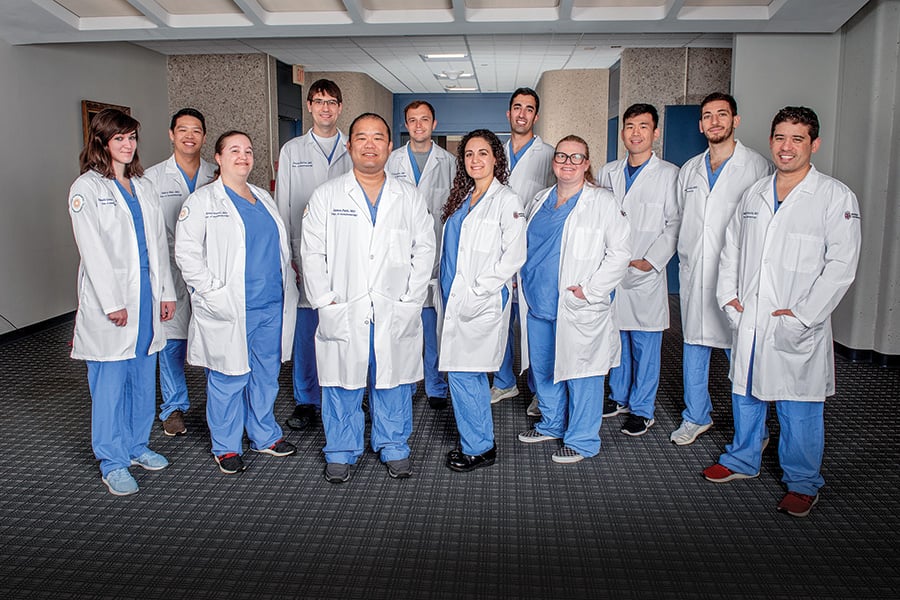 Like TV's "Grey's Anatomy," the trauma that residents in the Brown University Anesthesiology Residency Program see is just as dramatic, from a medical training standpoint anyway.
The first cohort of twelve anesthesia residents has nearly completed the four years of required training after finishing medical school, which included a first-year internship at Brown or another medical facility, and they are on track to graduate in June. There are two other classes of anesthesia residents, and a new class will begin the program in July after the first one graduates. Two residents, Dr. Lauren Traill and Dr. Taif Mukhdomi, were elected by their peers and faculty to be chief anesthesiology residents to lead the whole group of thirty-six residents.
Dr. Christopher Malgieri is the vice chair of education for the program and he explains that this is the first official anesthesiology residency program of its kind in the state's history, though more informal anesthesia training existed in the 1970s. In past years, they trained residents from other programs, but now they dedicate all educational resources to the residents at Brown. "In general terms, it's an apprenticeship. There are a few years you spend after medical school where you home in on your craft," Malgieri says. "The general rule of thumb is the same as the aviation industry, in that you need 10,000 hours to become an expert, and we now have our own residency program where we do all 10,000 hours here.
"We're a one-stop shop now at Brown Anesthesia," he adds.
When the COVID-19 surge hit more than a year ago, the group was on the frontlines, placing lifesaving breathing tubes for the sickest patients, as well as contributing their talents to the management of patients in the ICUs. "I was in the ICU when COVID hit the first time," says Mukhdomi. "We're airway experts and we are there to help support everyone else by securing airways and making sure everyone is safe."
The residents bond over the years of training. "There are twelve people who are going through the same thing and you always have that group of people you can talk to and relate to about different things," Traill says, adding that they've organized group activities like karaoke nights, outdoor restaurant visits and apple picking at a local orchard. "We have the unique opportunity that we only work from six or seven in the morning until four, most days of the week, and we have most weekends off, so we have a lot of time to get together and do things outside of the hospital."
By the end of the program, the residents are ready to go off to fellowships at hospitals around the country. Mukhdomi is headed to New York City for a fellowship at Cornell, while Traill will move to Chicago for a pediatric fellowship. But some choose to remain in Rhode Island and join the faculty at Brown. They also inspire the next generation of anesthesiologists.
"Our residents have been involved with Brown medical students, and I believe they had an uptick with residents going into anesthesia," Traill says. "They are able to see exactly what we do and what would be expected of them."
"Medical students love seeing motivated and talented residents," adds Malgieri. "That's what helps determine their career paths." brown.edu/academics/medical/anesthesiology/education/residency-program-0