Bristol Audubon Society Welcomes Seahorses and Endangered Turtles for Summer Exhibit
The Audubon Society's exciting summer exhibits boast local art and new species at their Nature Center and Aquarium.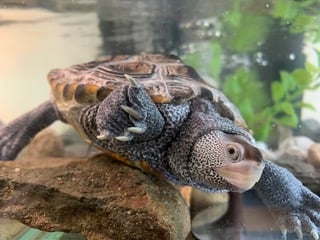 The Audubon Society's Bristol location truly is a hidden wonder. Bikers along the East Bay Bike Path might can race through the nature preserve, but observers make sure to take a break and explore the quarter mile long boardwalk along the bay to see if they can spot any osprey, green heron, red-tailed hawks, painted turtles and a variety of other local wildlife. Aside from amazing views of nature and wildlife along their nature trails, the Rhode Island Audubon Society has a lot in store for the exhibits on display at their Nature Center and Aquarium this summer.
Explore Native Wildlife
Did you know that seahorses can camouflage with their surroundings? You can examine it for yourself and learn more about them at the organization's current exhibit. Seahorses are not as exotic as they might seem. Instead of visiting a tropical reef to catch a glimpse of these unique sea creatures, you only need to travel as far as Bristol. Lined seahorses, from Fogland Beach in Tiverton, were found in seine nets by Roger Williams University students and brought to the Audubon Society for the public to learn more about them.
Two types of turtles, the diamondback terrapin and the eastern painted turtle, also call the Audubon Society their home and are paired together for comparison. The diamondback terrapin is endangered and is currently protected by the state of Rhode Island. They live in brackish waters in estuaries, which are a mix of salt and fresh water, making Narragansett Bay a perfect home. The eastern painted turtle is more common, and unlike its neighbor at the aquarium, they prefer fresh water and can be found in the ponds and lakes of Rhode Island.
Narragansett Bay's Natural History
The Nature Center and Aquarium is home to a sizable collection of marine fossils as well as unique shells, bones and skulls. While you can get a closer look at these relics with the introduction of the digital microscope, the whale skulls may be too big to examine. Check out the natural history exhibit which features giant humpback and minke whale skulls that washed up on Rhode Island shores. Believe it or not, the state's waters are home to many types of whales. In addition to the humpback and minke, North Atlantic right whales are common in Rhode Island, and, unfortunately, they are one of the most endangered types of whales. The Audubon Society can help you learn more about these marine mammals and how we can protect them.
Other Notable Things to Explore
David M. Bird, photographer and toy designer from South Kingstown, has recently been featured in the February 2022 feature of People Magazine for his unique visual art. Bird uses natural materials, such as acorns and sticks, to craft creatures, which he calls "becorns." Bird puts his creations out in nature to be photographed with real animals. His work is being displayed at the aquarium through July 2 to exhibit his unique work and its immersion into nature.
The Palmieri Pollinator Garden is blooming with the gorgeous summer weather. With native flowering plants and trees, a small pond and herb garden, the space provides food, shelter, water and a habitat for a diverse population of pollinators and wildlife. The garden is so inviting to the local wildlife that they have created an insect hotel, called Buggingham Palace, full of holes, cavities and tunnels that bees and other pollinators and insects can use for nesting and shelter year-round for protection in the colder months.
Aside from the nature exhibits, the Audubon Society offers summer nature programs that allow people to get an even more immersive, hands-on experience in the nature refuge. These programs explore a variety of topics, such as edible plants, identifying mushrooms, learn about birding and much more.
The Audubon Nature Center and Aquarium has summer hours Monday through Sunday from 9:30 a.m. to 4:30 p.m.
1401 Hope St., Bristol, 949-5454, asri.org