Black Girls Do Bike Hits the Road in Rhode Island
The state's first chapter promotes biking by women and girls of color.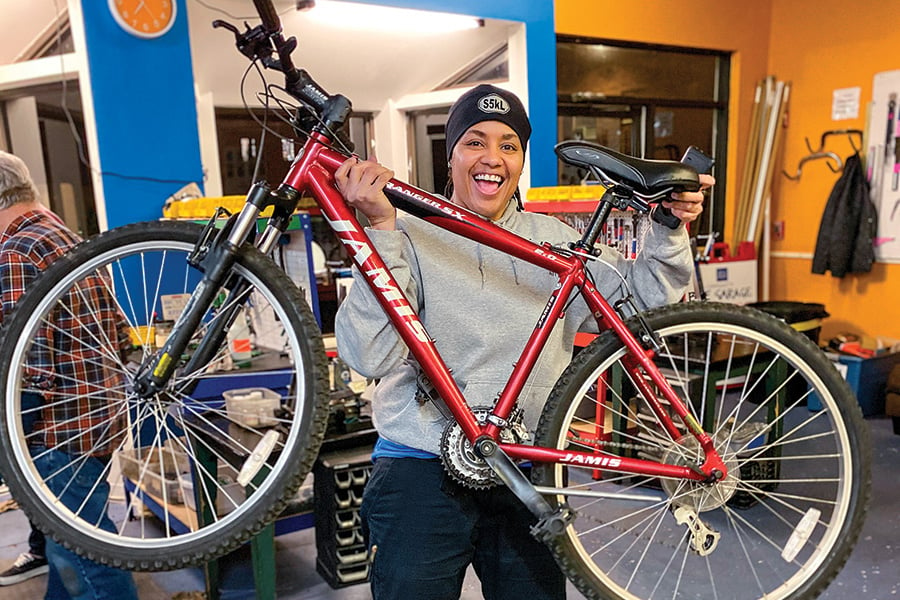 While bicycling around her native Newport, Allyson McCalla noticed something: She rarely saw anyone who looked like her on a bike. So she's set out to change that.
Attending a national bike summit in her role as director of community relations and administration at Bike Newport, a bicycle advocacy organization that promotes bike safety and accessibility, McCalla saw a presentation by Monica Garrison, the founder of Black Girls Do Bike (BGDB), and knew immediately Rhode Island deserved a chapter.
"I just feel like women of color are underrepresented on bicycles. So what better way to represent us than get a group of us out there so other women can see us riding and join?" BGDB's interest is growing a community of women and girls of color, and their supporters, who share a passion for bicycling at any level.
McCalla says there are myriad reasons women might feel uncomfortable or intimidated on a bike, ranging from lack of confidence, not knowing how to ride and fear regarding personal safety. They also may not feel physically fit enough to start, have body image issues and, often, simply not have a bike or equipment. "You see people strapped up in their bike gear — they have their helmets, their biking shoes, their biking shorts, their biking shirt —and it's like, 'I don't have any of that so I can't get on a bike,'" says McCalla. "Well, that's not what it's about. It's about the joy of it — the experience of getting to where you want to get to with a bike."
Since launching the chapter last fall, BGBD Newport has attracted interest from across the state and hosted its inaugural ride to align with Martin Luther King Jr. Day. Nearly 300 people belong to the chapter's Facebook group and additional rides on the East Bay Bike Path, Blackstone River Bikeway and other areas in Rhode Island are in the works.
McCalla envisions individuals or other community organizations creating BGBD chapters in Rhode Island, where together, they can join forces to ride, inspire, encourage and empower. "It's fun to ride with people, meet new people and have conversations. That's a great piece of it: encouraging physical health as well as mental health," says McCalla. "Newport is the first and hopefully the first of many."
Like Bike Newport itself, BGDB invites riders of all skill levels to discover, or rediscover, the joy of bicycling. "Although Black Girls Do Bike addresses women of color, we welcome all women who want to get back on their bikes, have never been on a bike or aren't feeling especially confident about it, so there's just a lot of being with other people like yourself no matter how often you ride or who you ride with," says Bari Freeman, Bike Newport's executive director. "Anybody should be able to bike. It's freeing." bikenewportri.org/black-girls-do-bike-newport