Bellini is Imbued with Female Energy
With its 1940s downtown glamour, Bellini is the trendy new place to see and be seen, with a vibe and menu to match.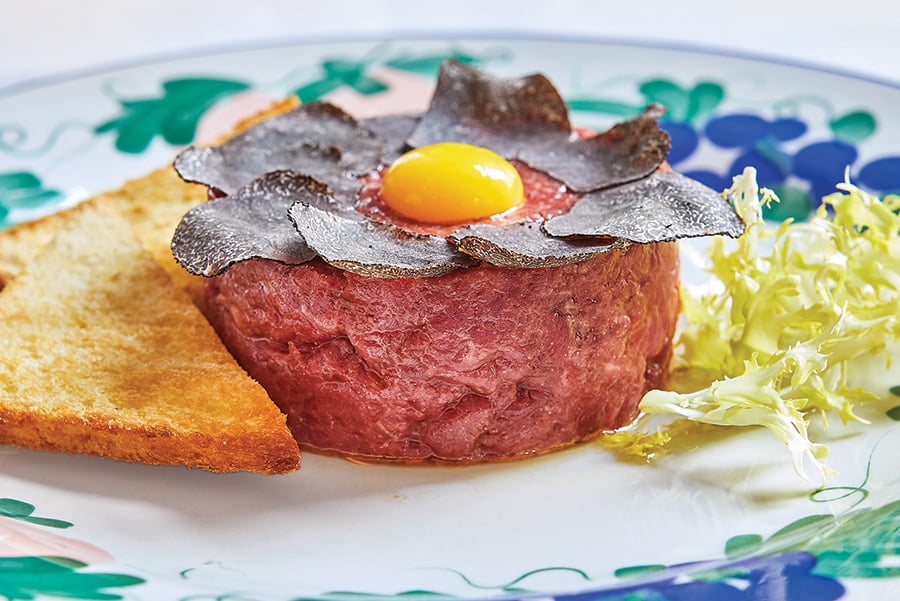 From the night Bellini opened its doors, its eager crowd settled into their seats like Al Hirschfeld's "Algonquin Round Table." On any given evening, the most recognizable figures in Providence congregate in the restaurant: the newly appointed United States Secretary of Commerce, local real estate magnates and their lawyers, equity officers breaking bread and, at the center of it all, Joe Paolino Jr. holding court and offering embraces. It's a social networking hub, dressed in mid-century decor that doesn't hearken back as much as put you smackdab in the middle of Betty Draper's big night out. Everyone is buying everyone a round of drinks and if you don't find a worthy recipient in fifteen minutes flat, hang around long enough and everyone will become a close friend.
The backdrop to all this schmoozing is a subdued palate — cream colored upholstery with hints of pink — but everything is dominated by wood walls and tables so heavily shellacked that they gleam like polished marble. Appearance is everything here: in the space, on the plate and to the staff who parade out in white jackets and black bowties or — in the case of management — slink gracefully around the dining room in Italian suits fitted to their slim frames and pegged several inches above the ankle.
But the aesthetic perimeter reaches outside the doors of the restaurant, which is housed inside Paolino's Beatrice hotel.
A homage to his mother, who smiles broadly from a mosaic portrait in the lobby, the entire project is imbued with female energy. Decor may be subdued and sleek but the accessories are central: Intricate crystal chandeliers, gilded side tables and jewel-toned velvet seats assert that opulence is best served in small doses. And it's clear that the Cipriani-owned Bellini agrees. Known for its 1940s namesake cocktail, the restaurant bottles its own peach puree and the pink-hued juice adds a splash of vibrancy to what is otherwise a deeply traditional menu.
Juxtaposed with highly polished surfaces, the rustic dinner plates assert the presence of an Italian mother intent on gathering family around the table. The frothy fruit cocktails eventually give way to bottles (and bottles) of Chianti, and while there are highly composed dishes, pasta is still the essence of this maternal love letter. Housemade pappardelle in creamy tomato sauce ($21) couldn't be any simpler and it still might be the best dish on the menu, a delicate but full-throated ode to the countryside. In fact, every pasta dish is worth fawning over and when they arrive — usually as the primo — each small city of people, at each minute metropolis, goes silent for the time it takes to finish a plate of cacio e pepe ($21) or lasagna Bolognese ($26).
As soon as you grow accustomed to Bellini's bucolic side, however, it swivels back to a more urbane approach. Crudo tastings ($24) are artfully presented in minimalist form with little more than salt and worthy olive oil. The "dressed lobster" ($30) is even more austere: one small claw with a great deal of tomato-tinged mayonnaise. But the steak tartar ($21) is like a New Year's Eve ball drop: dressed to the nines and submerged in more black truffle than a French forest. (Joyous mystery: Food is expensive at Bellini but whoever is in charge of the truffles distributes them with abandon. Tagliardi with "Tartufo Nero di Norcia" may be a $28 plate of pasta but it's also a week's worth of mushrooms and its scent hangs redolent in the air like perfume.)
Meat and seafood entrees are modest in portion but, as with the diners, presented gracefully. Salmon is served on a lush pea puree with white asparagus ($28) — a Lilly Pulitzer composition on a plate — while sea bass sits alongside perfectly pared artichokes with a sprinkling of capers ($39). These larger plates are demure in nature and, if they do not elicit the passion of a plate of pasta, they evoke an Italy that is more Audrey Hepburn than Sophia Loren. Female diners counter the culinary countenance with an amalgam of Chanel tweed suits, snug suede leggings, enough jewelry to mimic the chandeliers. Decorative effect in this restaurant — just like the NYC and Coconut Grove outposts — is not embellishment; it's an integral part of the experience to both be and see beauty in all corners of the room. If it were forty years ago, you'd expect to catch someone holding out a cigarette holder for a light in the middle of the dining room. These days? Another Mr. C cocktail, compliments of a different Cipriani endeavor out in Beverly Hills.
If dessert ($14) takes a detour back to something more unassuming, it's only because sugar doesn't need to be dressed up to make its mark. Wedges of tiramisu and orbs of chocolate mousse come out like cake at a kid's party: covered in cream and promise. (There's also a vanilla Bellini cake that wears meringue like a crown, towering with youthful glee, though there aren't any kids in sight — and not one delighted customer seems inclined to bring one the next time around.) Panna cotta with fruit may be the most mature of all the offerings but it's a bowl of pistachio gelato that woos its way into the limelight with simplicity. It adheres to Bellini's central tenet: the classics never fall from grace and every historic city has something worth celebrating. In fact, that's the mantra that clearly led to this marriage between hotel and restaurant and that is fully manifest in the slender architectural space between the two: Beatrice's lobby sits adjacent to the (former) exterior wall of the 1887 Exchange Building, which holds the restaurant, and within the high-rise that envelops it. One foot in tradition, the other in modernity? It's the Cipriani way, from the first Bellini to the final bite.
50 Westminster St., Providence, 331-4050, bellinirestaurant.com.
Open daily for lunch and dinner. Wheelchair accessible. Valet parking.
Cuisine Modern Italian.
Capacity A cool hundred.
Vibe Jackie Kennedy and Jackie O collide.
Prices Appetizers and shared plates $16–$30; pastas $21–28; entrees $26–$41; dessert $14.
Karen's picks Steak tartar, any kind of pasta, roasted fish. Take note: Eating should commence only after cocktail hour.