At Yagi Noodles, Reach Nirvana in Squash Blossom Rangoons and Ramen
The Zen eatery in Newport is half Japanese noodle bar, half surf shop.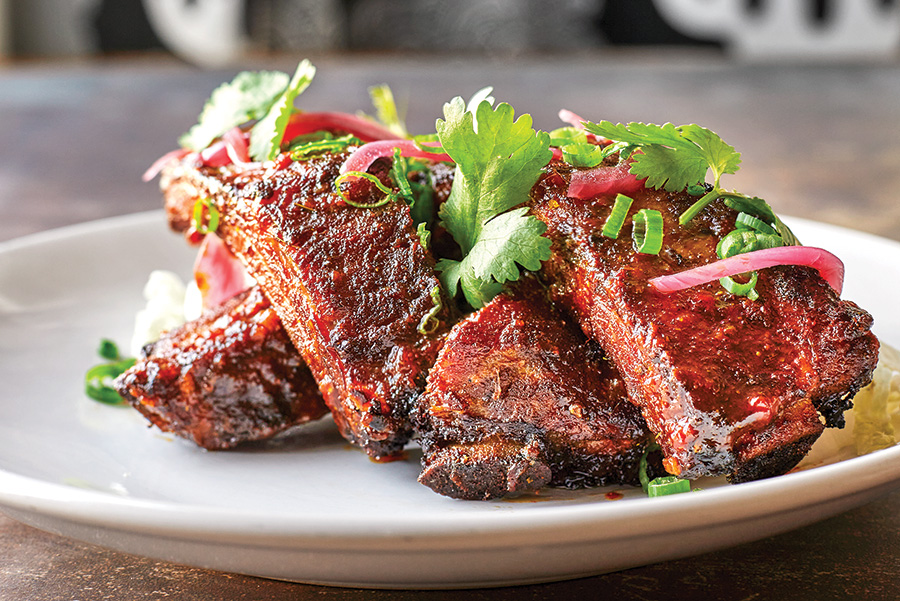 agi comes at comfort in a whole different way. Half Japanese noodle bar, half surf shop, this Zen eatery believes nirvana is a nightly endeavor attained through dinner. Outfitted in planks of wood, the space is punctuated with lush green plants and an AstroTurf wall that reminds you in neon lights to "get your nood on." Servers in Hawaiian shirts speak as passionately about broth as they do about booze, persuading diners into ordering the dish they overlooked.
It's an "all are welcome" vibe that is as evident in the aesthetics — Pride flags overhead and plush pillows lining the banquette — as it is in the menu. Most cocktails are sake-based and all are a fine-tuned balance between vibrant fruit juices and dry rice wine. Likewise, the menu is seasonally dependent and hits the slim sweet spot between Japanese delicacy and American audacity. Piles of french fries are served with gochujang ketchup, kewpie mayo and shredded char siu pork ($8); baby back ribs are slow-roasted with lemongrass ($12); tomatoes are tossed with nori and shiso ($12). Squash blossoms stuffed with Rangoon filling ($4 each) are the sleeper dish, though: Fried in glassine tempura batter and served with chili sauce, they're an artful update that only gains in translation.
There are also plenty of riffs when it comes to ramen ($16–$18). Broths are classic — spicy miso, rich pork, mushroom dashi — but the bowls are accentuated with seasonal corn, sugar pie pumpkins and local lobster. If the taste is traditional, the texture is just innovative enough to appeal to a crowd that ranges from college students to parents toting toddlers. And though a steaming bowl of simmered stock filled with fried onions and kimchee may prove challenging to those just learning to use chopsticks, Yagi's array of steamed buns easily speaks to the primary school crowd. They're also the most alluring bar food in Newport. There are old school versions — tempura cauliflower and spice fried chicken — but sake is the perfect partner for the cold lobster roll ($8) or a one-time special like the fried halibut with guacamole, mango and jalapeño. They may be four bites big, but they redefine the New England fish sandwich, euphorically.
Bar dwellers will leave it at that; maybe they'll work their way through a compelling bottles list that includes rice lagers, cranberry ciders and some downright gnarly sours. But desserts are unexpectedly artistic at Yagi. Blackout cake with Vietnamese coffee cream is a Hostess lover's dream ($13) but the yuzu semifreddo ($12), served on a disc of shortbread with candied ginger, caramelized nuts and a pool of lime caramel, is a superb international ice cream sandwich. It may be a bit of a surprise to find such a pacifying hearth — in a Japanese restaurant down in Newport — but it has all the markers of home-cooking, as well as all the rewards of travel.
580 Thames St., Newport, 324-5669, yaginoodles.com.
Open Tues.–Sat. for dinner. Limited lot parking.
Must get Squash blossom rangoons, steamed buns, ramen.