At Res American Bistro, Fine Dining is a Celebration
With every order of Carnival Row ice cream and teriyaki bacon, this new eatery breathes life into a beloved Downcity space.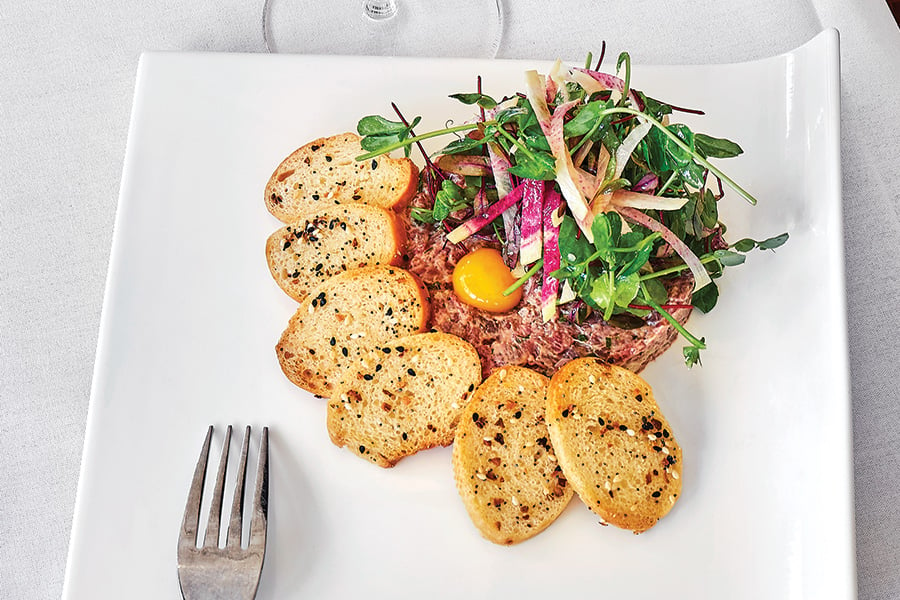 The first hurdle in taking over a restaurant space is deciding what to do with the decor. Bravo Brasserie was an early casualty of the pandemic, but when Evan Mathew, Stephen White and Ryan Whitecotton claimed the corner bistro, they decided remodeling was not going to be the foundation of their new venture, Res. The downstairs looks much the same: an expansive marble-like bar, smoky mirrors and a nouveau aesthetic that situates diners in early twentieth century Paris. But the upstairs — which was previously private-room only — has been filled with lush plants and loveseats overlooking Trinity Rep's ornate Lederer Theater. It's not the design of the room, however, that alters the space as much as the perspective. If the bar is romantic and introverted, this elevated vantage point is expansive and grand — and that is the key to Res's culinary identity.
The menu remains bistro-oriented in that ingredients are familiar and evocative to an American crowd. But they've also been inverted, exaggerated and reimagined in a way that makes even a well-known dish something entirely unpredictable. After a year of relative isolation, Res promises something celebratory, and sitting down to eat is a bit like opening a box filled with flying confetti. The kitchen subscribes to the Alfred Portale school of plating: towering, architectural pillars of food that shock apathetic diners to attention and enthusiastic ones to glee.
Cocktails are the preamble to a study in showmanship, parading out in extravagant hues tinged with beet juice or curaçao and hopped up with mole bitters and muddled jalapeños. And often they're enough to keep couples occupied as they sit side by side and gaze over the city, just stirring from its long slumber. Diners are as varied as the drink menu because a good time has no demographic. Though there are plenty of people on dates, groups are common, some in leather pants, others in pandemic joggers and the occasional trio in vintage Adidas track suits. (Yes, 1986. The party starts here.) Music is also in on the revelry with Cardi B or Dua Lipa taunting you at regular intervals to hit the floor between courses — or to watch puzzled parents asking their college-aged kids who's singing.
The food, however, has little trouble grabbing the limelight. Portions are massive and piled skyward so that those yet to order can assess the goods as they're carried to other tables. "Wait, wait, wait," says one man, scanning the menu while staring urgently at a steak traveling through the dining room. "What is that? I want that." It's a menu that regularly toys with diners through either nostalgia or obsession. Beef is big at Res but so are the vegetables that people associate with their youth. "You know I live for fried green tomatoes, right?" asserts a woman to her husband as her stacked caprese salad ($13) is placed in front of her, thick rounds of fried green tomatoes resting between mozzarella and ripe tomatoes like an Italian flag.
But few dishes capture the joyful kitsch of Res better than the bacon teriyaki ($14), which arrives in a 1970s style red foil bag, emblazoned with far-eastern images and stamped, "Delicious Chinese Food." People of a certain age will know the bag should hold cherry-red ribs that taste like smoked pork mixed with candy apples but, in this case, it contains a cache of thinly skewered bacon with that same retro glaze. That might be the end of kid-inspired options until you order the house burger ($20), which is napped in special sauce and served with a four-piece chicken nugget order on the side. (If the kitchen knows one thing, it's that Americans never tire of their youth.)
Almost all dishes default to a level of hedonism that seems not only acceptable but warranted in the wake of 2020. Steaks rest on a bed of potato croquettes, or topped with thick rounds of fried onions and doused in gorgonzola cream ($42–$45). Lobster is stuffed into a griddled hot dog bun ($24) drenched with salted butter and manifests a Kennedy compound summer in the middle of downtown Providence. Even an ahi tuna bowl ($35) — the healthiest entree on the menu — comes out like a Caribbean band, accentuated by slices of jalapeño, plantain and a pappadum crown. Only a chicken en croute ($28) falls victim to abject over-indulgence: It's a distilled Thanksgiving dinner that goes heavy on puff pastry and herbs and — even with a bright wine jus — it expends more than it invigorates. Better to lean toward the roast chicken ($32), which mimics the same meal with more élan.
But if Res dedicates all things to vintage celebration, it's certainly not going to forsake the fun of dessert. It's a platform that lends itself to flamboyance and every opportunity is taken to embrace theatrics. Blueberry basil ice cream is scooped into a cake-like pastry shell ($12) and framed with brown butter crumble and aged balsamic. It reads as aesthetically advanced but it tastes like a big old wedge of fruit pie from yesteryear. Each sweet dish plays this sentimental game: People reminisce over a pudding-like chocolate cake loaded with espresso and young lovers sip iced coffee and Grey Goose out of a goblet with two straws as if they've unwittingly landed at an adults-only soda fountain. But nothing plays this sport better than what they call Carnival Row ($12), popcorn ice cream covered in smashed Cracker Jacks and pink spun sugar, with a piping of elevated funnel cakes on the side.
If there's one thing driving our desperate return to normalcy, it's the collective memory of a time that was nothing more than fun. That may be a conjured recollection but it's a reality at Res, where a moody French bistro has metamorphosed into a raucous good time. Euphoric though it may be, these three young restaurant owners have kept control of an ambitious project — and proven that a party is only as good as the people who plan it. And if it comes with a bag of bacon, all the better.
123 Empire St., Providence, 272-3965, respvd.com.
Open Mon.–Sat. for dinner, Sun. for brunch. Wheelchair accessible. Street parking.
Cuisine America at its most confident.
Capacity 150
Vibe Bigger is better.
Prices Appetizers $12–$18; entrees $20–$45; dessert $12.
Karen's picks Teriyaki bacon, burgers, steaks, lobster rolls, dessert.