At Oz Tacos and Tequila, Take a Technicolor Trip Through Food and Drink
In this merry land of Oz, tucked in an unassuming strip mall in Lincoln, dining out is a fanciful experience.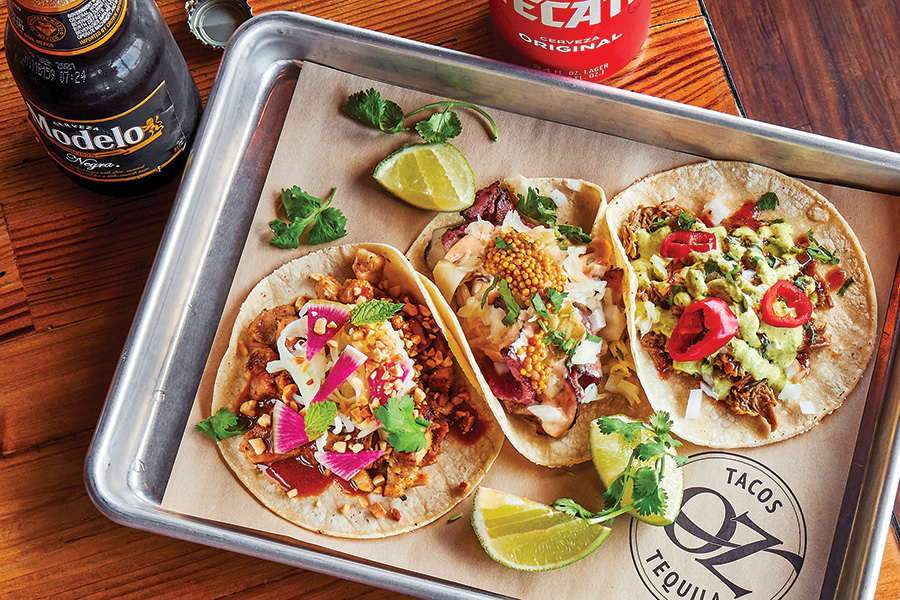 If the Elkhay brand means anything, it's a hyperbolic sense of reality. Why serve a simple burger when you can pair it with a liquored-up milkshake that's loaded with Mississippi mudpie, chocolate chip cookies and toasted marshmallows? Why serve a steak with mashed spuds when you can cram in more sticks of butter than actual potatoes? And, most recently, why offer street tacos when you can stuff tortillas with everything under the sun and do it at a tequila bar that's forty-plus varieties deep?
This is the Elkhay approach: Up the ante on everything and get buzzed doing it. Sometimes it's fine wine, other venues call for beer, but in the land of Oz Tacos, tequila rules in dramatic form. With so many options — some lit up in neon green like the manna of Emerald City — Oz prioritizes the party. The restaurant resides in an unremarkable strip mall but, inside, golden tiles climb up one wall, while another declares in red neon that "we're not in Mexico anymore." It would be possible to go the shots and straight- forward taco route — but not here. Drinks are poured over cotton candy or mixed with Chinese five spice because everything in Oz is doled out like goody bags at the neighborhood's best birthday party.
It's viable to drink your way through dinner, from blanco to resposado to mezcal, but everything on the menu can be downed in three bites and manages to be both bar food and a Happy Meal at the same time. That's just the nature of tacos. Oz, however, is also a decidedly international snack shop. Guacamole is laced with Asian sesame ($8) and empanadas ($6) are served Big Mac style: stuffed with meat and cheese and paired with pickles and special sauce. (If you've considered McDonald's the pinnacle of American fast food, think about what it would be if you started deep-frying the entire menu. That's the Oz outlook.)
But it's what goes into the corn tortillas that epitomizes the hybrid hedonism. Battered cod and braised chicken pibil are closest to authentic, punctuated with crunchy slaw and screaming for a Dos Equis. But all hail the mash-up because you can also stuff a Reuben taco — pastrami, swiss, sauerkraut, Russian dressing — into your face, knowing that only your Bubbi would approve. Beef bulgogi, bang-bang shrimp and chicken satay ($3.50–$4.50) all take turns riffing on traditional Mexican fare, entirely confident that divergence is the sincerest form of flattery.
If there's a way to categorize all — or any — of the Elkhay endeavors, it's to accept the American audacity to be anything to everyone. Why not pay homage to the Far East and to Latin America with a Vietnamese dos leches cake ($6)? Why not hypnotize an evening with mezcal, tamarind and poppy seeds? In Oz, all roads point to the promised land, one technicolor taco at a time.
200 Front St., Lincoln, 475-4017, oztacostequila.com.
Open Tues.–Sat. for lunch and dinner. Lot parking.
Must get Empanadas, tacos and tequila in any form.