At Newport's Stoneacre Garden, Fun is Making a Comeback
The spinoff restaurant offers breezy decor, outdoor seating and an Asian-inspired menu that sates.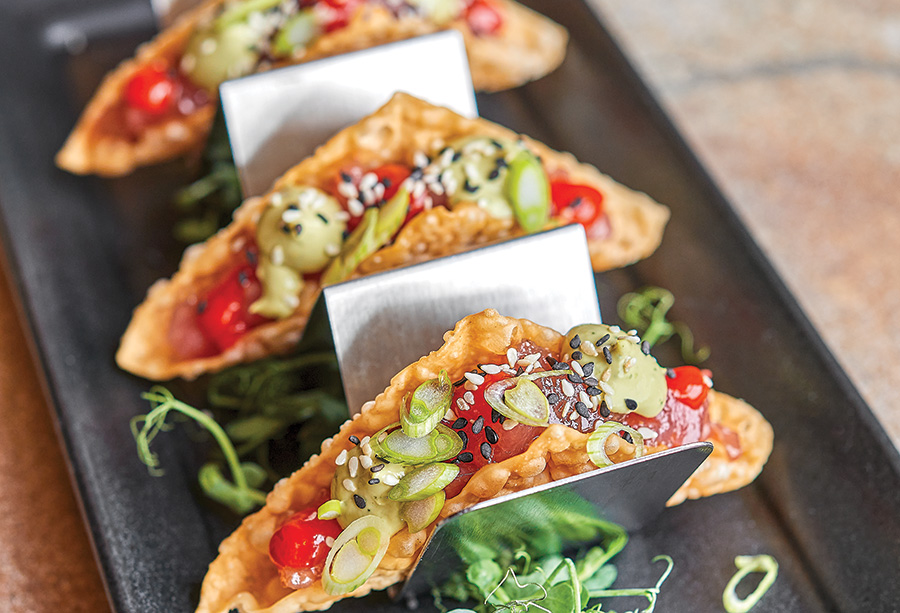 If Christopher Bender, David Crowell and Christine Bevilacqua know how to do one thing, it's fill a large space with intimacy. Like its sister restaurant, Stoneacre Bistro, Swinburne Row's Stoneacre Garden is a real estate sprawl in the center of Newport. But unlike the bistro — which is myopically focused on French-inspired food and design — this version bifurcates its own identity from its patrons' experience. Take the entrance, for example, which is flanked by a bright-bulbed carnival sign that proclaims FUN and a series of black and white images of circus life: women wrapped in elephant tusks or riding retro go-karts and people building human pyramids. This is the diner's side of the equation — a party waiting to happen, especially in the sunshine. Picnic tables flank the building, particularly in back where they've got their own bar, a second home for people who carouse under a canopy of twinkle lights late into high season.
This is a space for a crowd and, even in the presence of pandemic restrictions, it's built for revelry. Some of that is family-style — young kids scamper all over the expansive property — but most of it belongs to the bar, which hands out double old fashioneds full of over-the-top elation. Carrot juice, passionfruit, pressed beets, brown sugar and berries pool in glasses, adorned with dehydrated lime slices clipped to the salted rim with minute clothes pins. It's enough to entertain a group for hours without an ounce of regret, each drink an ornate gift of chemical romance. (Even the minors are in on the action, sipping muddled mocktails out of heavily decorated highballs and making toasts to their stuffed animals.)
Food, however, takes an altogether different approach and therein lies the restaurant's alter-ego. Rewind for a second, past the funhouse sign and through the front doors. Once you hit the hostess station, six strides in, the Stoneacre's garden comes into full play. Poolside lounge music seeps out of overhead speakers and, as your glance hits the botanical dining room, there's a pervasive moment of Zen that keeps the imminent party at bay for a moment of elusive calm. The moment is fleeting; house music picks up as soon as you hit the wooden center bar. The lush plants in massive pots and hanging from suspended trellises, however, still evoke an Eden, albeit one with a bass-heavy soundtrack. There's a lot to look at, in part because much of Stoneacre is geared toward distant views, whether it's out on the patio, street scenes through a couple of glass garage doors or a snapshot into another gastronomic perspective.
Most of the food draws from Asia and, with all this visual stimuli, it's a shock to learn that the food is as gratifying as the design. There are more small plates than large and you can eat your way through an evening in a style akin to dim-sum if the table is game. Several plates come in sets of three including raw ahi tuna tacos ($16), which sit in wonton wrapper shells, and a set of veggie stuffed bao buns ($12) that go down like an elevated plate of moo shu pancakes.
If you're lucky, the kitchen will be churning out paper-thin pork dumplings that come in a set of five and should be considered a single serving. Stoneacre leans toward Japanese cuisine and, subsequently, you can get a bento box of small plates but for anyone who passed through the 1970s, it's an updated and discerning pu-pu platter. (Some things should remain fixed in our culinary lexicon forever, for nostalgia or kitsch.)
Lobster is a perennial presence on the menu regardless of season because, hey, it's still Newport and New England has a reputation to uphold. Even if the ubiquitous summer salad rolls haven't yet hit the market, the kitchen turns out plates of Bang Bang lobster ($21), deep-fried chunks of tail meat in siracha aioli that a meandering native Rhode Islander insisted was an aspiration for calamari everywhere.
Larger plates tend to default to continental cuisine — a big old burger on brioche ($20) or a seared steak ($34) — but a variety of sauces, from yuzu to miso, render most dishes Asian, at least by association. Soba noodles with pulled chicken and peanuts ($16) could be read as mainstream but the kitchen has such proficiency with chili peppers, from Thai to Sichuan to jalapeno, that it plays out with authenticity. If there's a time for the restaurant to return to a more conventional approach, it's in the weekend brunch, which aligns with the Brasserie menu.
No matter. Sunday mornings are an American ritual and Newport is just as likely to demand its avocado toast and smoked salmon as any other city. It's the dinner menu that defines this sprawling garden and, if two days of bloody marys keep the vision intact, so be it.
No doubt restaurants have stepped up their takeout game this past year but Stoneacre is a reminder that space matters and that dining out is as much about the surroundings as it is about the food. Part circus, part Japanese orchard, Newport has never been more in need of a sprawling bar that incorporates society and escapism in one fell swoop — without the need for yachting attire.
Curfews may be earlier but this is a space where diners linger until last call, either by doubling down on a carrot juice-laced cognac or by destroying a upside down coconut custard pie nestled in a mason jar (a throwback to the original Stoneacre down on Thames Street, which gleefully wedged whipped desserts into glass jars). Even ever-changing desserts come out in artful arrays and, like the restaurant itself, are determined to meld cultures. Apple crisp is tinged with Sichuan peppercorns and a slim triangle of chocolate cake is topped with a quenelle of passionfruit cream and served on a thin coating of ganache. There are few things higher on bucket lists these days than a late night nowhere near Netflix, and it's certainly germinating here. High season is around the corner and it may be mere weeks before seasonal visitors hit the patio hard. For now, Stoneacre Garden has a path to enlightenment that's easily accessible.
151 Swinburne Row, Newport, 619-8400, stoneacrebrasserie.com/stoneacre-garden
Vibe: Zen garden with a buzz.
Must get: Drinks and a seat outside. Ahi tacos, pork dumplings, Bang Bang lobster, bao buns and market fish.