At Lost Valley Pizza and Brewery, the Food is as Irreverent (and Delicious) as the Beer
Sean Larkin's new venture is a welcome addition for pizza lovers and vegans alike.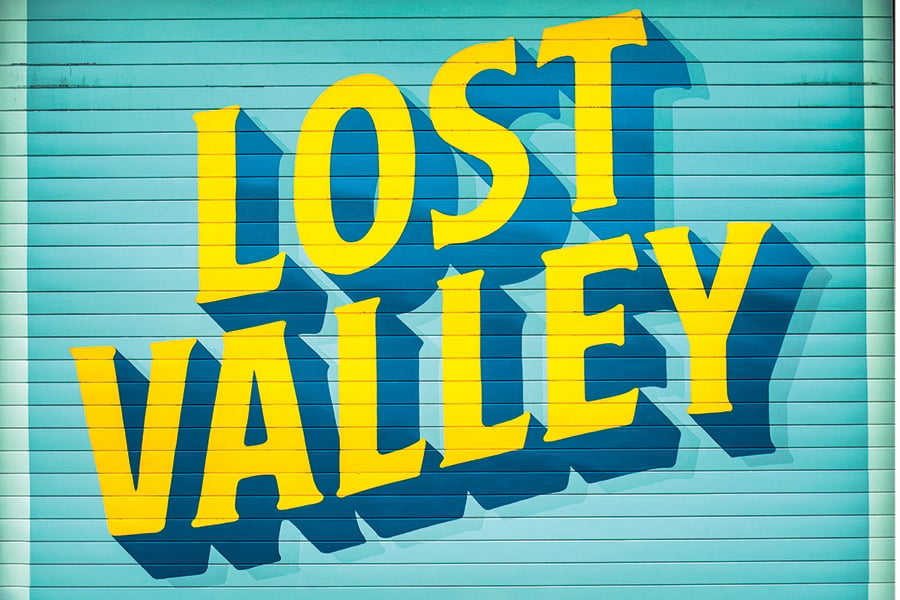 Sean Larkin has long sought a space irreverent enough to match his Revival beer. No wonder his latest outpost is a hyped-up garage over on Sims Avenue, in an enclave that features equally progressive neighbors including the Steel Yard, Industrious Spirit Company, Red Tomato ("righteous produce"), and a makeshift skate park that hosts twenty-year-olds in various degrees of laidback. The restaurant itself — if you can call it such — is a homage to your early evening beer with the sun still on your face, propped up in a lawn chair. Skateboards adorn the walls but it's the AstroTurf and patio furniture that set a mood that straddles mellow and insubordinate.
Lost Valley might read like a Diane Arbus photograph to newcomers, were it not for the brick pizza oven in the center of everything. Larkin transformed a century-old kiln into a pie maker and, as kitschy as that sounds, these people are serious about their pizza. Slightly charred, insistently delicate and irregularly shaped rounds are covered in everything from shrimp ceviche ($24) to kielbasa and potatoes ($22). But innovation alone is not going to get you fans. There are a lot of boxes heading out the door, which suggests the public thinks as much of Larkin's pizza as they do of his beer. Another piece of evidence: There are a surprising number of kids munching on warm crust as they sit next to their still-cool parents for a night of revelry. ("Awesome Legos," says a bald, tatted server to a first grader. "I've got a collection, too.") Make no mistake, Lost Valley is family-friendly and casual but that won't dissipate a good time. The soundtrack is as eclectic as the menu, moving quickly between house music, '80s rock and instrumental jazz. Stay long enough and you'll see the over-forty reps singing along to Ol' Dirty Bastard's "Shimmy Shimmy Ya" like it's their theme song.
Beer and pizza may be the simplest and best equation for any meal after noon but, again, this stretch of Providence is as mindful as it is industrial. Black Lives Matter signs sit proudly in every window and, if the kitchen is still using meat, it's also carved out legitimate airtime for vegans. Pizzas are as comfortable with seitan and cashew cheese as they are with pepperoni and provolone. There's also a surprisingly good vegan wiener (a roasted carrot with vegan meat sauce, onion and celery salt on a hot dog roll, $4), and a sushi plate ($10) that centers around compressed watermelon that looks and acts like tuna. ("That's my favorite dish on the menu," declares a badass behind the bar, inverting everything you thought possible.)
There are desserts as well, but most people — even those who came for food — will linger with a beer or any one of the canned seltzers or cocktails that make over-twenty-one fun. This isn't a place for messy drunks or indiscriminate drinkers. It's a lab for comparing pilsners and IPAs and for debating whether you'll get a Gary Busey (pineapple and spicy capicola) next time or a pie with crab Rangoon and chili paste. Lost Valley is convinced that peculiar is cool, as is everyone who walks through the garage door.
50 Sims Ave., Providence, 305-0473, lostvalleypizza.com.
Open Wed.–Sun. for lunch and dinner. Street parking.
Must get: Pizza, beer and — no joke — vegan food.