Artist Scott Lapham Talks One Gun Gone
The youth program uses art to elevate the gun violence dialogue.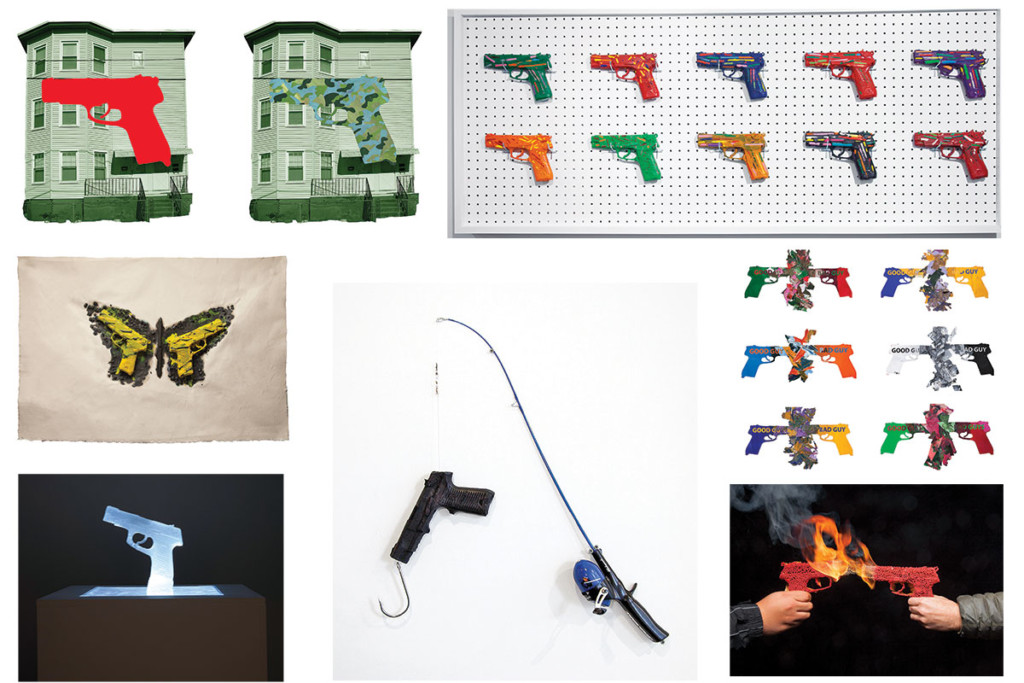 In 2015, artist Scott Lapham bought a Ruger semiautomatic for $400.
That one firearm has garnered more than twelve times the return for his nonprofit, One Gun Gone.
"Guns that become illegal can be sold and resold and resold," Lapham says from a pop-up gallery space in downtown Providence, colorful firearm art bedecking the walls. "By taking one gun off the street and making artwork, [the art] becomes more valuable than the gun itself."
Using a commissioned mold of the Ruger, Lapham's One Gun Gone members, a mix of teenagers and young adults from Providence and Pawtucket, created sculptures made from glass, and — now the project signature — from melted crayons.
"We use crayons to symbolize that children are learning about gun violence too early," Lapham says. Other variations include a pencil gun sculpture and a candle gun sculpture inspired by sidewalk shrines.
A teaching artist, Lapham also hosts One Gun Gone workshops in schools across the state. Students create art about gun violence and, after the fact, are given a crayon gun sculpture for their classroom.
"Gun violence does present itself differently in different communities," Lapham says. Students from suburban areas might use art to confront domestic violence or school shootings while those from urban areas contemplate street violence.
Those student projects, plus the gun sculptures and original works by local adult artists, are exhibited in two to three One Gun Gone gallery shows per year. And, after three and a half years, Lapham's raised $5,000 — through gallery sales and donations — toward a future gun buyback in collaboration with the city of Providence.
"We don't think of the gun buyback as an answer to the problem. We see it as a symbolic gesture. We love our community," Lapham says. "It is so easy to become numb to these things."
And that original Ruger? It's locked up in Lapham's house until, one day, he'll turn gun zero into art, too. onegungone.com