A Peek Behind the Potions: How Alana Monteiro Got the Gig in Hocus Pocus 2
The New Bedford native dishes out how she added Hocus Pocus 2 to her filmography.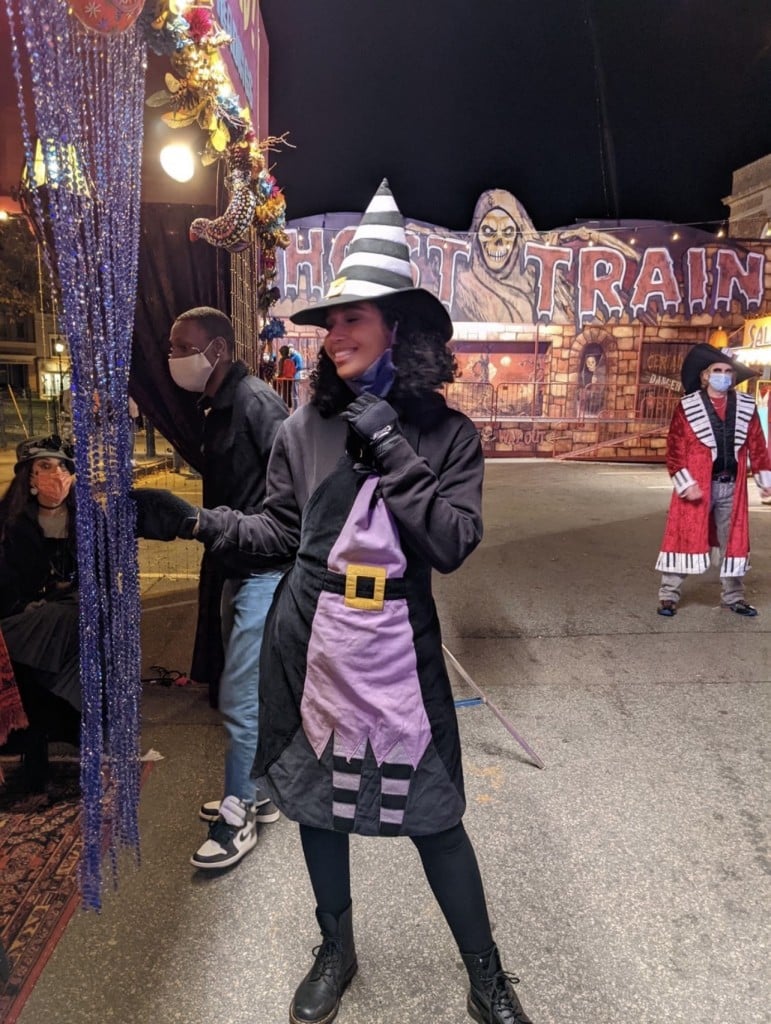 Alana Monteiro is no stranger to the big screen. She's been an extra in Someone Great (alongside Gina Rodriguez, DeWanda Wise and Brittany Snow) and Second Act (hello, Jennifer Lopez and Vanessa Hudgens!). This time, the New Bedford native decided to stay local and was casted as an extra in the Disney hit Hocus Pocus 2. (Bonus: You can catch a glimpse of her hat in the still image on the title screen on Disney Plus.) We sat down and chatted with the New York-based model and actress for the scoop on working with the Sanderson sisters.
Q: How did you get the gig?
We submitted our pictures, and they were very selective. It was all based on photos. Some didn't even get picked. I saw the posting online through a casting agency, and at the time, it said it was "now casting for Black Flame." Growing up watching it, I immediately reached out. I got an email back that I was selected and came home to New Bedford. We only filmed for a week — they did it really fast. We were in Newport for the festival scenes.
Q: Was it nice working so close to home?
It was beautiful. We had early call times, 3 a.m. and 4 a.m. It was only a thirty minute drive. I was so excited, especially when the witches came out. I wore my mom's Halloween costume from the '90s: the striped hat, the apron, the whole thing. My mom was more excited that her costume made it into the movie, she told all of her friends!
Q: What was your family's reaction?
They were going insane. We grew up watching Hocus Pocus and to this day, we still watch it.
Q: Did you recognize any other extras or cast on set?
No, but I met a lot of cool people. It was a really diverse cast: black actors, dancers, principals. That was huge, coming from the first movie with an all white cast. They mainly cast locals [for this movie.]
Q: Any crazy stories behind the scenes?
[Bette Midler, Sarah Jessica Parker and Kathy Najimy] didn't come out until it got dark for their scenes. The producer told me and this guy to be on scene with them. The witches came up, introduced themselves and even made conversation with us. Parker was like, "Thank you so much for coming here and being here, we're so grateful for you all." The sets were really cool, they made it actually look like Salem.
Q: What about the fans?
Everyone had to be behind the rope. It was super high security. People were camping out watching us film, there must have been hundreds of tents. Every time we would walk by, they would clap for us! There were even fan pages on Instagram posting behind-the-scenes clips.
Monteiro's journey doesn't end there. Catch her in the Whitney Houston movie, I Wanna Dance With Somebody releasing in December.