Air and Anchor Gives Back Through Bling
This locally-owned jewelry company gives back to nonprofits while providing beautiful pieces.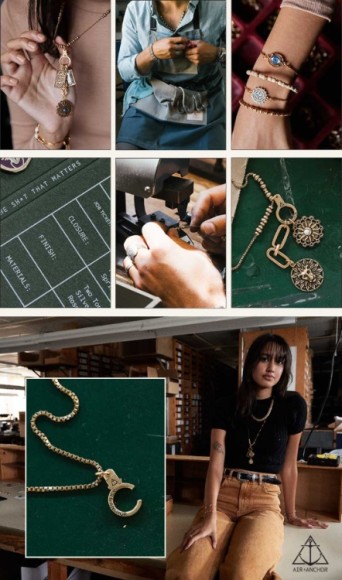 Air and Anchor jewelry hasn't been around for long, but they're already making plans to give back to the people of Rhode Island. Since opening two years ago now, the company has had the goal of connecting people to their community and the causes that need their help. And as of last year, the Give a Cuff program has done just that.  
About the Company
Air and Anchor was founded by the husband and wife duo Omar and Rachel Ajaj in April 2020. The two had never been far from the jewelry-making industry: both had worked for Alex and Ani prior to launching their company, and Rachel herself is a third-generation jewelry designer. All Air and Anchor jewelry is manufactured in their generational family-owned factory, originally founded by Rachel's grandfather, right here in Rhode Island. Air and Anchor prides itself on heritage, functionality and a vintage flare in all that they produce.
The company has already made a name for itself with plenty of unique designs, from the Cuff Keeper, to lock your charms in place, to their patented Push Button for adjusting the length of any necklace or bracelet. Air and Anchor has also made an effort to partner with local artisans and craftspeople to create lifestyle goods. But most recently, the jewelers launched Give a Cuff, their biggest charity initiative to date, to provide support not only for causes in Rhode Island, but globally as well.
Giving Back
By participating in Give a Cuff, customers are able to donate to several nonprofits partnered with Air and Anchor, while also receiving beautiful jewelry. There are three ways to support Give a Cuff: buy a single bracelet, a box set, or create your own custom cuff. By purchasing a single bracelet for $25 Air and Anchor will donate 68 percent to a cause they support. Participate in peer-to-peer fundraising by purchasing a set of boxed cuffs to sell individually. Boxes are sold in sets of twenty-five, fifty, seventy-five or 100 at $8 apiece. Set your own retail price and donate the proceeds directly to the organizations. For the more creatively inclined, create your own custom cuff for personal fundraising. Choose from twelve different color combinations, pick a charm and order a set to sell on your own. 
When it comes to donating proceeds, Air and Anchor has backed a variety of charities, organizations and projects to choose from. Some of the biggest include Blessings in a Backpack, Children's Glaucoma Foundation and Alex's Lemonade Stand, as well as Rhode Island-based nonprofits like the PeaceLove Foundation. Each cause has its own unique bracelet available for purchase through Give a Cuff to spread awareness. 
Air and Anchor believes that all people should have the opportunity to give back to their community in some way. Give a Cuff provides just that — a link between ordinary people and the causes that need their support most.