A to Z Guide to Food in Rhode Island
Eat your way through Rhode Island, from Allie's Donuts to zeppoles.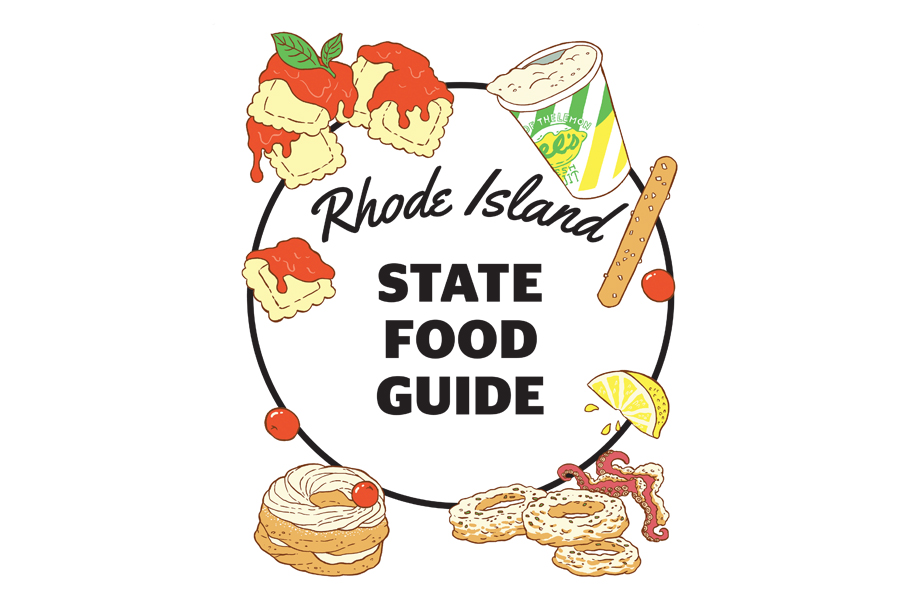 Allie's Donuts
Whether you want a chocolate-frosted or an old-fashioned glazed, Allie's keeps customers wrapped around the building for first-thing-in-the-morning indulgence. Making a pit stop at Allie's is always a family tradition. Whether it is scarfing one down on the way to the beach or opening the big white box to a doughnut cake on your birthday, Allie's never fails to put sprinkle-coated smiles on faces. "They were created as an alternative to a regular birthday cake by my father, Allie Briggs," says owner Anne Drescher. Think of any design imaginable — a bird, a plane or Superman — and Allie's has you covered. "We have a whole book of design templates that customers can flip through," says Drescher. You can't call yourself a true local until you blow out the candles on one of these celebratory confections.
3661 Quaker Ln., North Kingstown, 295-8036, facebook.com/alliesdonuts –Kerri Whelan

Awful Awful
We love the Awful Awful because the name of Rhode Island's favorite frozen treat is loud and proud and stakes its claim to the first letter of the alphabet. We love that its description lets us know, in no uncertain terms, that its magic combo of flavored syrup, milk and secret frozen ice milk mix is NOT a frappe or a cabinet or (puhleeze) a Fribble. We love how sipping one gives us a sweet chill on a hot summer afternoon. But most of all, we love the special Awful Awful offer: drink three and get the fourth free. We've always enjoyed a challenge.
Newport Creamery, various locations, newportcreamery.com –Sarah Francis

Burgers at Stanley's
Central Falls has seen its share of challenges over the years, but it has never been in want of a good burger. Stanley's Famous Hamburgers was opened with four stools at a counter in 1932 by the eponymous Stanley Kryla, with the mission of making a delicious affordable hamburger. It was a concept that caught on in the Depression and has continued as generations of Rhode Islanders have made their way to the Dexter Street outpost for a Stanleyburger. Although currently owned by Greg Raheb, today's Stanleyburgers are made according to Kryla's original recipe: the patties, along with a healthy portion of grilled onions, are smashed flat and served with sliced pickles for $1.99. In the 1950s, Stanley's moved to its current location, and over the years, the menu has expanded to include twenty varieties of the Stanleyburger as well as sandwiches, fries and seafood. While the original Stanleyburger is a compelling reason to visit, don't miss the Quebec-style fries, Stanley's take on gravy-doused poutine, subbing mozzarella for the traditional cheese curds, or a gullet-cooling coffee shake.
535 Dexter St., Central Falls, 726-9689, stanleyshamburgers.com –Jamie Samons

Buffet at Nordic Lodge
Who needs turkey? This is what Thanksgiving should really be like, a buffet fit for a king. All you can eat lobsters, Black Angus prime rib and filet mignon, jumbo shrimp, baked stuffed shrimp, fried scallops, scallops wrapped in bacon, local oysters, the list goes on. At $91 per adult and a two-hour time limit, choose more meat over veggies to get your money's (and your belly's worth).
178 E. Pasquiset Trl., Charlestown, 783-4515, nordiclodge.com –J.C.

Clam cakes & chowder
The clams shucked at Blount in Warren go into chowders for the nation's most reputable soup companies and restaurants. Though you have to wait until summer to dunk crisp clam cakes into chowder at the Crescent Park and Warren clam shacks, you can always get your fix at the year-round soup market and clam shack in Fall River, Massachusetts, and stock up on soup at Blount Market in Warren.
406 Water St., Warren, 245-1800, blountretail.com –J.C.

Calamari
Because every state needs an official appetizer, calamari became Rhode Island's dish of choice on June 27, 2014. Former Governor Lincoln Chafee signed the bill into legislation at Town Dock in Galilee, the largest supplier of calamari in the United States. Rhode Island is the squid capital of the East Coast with the largest squid-fishing fleet, hauling in 23.5 million pounds in 2012, which accounted for nearly 50 percent of the East Coast's quota. The way to eat it is Rhode-Island-style, served with banana peppers and a side of garlic and olive oil. The perfect specimen? Mike's Kitchen, a VFW hall turned restaurant in Cranston.
170 Randall St., Cranston, 946-5320 –Jamie Coelho

Doughboys
My family didn't go to amusement parks (yes, including Rocky Point), so the Washington County Fair was the one place my brother and I could enjoy rides and fried foods when we were kids. My favorite snack was a doughboy, purchased from the Charlestown-Richmond Volunteer Fire Association. The dough is more savory than other versions, with crispness around its edges. The Association will smother yours with pizza toppings or apples, but I take mine plain, shaken with powdered sugar until the air is thick with it. I can still taste the sweetness for days.
washingtoncountyfair-ri.com –Amy Derjue

Dynamites
It may look like a sloppy Joe, but the taste is entirely Rhode Island. Lean ground beef is sauteed with tomato sauce, tomato paste, red pepper, celery, onions and green pepper. Castle Luncheonette serves it not only tumbling out of a torpedo roll, but also piled over pasta or potatoes, or on top of a hamburger for a dyna-burger. People order it by the gallon for parties and cookouts, or to avoid cooking for a week.
420 Social St., Woonsocket, 762-5424 –J.C.

Delekta's Pharmacy
Head to Delekta's Pharmacy in Warren to find a cure for what ails ya. And while they do still fill prescriptions behind the counter, the solution to all life's problems may just be on the bottom of a silver coffee cabinet canister. A coffee cabinet is composed of coffee syrup, milk and ice cream. What makes Delekta's so special is the handmade syrup; it's an original secret recipe from Ignatius Delekta who bought the business in the 1940s. Browse photos and memorabilia in the mini museum at the back of the store, and go home with some penny candy, although it's more like dime candy now.
496 Main St., Warren, 245-6767 –J.C.

Eggs
Baffoni's Poultry Farm has supplied Ocean Staters with main ingredients for omelets since 1935. Those protein-rich eggs make their way to local restaurants like Nicks on Broadway, north, Eli's Kitchen and XO Cafe, or they're stacked in crates on Farm Fresh Rhode Island's Market Mobile and transported to locations across the state. Pick up a dozen at the on-site shop at the farm, Eastside Marketplace, Quality Fruitland, Sanchez Market and Gemma's Market.
324 Greenville Ave., Johnston, 231-6315, baffonispoultryfarm.com –J.C.
By the Numbers
Number of chickens: 25,000
Flocks: 4
Laying hens: 5,000
Days per week hens lay eggs: 6
Daily dozens: 350
Dozens per week: 3,000
Restaurants that use Baffoni's eggs: 50

Federal Hill
It's known as Providence's Little Italy, but in recent years, Federal Hill has also welcomed multicultural cuisine including Chinese, Japanese, Mexican, Middle Eastern, Lebanese and Caribbean food. Our timeline documents the evolution of the neighborhood. –J.C.
1853 Antonelli's Poultry has existed in the same spot where it resides now, and they've hardly changed a thing. Shop here for the freshest – read, still breathing – poultry money can buy.
1898 Gasbarro's was founded by Antonio Gasbarro, the great-grandfather of current owner, Mark Gasbarro, and it specializes in wines from around the world.
1914 Camille's is a dining landmark that was originally located at 174 Atwells Avenue. It moved to the mansion at its current location in 1919 and expanded in 1926.
1916 Luigi Scialo arrived from Italy and started Scialo Bros. Bakery with his brother. Luigi ran the family business until his death in 1993. Since then, Luigi's daughters, Lois (Scialo) Ellis and Carol (Scialo) Gaeta run the bakery.
1924 Established in 1924 by Angelo Mastrodicasa, Angelo's relocated a few times before finding its current digs. The vibe stays the same with casual fare, a 1924 Classics menu and a community table.
1938 Costantino's Venda Ravioli was established in 1938, making the finest hand-pressed ravioli.
1952 Tony's Colonial procures imported and domestic Italian foods, including meat, cheese, olive oils, pasta and more.
1953 Caserta's serves traditional Italian pan pizza and the famous Wimpy Skippy, a spinach pie stuffed with mozzarella, pepperoni and black olives.
1956 Joe Marzilli's Old Canteen has been family operated since 1956 and the pink walls stay true to nonna's eye for design.
1983 Via Roma opens, followed by the banquet room in 1995.
1983 After years of creating homemade desserts for restaurants, Eileen Collins and Brandt Heckert open Pastiche bakery.
1988 Andy Merola launches Andino's as a social club. Saturday nights were formal night outs followed by Sunday family day with gravy, macaroni and meatballs.
1988 Cassarino's has served Northern Italian dishes for twenty-seven years.
2000 Don Jose Tequilas breaks up all the Italian monotony with Mexican.
2002 Pane e Vino serves Italian comfort food in an upscale atmosphere.
2003 Opa Mediterranean restaurant opens with Lebanese, Greek and Italian food.
2005 Tuscan-inspired Siena arrives on the Hill, owned by brothers Anthony and Chris Tarro who are from Warwick, but have deep family ties to the neighborhood.
2005 Tina's Caribbean brings Jamaican jerk chicken to the Hill.
2008 Nara opens as Federal Hill's first hookah lounge.
2013 Nami Japanese restaurant arrives in early 2013.
2014 Harry's on the Hill opens second location serving its terrific burgers.
2015 Vanuatu Coffee Roasters brews Providence's rarest cup of coffee.

Grinders at Sandwich Hut
The quintessential grinder is stacked and loaded with layers of meat, cheese, veggies and condiments.
Opened in 1963 by Joe Tatulli, the Sandwich Hut started making amazing grinders and hasn't stopped since. Now run by the second and third generation of the Tatulli family, the Hut stands by its belief that the key to a good grinder is that it's built right on the spot from start to finish. A customer favorite is the AllItalia. 1253 North Main St., Providence, 272-2590, thesandwichhut.com –Leigh Vincola
It starts with fresh bread from Ciao Italia Bakery in Johnston, followed by (in this order):
Provolone ♦ Pepperoni ♦ Tomatoes ♦ Pickles ♦ Onions ♦ Oil ♦ Oregano ♦ Hot pepper relish ♦ Capocollo ♦ Prosciutto (from Daniele) ♦ More oil ♦ More oregano ♦ One whole pepperoncini
Grilled Pizza
Al Forno's pizza comes puffed and blistered, with snap-you-to-attention smoky crust. Credited with the creation of grilled pizza in the early 1980s, co-owners Johanne Killeen and George Germon first attempted the technique after a business associate enthused about a grilled pizza he had tasted in Italy. From that experiment, a legend was born. Their classic take is the margarita with two cheeses, tomatoes, herbs and a liberal dousing of peppery olive oil. Seasonal variations include fresh corn in the summer, pumpkin in the fall and sharp pepperoni all year long, each layered atop that signature crust: thin enough so the exterior shatters but with heft for satisfying chew. Each pie feeds two generously, although you might not want to share.
577 South Water St., Providence, 273-9760, alforno.com –J.S.

Gregg's Death By Chocolate Cake
If it's good enough for us, it's good enough for the President of the United States. Last Halloween, while campaigning with now Governor Gina Raimondo, President Barack Obama ordered a Death by Chocolate cake at Gregg's in Providence. In an ABC News story, Obama said, "The word is that the chocolate-layer cake here is deadly and it's devilish, and so for Halloween, this is the kind of sin that we want to commit." The six-layer cake covered with chocolate morsels was shared with the crew on Air Force One. No word if he saved a slice for the First Lady. –J.C.

Haven Brothers Diner
Pity those who party in cities other than Providence. After a bar crawl, a night at the club or too many beers at a concert, they make do with pizza chains or fast food. But in Providence, the secret to a better morning after is Haven Brothers Diner, open until 4 a.m. daily. My favorite thing about the mobile trailer is watching all of Providence come together. From sports fans and doctors to goth kids and clubbers, all walks of life line up in the middle of the night.
Founded in 1893 by Anne Haven, a widowed immigrant, the diner was originally a horse-drawn carriage purchased with funds from her late husband's life insurance policy. In its long history, politicians and residents have tried to remove the diner from its spot outside City Hall. All have failed. More than 100 years later, Rhode Islanders still flock to the corner of Fulton and Dorrance streets to sate late-night cravings. The diner is even the subject of the full-length documentary The Original Food Truck, released in 2014, and it has achieved one of the highest honors a Rhode Island institution can receive — a homage on Fox's wildly popular "Family Guy."
But the burgers are Haven Brothers' true claim to fame. Grilled on a flat-top range, they have a crisp exterior and come with toppings as basic as cheese, lettuce and tomato or as intense as the Triple Murder Burger made famous by the Travel Channel's mega-hit show "Man vs. Food." Three rounds of meat are topped with fried eggs, cheese, bacon, onions and mushrooms. But you don't have to pack away patties like a competitive eater to enjoy a late-night nosh: There are hot dogs, cheese fries, cabinets and more greasy eats to set you right no matter the time of day. –A.D.

Industry
Rhode Island's food, farming and restaurant industries draw big numbers.
$2 Billion Projected total value of restaurant sales in 2015
53,100 Jobs in the restaurant industry
2,786 Eating and drinking locations
1,243 Farms
69,589 Acres of farmland
55 Aquaculture farms
206.2 Acres of aquaculture farms
7,547,132 Oysters sold for consumption in 2014

Johnny Cakes
Barbara Sherman Stetson rules the Johnny Cake world. By Grace Kelly
Barbara Sherman Stetson is known as the Johnny Cake Queen. A direct descendent of Roger Williams, she was raised in North Scituate where johnny cakes were a staple on the family table. "I grew up on a small farm and we had them three to four times a week, served many ways."
Throughout the years, Stetson has performed countless johnny cake demos for Kenyon's Grist Mill, "The Rhode Show" and at North Scituate Baptist Church, demonstrating the making of these little cakes. "Nobody does a johnny cake like people in Rhode Island," she says. A Rhode Island johnny cake resembles a small pancake. The secret is all in the wrist. Stetson plops a spoonful of creamy batter on the griddle, followed by a slight flick of the forearm that spreads it into a small circular puddle.
Even within our own state borders, it has many variations. "The East Bay area makes theirs more like a cookie, thin and lacy, but mine is just in between."
Indeed, the history, namesake, spelling and preparation of johnny cakes are as debated as who gets the last one on the plate. "Half of it's controversy and some folklore," Stetson says. Normally served dripping in maple syrup with a blob of butter on top, Stetson says that this was not part of its original preparation. "The old Yankees didn't use maple syrup. We never used it. It was too expensive!" As for the best way to serve a johnny cake, Stetson says, "I am a purist. I like them with just a little butter or creamed chipped beef or haddock."

Iggy's
Brother and sister team David Gravino and MaryAnn Soares adapted Iggy's to evolve with the times. They named Iggy's after their father, Gaetano Gravino, and recently expanded the Oakland Beach location to include a new creamery and upscale sit-down restaurant with a boardwalk and bar next door. In the summer, doughboy sundaes are now as big a draw as clam cakes and chowder. Year-round location: 889 Oakland Beach Ave., Warwick, 737-9459. Seasonal: 1157 Point Judith Rd., Narragansett, 783-5608, iggysdoughboys.com –J.C.

Kawfee Milk
When I was growing up, my family was an Autocrat coffee syrup household. There was always a sticky bottle of the sugary, caffeinated elixir in the refrigerator for stirring up coffee milk, or as we say in Rhode Island — kawfee milk. A few years ago, I had my first encounter with Dave's Coffee syrup — an artisanal, organic, locally made version of the childhood favorite. Aside from the Brazilian coffee beans, the product is made entirely in Rhode Island. It contains no corn syrup and boasts a depth of flavor that appeals to my adult palate, especially when it comes to crafting cocktails. I'll always have fond memories of the classic stuff.
But now it's a bottle of Dave's syrup waiting in my fridge and landing in my cocktail shaker.
davescoffeesyrup.com –A.D.

Lemonade
Where to get the best icy lemon libations.
New England Frozen Lemonade may not be the original lemony concoction, but the real chunks of lemon keep things sweet, not sour.
280 Douglas Ave., Providence, 274-3255; 734 Oakland Beach Ave., Warwick, 732-6361
With more flavor iterations than we can ever list here, and a line running down the block on hot summer nights, Mr. Lemon inspires a fruity drink frenzy.
32 Hawkins St., Providence
Palagi's spoons out sugar rushes in electric blue and hot pink hues. Travelling trucks have regular routes that hit up playgrounds and neighborhoods.
728-0180, palagisicecream.com
Del's has been slurped from paper cups since 1948. A pretzel stick says you're a true local, while a spoon is a telltale sign of a tourist.
Various locations, dels.com –J.C.

Munroe Dairy
A day-in-the-life with delivery truck driver Steve DeMaio.
Steve DeMaio has driven a black-and-white spotted Munroe Dairy truck for more than nine years. The people along his route, including sections of Warwick and Cranston, inspire him to offer more than just milk and grocery delivery service. He's been known to help families load the refrigerator, shovel walkways or take the garbage out for the elderly, and simply provide some human interaction. "Customers become like friends or family," DeMaio says. "I might be the only person they see all day long or all week long. I might drop off an order and they'll have coffee or a muffin waiting, and we'll have a conversation for five or ten minutes. It becomes a part of your day."
DeMaio delivers during rain, sleet and snow, and when Warwick experienced road closures due to an electrical storm this summer, he walked groceries by foot for blocks. "Some of the customers have been with the dairy for thirty or forty years," he says. "It's the least we can do."
Here's a typical day in the life of the Munroe Dairy delivery driver.
1:30 a.m. Arrives at Munroe Dairy in East Providence. "I'm usually the first one in so I unlock the gate."
2−3 a.m. Loads the truck with all the items he'll need to deliver to about eighty homes per day, including milk, local produce, bread, eggs, ice cream and prepared food items like Venda Ravioli.
3–7 a.m. Leaves the dairy and begins route. Many families will still be asleep when he arrives. Some leave out Munroe Dairy delivery boxes or coolers filled with ice, others leave a key or give him the code to get in, so he can load items directly into the refrigerator. Two or three people even made him a personal key. "I've been doing this nine years and it's still unusual to go into the kitchen and put everything away while everyone is still sleeping," he says.
7:15 a.m. DeMaio usually stops for coffee once or twice in between deliveries. "You need a few coffee breaks when you start the day at 1:30 a.m."
7:30–11 a.m. Customers might be home to greet DeMaio, while others are off to work. In most cases, he'll load items into a cooler or box outside the door.
11 a.m. –1 p.m. Depending on the day and traffic, DeMaio's deliveries can end between 11 a.m. and 1 p.m. But that's not the end of the work day.
11:30 a.m. –1:30 p.m. DeMaio returns to Munroe Dairy to complete paperwork, orders and address transfers, then he unloads the truck and reloads supplies for the next day. After cashing out, he's on his way. He works about sixty hours a week on commission. "They give you the business tools and the truck without the expense," he says. "You can work as long and as hard as you want. The paycheck is determined by your effort."
438-4450, cowtruck.com –J.C.

Mudslide
We'll have to wait for May to slurp one of the Oar's famous mudslides. But that first summer day with drink in hand taking in the waterfront view, plus sushi made from fish caught that same day, makes the harsh winters worth it. Need a caffeine kick? Order a "shiftie," a mudslide meets iced coffee.
221 Jobs Hill Rd., New Shoreham, 466-8820 –J.C.

Narragansett Beer
Always coming out with quirky new brews from the Narragansett Autocrat Coffee Milk Stout to the Del's Shandy and the new Allie's Donuts Double Chocolate Porter, the brewery — celebrating its 125th birthday on December 29 — is making progress in bringing operations back to Rhode Island. With any luck, one day soon, we'll be cracking open a brew that was truly born and raised and produced in the state that loves it the most.
narragansettbeer.com –J.C.

Pizza Strips at Crugnale's
Housemade sauce tops hand-rolled dough baked every day for pizza strips at Crugnale Bakery's six locations. Never add cheese. Always serve cold. A football party without pizza strips is like a birthday with no cake.
Various locations, crugnalebakery.com –J.C.

Olneyville New York System
Our hot wieners win James Beard Awards. 'Nuff said.
18 Plainfield St., Providence, 621-9500; 1012 Reservoir Ave., Cranston, 437-8248, olneyvillenewyorksystem.com

Quahogs
The hard shell clam known as the quahog is an essential ingredient to life in the Ocean State. From stuffies and clam cakes to clear chowder, Rhode Island's state mollusk has provided nutrition, entertainment and employment for centuries. Bacterial pollution in upper Narragansett Bay dating back to the 1960s led to the closure of several thousand acres of fertile shellfishing grounds and severely affected the shellfishing industry. However, advocacy from environmental groups and the Rhode Island Shellfisherman's Association, combined with significant investments in water quality, most notably the Narragansett Bay Commission's Combined Sewer Overflow Project, have led to dramatic improvements in the bay. In 2011, the RI DEM relaxed shellfishing closure regulations, and commercial shellfishermen gained approximately fifty additional days per year on the water. The latest 2014 numbers cite 34.5 million harvested clams at a value of $5 million. That's a lot of clams! –J.S.

Rum at Thomas Tew Rum
By the late eighteenth century, twenty-two rum distilleries had set up operations in Newport, making Aquidneck Island an epicenter for the world's finest rum. Although Newport's harbor-friendly location lent itself well to trans-Atlantic rum trade, cumbersome British taxes and other tariffs eventually drove distillers out of business. The last distiller closed by the mid-nineteenth century. In 2007, however, the Newport Distilling Company revived Rhode Island's rummy past with the release of Thomas Tew Single Barrel Rum, named after a trailblazing privateer and pirate who called Newport home in the 1690s. The modern rum is distilled much like that in the 1700s: in a traditional copper pot still, and aged in oak barrels. While the rum is delicious straight up or on the rocks, we especially love it in a Newport Stormy in the summer or to perk up our eggnog in the winter. The Thomas Tew Distillery welcomes the public for tours and tastings.
293 JT Connell Hwy., Newport, 849-5232, thomastewrums.com –J.S.

Regulah Coffee
It's a morning ritual that comforts us no matter how hectic the day gets. Three creams and three sugars for a medium; two and two for a small; four and four for a large. Bottom's up.

Snail Salad
The pivotal debate in snail salad circles is chunks versus slices; the dividing line runs deep and is seldom crossed. Snails — or scungilli — traditionally play a part in the Christmas Eve La Vigilia, or Feast of the Seven Fishes, often served hot in a marinara sauce, or cold in a salad. Scungilli are large marine snails; the cold-water species, the channeled whelk, is native to Narragansett Bay, which may explain the gastropod's hold on the Rhode Island palate. If you like a chunky snail salad, head to Spirito's, where fresh snails top salads drizzled with secret house dressing. Slice aficionados journey to the Hill and belly up to a table at Andino's, where you'll have your choice of traditionally prepared snail salad with olive oil on a bed of greens or Andino's loaded snail salad, in which the al dente slices are paired with red onion, roasted peppers, celery and olives.
Spirito's Restaurant, 477 Broadway, Providence, 434-4435, spiritosrestaurant.com
Andino's Italian Restaurant, 171 Atwells Ave., Providence, 453-3164, andinositalianrestaurant.com –J.S.

Shore Dinner
We long for the days of authentic shore dinners at Rocky Point, but we're thankful Aunt Carrie's still fills us up on clam cakes and chowder, steamed clams with melted butter, Point Judith flounder with French fries and slaw, and don't forget the one-and-a-fourth-pound lobster. Plus dessert!
1240 Ocean Rd., Narragansett, 783-7930, auntcarriesri.com –J.C.

Twin Oaks
A first-timer's experience at the iconic Italian restaurant.
Everyone I know in Rhode Island has celebrated someone's birthday at Twin Oaks. As an out-of-stater, I haven't had the pleasure. But I am intrigued by its history. The restaurant started out as a speakeasy in 1933 during the Prohibition era. I know about the legendary Italian food including the chicken parm. I've even bought a jar of the famous pasta sauce. But I have never sat down for the true Twin Oaks dinner experience. This first-timer is finally going to find out what the fuss is all about.
It's a summer Sunday evening, and we find a parking spot, no problem. We hold the door and fall in line behind a man shuffling in with his walker. Rhode Island Monthly Best of Rhode Island covers from the '90s greet us at the door. There's also the souvenir counter hawking pasta sauce and T-shirts next to Keno and a scratch ticket vending machine.
We put in our name and wait a few minutes for a table while scoping out the framed celebrity photographs on the wall; N'SYNC's Joey Fatone, Matt Dillon and Paula Abdul sign their adoration: "Out of this world baked stuffed shrimp!" reads a scrawl by Abdul. Cartoons illustrating Rhode Islandisms include giving directions to places using landmarks that used to be. Another drawing depicts a road destroyed by potholes and the quote, "The real reason Rhode Islanders won't travel more than five miles to a restaurant."
Soon, we're led to our table by the smartly dressed maitre d'. We make our way along the carpeting boasting elaborate emblems of — what else? — twin oaks. Which came first: The carpeting or the restaurant name? The gleaming banquets in shades of gold and burgundy are cozy. The wood paneling on the wall comforts me with memories of my childhood home's finished basement. A server greets us in a crisp white shirt and bowtie and takes our drink order; glasses of a good Italian wine. I rest my menu on the Twin Oaks-emblazoned paper placemat and napkin, and mull over the choices.
A few tables up, fashionable women show off sky-high strappy heels and great hair. The table across from us sports Hawaiian shirts and clogs and digs into a Dinosaur-cut prime rib (a Sunday night special). A giant bone with an enormous hunk of meat is sliced and shared. Note to self: They also have a ladies cut for daintier appetites. I take Paula Abdul's advice and order the baked stuffed shrimp. My husband selects chicken parm, which I will proudly help consume.
We start with the fried arancini balls with fontina. They are the size of golf balls and after dipping in marinara, they're a hole in one, meaning we can eat one in one bite. Our meals arrive and we are impressed by the size and classic comfort food style. It's like what my Italian grandmother would make if I had one; nothing fancy, always sublime. When so much changes in this world, it's nice to know that Twin Oaks stays the same for its loyal family of fans.
Of course, we can't leave without ordering a decadent dessert. Our enthusiastic waiter (all servers are male) recommends his favorites with gusto. Brownie Oreo sundae it is. When my husband says he only wants a bite, I tell the waiter he should share with me instead.
On our way out the door, we walk around two random trees growing out from a circle of mulch in the middle of the asphalt parking lot. "Twin oaks," says my husband in an aha moment, and it all makes sense. If he's lucky, maybe I'll take him back for his birthday.
100 Sabra St., Cranston, 781-9693, twinoaksrest.com –J.C.

Urban farming
These cityside agricultural programs grow great produce. The smallest state may not have a lot of agricultural acreage to work with, but we make the most use of the land, and that includes working the soil within the city.
Sankofa Initiative
Sankofa Initiative is a multi-faceted urban agricultural project based on the West Side of Providence. With the development of affordable housing, a community garden, a World Market and a commercial kitchen space, the initiative aims to meet the needs of the diverse West Side neighborhoods and highlight the food culture of its immigrant populations. The Sankofa World Market finishes its first season October 31 at the Broad Street Market, and will reopen next spring.
224 Dexter St., Providence, 453-3220 ext. 15, facebook.com/sankofapvd
Little City Growers
This Providence-based cooperative is run by Red Planet Vegetables, City Farm (Southside Community Land Trust), Scratch Farm, Sidewalk Ends Farm and Florence and Manton Farms and sells their chemical-free produce at the Armory Farmers Market and to local restaurants.
273-0914, littlecitygrowers.org
New Urban Farmers
This agricultural program increases access to fresh food for low-income families. At Galego Court, a family housing development in Pawtucket, New Urban Farmers raises 1.5 acres of vegetables while engaging residents in garden education programs.
newurbanfarmers.org –L.V.

Vegan/Vegetarian
Some meaty options for vegetarians and vegans (and carnivores too).
Vegans and vegetarians are not without options when it comes to dining out. Here are some eateries that have a number of great veg options to sink your teeth into.
Garden Grille Cafe
Rhode Island's first vegetarian cafe, Garden Grille offers contemporary homemade vegetable dishes with plenty of vegan and gluten-free options. Dishes like raw peanut pad Thai and the roasted butternut squash quesadilla have satisfied loyal customers since 1996.
727 East Ave., Pawtucket, 726-2826, gardengrillecafe.com
Not Just Snacks
An authentic Indian spot serving vegetarian dishes, loads of vegan substitutes and plenty for meat-eaters. The veggie samosas and curries are favorites.
833 Hope St., Providence, 831-1150, letseat.at/notjustsnacks
Crazy Burger
Not just for beef-lovers! Crazy Burger's menu includes creative vegetarian and vegan burgers. Try the Poco Loco with roasted tempeh, black beans and olives. It also has a full juice bar with smoothies and fresh squeezed fruit juices. An added perk? It's BYOB.
144 Boon St., Narragansett, 783-1810, crazyburger.com
Maize 'N' Manna
It has a little bit of everything, including bulk organic food, vegan and gluten-free takeout soups, salads and entrees that change daily, a juice bar, a bakery and an impressive produce selection.
40 High St., Westerly, 596-1680, facebook.com/maizenmannawholefoods
Elevation Cafe
Part of Elevation Yoga Studio on Block Island, this cafe sits near the water and offers the best locally roasted coffee, gluten-free bagels, smoothies and vegan and vegetarian breakfasts and lunches. Post yoga sustenance? Yes, please.
74 West Side Rd., New Shoreham, 466-9642, elevationbi.com –L.V.

Wright's Dairy Farm and Bakery
Every morning at 5 a.m. a small army is baking up a storm in the family-owned Wright's Dairy Farm kitchen. They create Boston cream pies and chocolate killer cakes, cream puffs and M and M brownies. Their most popular baked treats? Classic chocolate chip cookies, chocolate eclairs with custard filling (with milk courtesy of WDF Holsteins), and the leader of the pack… the strawberry shortcake. Ideas for new goodies are taste-tested by the entire staff, "the fun part," says office manager, Elizabeth Dulude. Sounds like a sweet deal to us.
200 Woonsocket Hill Rd., North Smithfield, 767-3014, wrightsdairyfarm.com –S.F.

Wright's Farm Restaurant
A first-timer experiences the all-you-can-eat feast.
We are miles away from where we live, but we feel right at home. It's our first time at Wright's Farm Restaurant in Harrisville, and we've been saving space in our stomachs all day. We are led to a table in the boisterous dining room, surrounded by other families; some big, some small. A table with two couples, two toddlers and two babies enjoys a meal together, while grandparents dine with their children and grandchildren. Another large room hosts gatherings at huge tables seating up to fourteen. It's an all-you-can-eat feast where dining parties share family-style plates of salad, rolls, chicken, pasta and French fries.
The tradition began with Gene Wright, who supplied chickens to local restaurants, and later hosted dinners out of a garage on his farm. In 1954, he opened a real restaurant, and the Galleshaw family continued the tradition from the day they bought the property in 1972. The menu hasn't changed in more than fifty years, and loyal customers like it that way. At $12.75 per adult and $7.25 for children ages ten and younger, this everlasting meal can't be beat.
And of course, it's Rhode Island, so we bump into good friends of ours from Providence, twenty miles into the Blackstone Valley. "Where else can you bring a loud toddler on a Saturday night?" says Mary Larsen, a native Rhode Islander who has been going to Wright's Farm since she was a toddler herself, and has now passed the tradition down to her own family. The dining room is loud enough to dull little ones' excitement (or frustration). "Make sure you mix the pasta and chicken together with a little salad dressing, then sop it all up with the bread," she says. I take her advice as the flavors meld together into something that can only be described as quintessential Rhode Island. More chicken? Bring it on.
84 Inman Rd., Harrisville, 769-2856, wrightsfarm.com –J.C.
Xtra Xtra Coffee
Ask for an xtra xtra and they'll add one more cream and one more sugar to your regulah (see R).

Yacht Club Soda
In honor of Yacht Club Soda's one hundreth birthday, we taste-tested a six-pack of flavors and came up with cocktail recipes.
yachtclubbottlingworks.com –J.C.
Flavor: Grapefruit
Cocktail Name: Ginny and Juicy
Our Take: It's a daintier version of gin and juice.
Recipe: Add 1 ½ oz of gin and top with grapefruit soda, poured into a glass with ice.
Flavor: Pale Dry Ginger Ale
Cocktail Name: Minty Muddle
Our Take: Best cure for bad breath ever!
Recipe: Muddle fresh mint into glass, add ice, 1 ½ oz gin and ½ oz of lime juice. Top with ginger ale.
Flavor: Pineapple
Cocktail Name: Put the Pine in the Coconut
Our Take: Extra points for serving it in a real coconut.
Recipe: Add 1 oz coconut rum, 1 oz Triple Sec and top with pineapple soda in a glass with ice.
Flavor: Fruit Punch
Cocktail Name: Rum Two Punch
Our Take: Drink more than two and it'll knock you out.
Recipe: Add 1 ½ oz white rum and fruit punch soda to a glass with ice.
Flavor: Grape
Cocktail Name: Grape Grandmother
Our Take: All you need is a doily for a coaster.
Recipe: 1 oz of vodka and 1 oz of Chambord poured into a glass of fizzy grape soda with ice.
Flavor: Lemon Lime
Cocktail Name: LuLu Limon
Our Take: Best sipped while wearing yoga pants.
Recipe: 1 oz Midori, 1 oz vodka and top with lemon lime soda in a glass with ice.