A Shore Thing: Westerly's Transformation
Chuck Royce began investing in vacant properties and local businesses a decade ago. Now Westerly is a thriving destination, both in town and by the sea.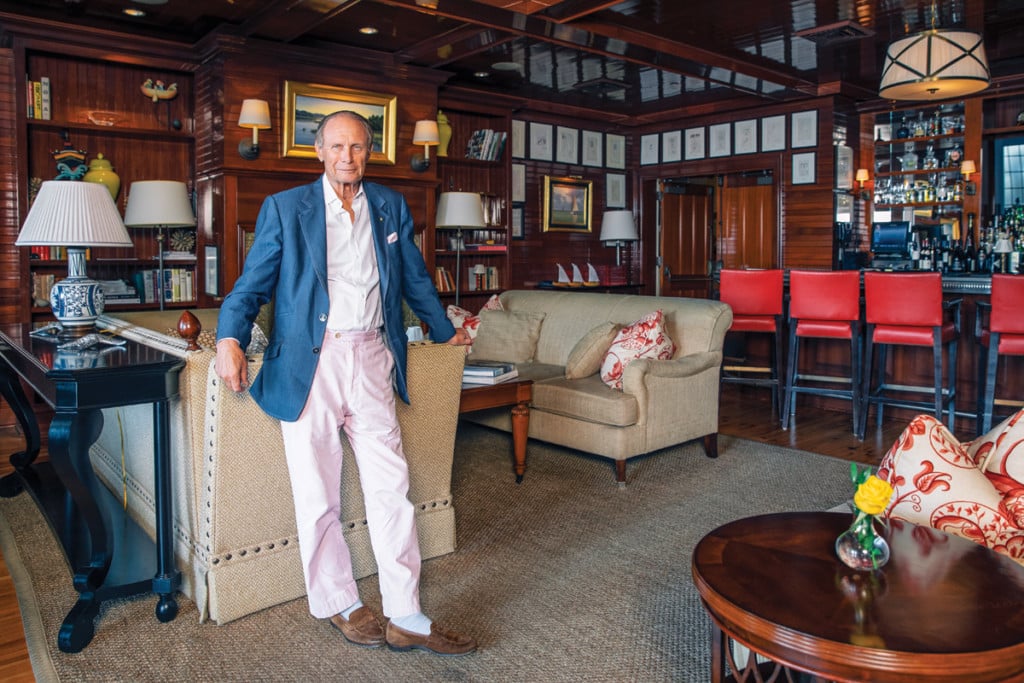 Konicki, for her part, declares, "Joe Falcone is every bit as important to downtown Westerly as Chuck Royce," name-dropping the owner of several pieces of prime Westerly residential and commercial real estate, including the building housing the popular Perks and Corks martini bar and a recently restored horse barn that is now the Shallows restaurant. "He is very quiet and operates under the radar, but Joe has been investing a tremendous amount of time and resources into numerous properties."
The United Theatre is halfway to its $12 million fundraising goal and plans to open once it reaches that benchmark. Part of the project's mission is to form a downtown arts hub along with the YMCA and the Knickerbocker Music Center. United will include a pair of movie theaters and a black box stage for live performances and arts education programs in partnership with groups like the Rhode Island Philharmonic, Trinity Repertory Company and the Salt Marsh Opera.
Predictably, Royce is the leading private donor, "but we have secured seven other six-figure gifts, so he's definitely inspired others to give at this level to bring the project to fruition," says Fitzgerald. That speaks in part to the increased engagement by the shoreline community, which "traditionally invested in the hospital, and less so downtown," says Royce.
Donna Simmons, a Watch Hill resident, transitioned from summer visitor to year-round resident seventeen years ago. Today, she serves on the board of the United Theatre and also co-founded Opening Doors for Westerly Children, a charity that provides summer and after-school programs to local students as well as books, backpacks, school supplies and iPads for classroom use.
"Chuck helped set the stage and has inspired the rest of us," says Simmons, who has seen increased interest among summer residents to participate in theater events and other activities downtown. "Everybody likes to be by the beach, but they also like casual and fine dining and to be entertained."
One of Royce's recent initiatives was to eliminate empty storefronts downtown, going so far as providing rent-free space to local businesses to encourage them to stay or move into town (Longo Pizzeria on High Street was one such beneficiary). At the same time, plenty of Westerly businesses have thrived all on their own, including the popular Malted Barley, which has gone on to replicate its beer-and-pretzels model in Providence, and Grey Sail brewery, one of Rhode Island's top beer makers.
The improvements downtown have caught the eye of Westerly's transitory visitors: Ocean House president Daniel Hostettler estimates that about one in every four guests at the Watch Hill hotel now ventures downtown at some point during their stay to shop or dine. The hotel's 60 percent repeat business also suggests that visitors are finding plenty to like about Westerly beyond the beaches, and occupancy extending beyond the summer season also supports this notion.
"Hopefully it will help to spur growth of more restaurants and businesses," Hostettler says.
Nobody gives Royce a second glance at the Savoy. On this day, the signature bowtie is missing, and his utter lack of pretense betrays nothing of the fortune he had made guiding investments in small-cap stocks.
It's much the same at the Ocean House, where Royce often sits unnoticed on a lobby couch working on his iPad and soaking up the atmosphere of the place. Hotel workers may politely defer to the owner as "Mr. Royce," but almost anywhere else in town, when he is spotted at all, he's just "Chuck."
You won't find a Charles and Deborah Royce Theater in Westerly, or a Royce Park. Royce may have been declared the Ocean Community Chamber of Commerce 2016 Citizen of the Year and he may have earned the Community Service Award for his contributions to the community, but the closest thing you'll find to a tangible tribute is a modest plaque in the lobby of the Ocean Community YMCA, another frequent recipient of Royce's generosity.
"What drives him is seeing people with smiles on their faces downtown," says Dan King, Royce's son-in-law and director of economic development projects for the Royce Family Fund, the principal engine for Royce's charitable giving. "There's honestly no selfish motive involved in what he's doing for the community. He's not a developer whose motivation is a high rate of return. None of this is paying his bills."
Royce's investments have been significant, but Westerly was never a basket case: Even at a time when many storefronts were vacant, the town was an attractive place with grand public edifices (the Classical Revival post office, built in 1913 and fronted with Doric columns cut from Vermont marble, is on the National Register) and handsome commercial buildings surrounding Wilcox Park, designed by an acolyte of Frederick Law Olmsted.
Nor has Westerly been bereft of the arts: The Colonial Theatre has been presenting live summer Shakespearean plays in Wilcox Park since 1991 (although it temporarily went dark for the summer of 2018), and the Granite Theatre — housed in a landmark 1849 church building on Granite Street — has staged plays and musicals since 2000.
The annual Virtu Arts Festival was held for the twenty-second time in May, attracting 150 artists and more than 20,000 visitors to browse booths and purchase art, and the Chorus of Westerly, founded in 1954, offers summer pops and winter concerts in the George Kent Performance Hall on High Street, built as Westerly's first Catholic church in 1890.
"It had the bones of a great downtown," says Royce.
Royce first visited Westerly in the late 1980s with friend and Nashville songwriter, Layng Martine Jr. At the time, Royce had a vacation house near the Catskills town of Tannersville, New York (another area of rejuvenation for the Royce Family Fund), but missed the ocean he had visited so frequently as a child growing up in Washington, D.C., summering along the Maryland coast.
He first purchased and lived in a home in Weekapaug, followed by another home in Watch Hill in the '90s, and more recently he and his wife restored the historic Avondale Farm, where they resided this summer. Jennifer and Dan King, Royce's daughter and son-in-law, also moved to town and previously ran the former Up River Cafe and Señor Flaco's.
Early on, royce worked through the Westerly Land Trust to acquire prominent downtown buildings with an eye on revitalization. For a nonprofit with a mission to preserve and protect open space, becoming an urban landlord isn't as farfetched as it might seem, says former Westerly Land Trust executive director Kelly Presley, who recently moved to Virginia, leaving the position after twelve years.
"Urban revitalization is the flip side of the land conservation coin," she says. "If you're in a community with a town center surrounded by suburbs and rural areas, and you can make downtown more attractive — a place where people want to live and play, where it's already developed and there is infrastructure — you can take development pressure off the outlying areas, which can be preserved, rather than developed."
Preservation has always been a motivator for the Royces. Chuck and Deborah bought Avondale Farm, located next to the Westerly Land Trust preserve that was saved from potential development and homes, which they help the Land Trust continue to preserve and protect. Chuck also bought the Ocean House in part to prevent it from being torn down to make way for a cluster of new McMansions.
"I felt like something was about to be lost for the community," says Royce, and although the shuttered wooden Ocean House hotel built in 1868 proved unsalvageable, it was rebuilt with as much fidelity to the original as possible. The Savoy bookstore was housed in a nineteenth-century building that also previously served as a hotel and brothel, while the United Theatre complex encompasses both the 1926 Vaudeville theater building and the former Montgomery Ward building next door.
To be sure, there have been fits and starts to Westerly's revival over the past decade. A plan to develop a pedestrian walkway along the Pawcatuck River, which connects Westerly to its sister city Pawcatuck, Connecticut, fizzled when a handful of property owners declined to support the project by denying rights of way. And Emily Steffian and Daniel Kamil, who founded the Revival House theater on High Street in the early 2000s, decamped for the brighter lights of Providence and the Cable Car Cinema in 2007.
While there's talk of building an iconic "gateway" feature as a way to celebrate the entrance to the community at the border of Connecticut and Rhode Island, where the bridge crosses the river between Westerly and Pawcatuck, the far more traveled Route 1 entering downtown from the east remains "a faceless strip of highway that could be anywhere in the country," as it was described in Westerly's 2010 comprehensive plan.
The overall arc, however, has been upward.
"If you come downtown in the early evening, it's jamming and hopping, and that was not the case five years ago," says Fitzgerald.
"It feels like the town is alive again," says Hostettler, who moved to Westerly when the Ocean House opened a decade ago.
"Ten years ago, it was a real struggle to convince mid-level managers to come to Westerly," says Hostettler. "Now it's tenfold easier. A lot of our staff can work from anywhere, and they chose to come to this Norman Rockwell picture-perfect community where they can raise their kids."
Westerly's combination of walkability, access to the beach and proximity to New York, Providence and Boston — including via rail from the Amtrak station downtown — plays a role in attracting millennials.
"It's amazing to me how many young people seem to be around," says Royce, and Hostettler adds, "Our young employees all want live in downtown Westerly" because it is filled with restaurants, shops and entertainment.
Christine smith, director of luxury sales and strategic partnerships at the Ocean House, moved into a downtown Westerly apartment from San Diego six years ago.
"I came and fell in love with the small-town feel here," says Smith, who takes the train to visit family in New Jersey and frequently walks to McQuade's Marketplace, Wilcox Park and out to dinner at night. "There are so many great places, I can't even name them all. When I moved here, downtown was dead because everyone was at the beach. Now it's just as busy as the beach, only with a different atmosphere."
At age seventy-nine, Royce remains energetic, still working full-time at his New York offices and spending weekends in Westerly. He attends board meetings for the United Theatre and periodically checks in on progress at the Margin Street Inn or browses the bestsellers at the Savoy. Royce Family Fund spokesman King says, "there is always going to be a commitment to this community."
"My work is about discovering value in small companies," Royce says. "I do believe there is great value in these small communities."
As young readers swirl around at the Savoy, Royce seems pleased to learn about a few initiatives going on around town that are off his radar, like a young investor converting a Broad Street building into condos and renting them to his friends, and even a fanciful idea about running a water taxi from downtown Westerly down the Pawcatuck River to nearby Stonington village or even Mystic.
The fact that Royce doesn't have his finger on the pulse of everything happening in town is reassuring that the town's future isn't tied to one man.
"He's not what makes the community great — he's been a helping hand for a community that was already great," says King.