A Shore Thing: Westerly's Transformation
Chuck Royce began investing in vacant properties and local businesses a decade ago. Now Westerly is a thriving destination, both in town and by the sea.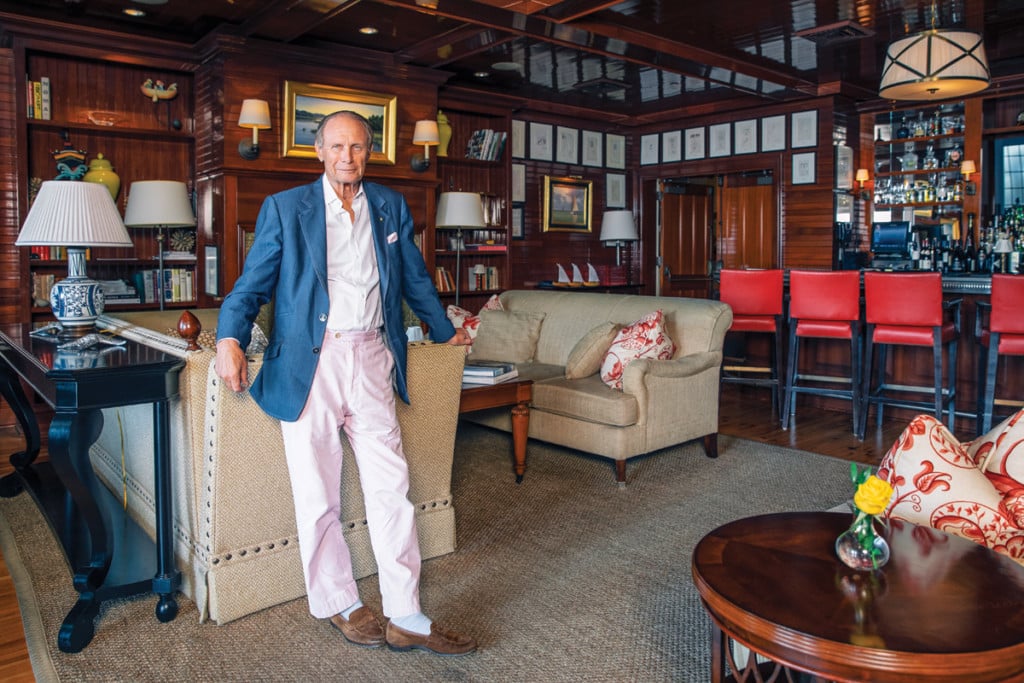 Communities are defined by more than zip codes, and communal harmony can be especially hard to achieve in a town where half the residents roll down the shutters and depart for warmer shores once summer ends. Locals and summer residents may cross paths at the beaches, but otherwise tend to stay in their own orbits.
In the past, Westerly has been divided between the "shoreline community" of summer visitors to Watch Hill and Weekapaug and the year-round residents who traditionally support the shops and restaurants downtown year-round.
Relative to Newport, Watch Hill hasn't changed much since its emergence as an oceanfront playground for wealthy families from New York, Connecticut and New Jersey; it's still a quiet, affluent community where the biggest thrills come from the Flying Horse Carousel — a throwback to the simpler pleasures of the nineteenth century that still sends kids spinning each summer. Outside its seaside enclaves, Westerly's population has historically been blue-collar, including generations of immigrants who originally came to work in the mills along the Pawcatuck River and in the local granite quarries.
For the past decade, however, an alliance between a core of dedicated community leaders and a modest but driven emissary from the Maryland coast has rubbed away some of the margins between Westerly's permanent and transient communities. Together, they transformed the downtown into a place the twain go to meet, eat and enrich themselves: physically, mentally and culturally.
In Westerly, Chuck Royce is everywhere — and nowhere. A wealthy, bowtie-wearing Wall Street investment manager would seem to be just the kind of nabob who would come in and start throwing his weight — and money — around. You could perhaps have viewed Royce's $140-million rebuild and restoration of the Ocean House resort a decade ago, and the purchase and $20-million restoration of the Weekapaug Inn, sister property to the Ocean House, with Langdon Wheeler, as the kind of look-at-me projects that are anathema to small towns everywhere.
And when Royce and his actress and screenwriter wife, Deborah, began buying up properties in Westerly, alarm bells did ring. A decade later, however, you'd have better luck finding a McDonald's in Watch Hill than a Chuck Royce critic in Westerly.
For one thing, Royce is a local, at least by the standards of a summer community like Westerly. A Brown University grad, Royce has had a home in town since the late-'80s. And natty blue-blood neckwear aside, "He is one of the kindest, most generous, and yet unassuming gentlemen that you could ever meet," says Lisa Konicki, president of the Ocean Community Chamber of Commerce.
Moreover, the Royces have quietly donated millions of dollars to support virtually every major public and private project that has contributed to the rejuvenation of downtown Westerly in the past decade, including saving the historic but faltering Knickerbocker Cafe music hall by turning it into a nonprofit music education center, replacing a beloved local bookstore and helping bring back the shuttered United Theatre as the hub of a regional center for the arts.
An ungenerous observer might describe such projects as playthings for Watch Hill's well-off summer residents and visitors — who in recent years have included everyone from pop star Taylor Swift to Hillary Clinton to director Wes Anderson — but it's hard to find anything elitist about the Westerly Education Center, a program for five colleges and universities, jumpstarted by Royce, who owns the building and drives interest from a philanthropy standpoint. It offers classes that range from general education to graduate level, as well as job training in partnership with local companies like Electric Boat and Amgen. Classes are led by the University of Rhode Island, the Community College of Rhode Island, Rhode Island College, Rhode Island School of Design and Roger Williams University.
"If you have a job or family and want to go back to work or school, it has to be convenient," says Amy Grzybowski, the Westerly Education Center's executive director, who adds that the classes are inclusive and meant for everybody. "It's not just for the wealthy folks."
On a rainy July morning, Royce and I meetat the Savoy Bookshop on Canal Street, housed in the former Savoy Hotel. When the town's only bookstore, the Other Tiger, closed up shop in 2014, Royce's son-in-law, Dan King, reached out to Annie Philbrick, owner of Bank Square Books in Mystic, Connecticut, where he and Chuck had visited, to make a connection.
"Chuck called me and said, 'I can't imagine a town without a library or a bookstore,'" recalls Philbrick. "He said, 'I have a space and if I build a bookstore and it doesn't cost anything, will you run it?' "
"Just look at this!" Royce says with excitement after I worm my way through a cluster of people jamming the entrance to the elegant two-level bookstore, with an entire downstairs dedicated to children — the kind of place where the students of Hogwarts would feel right at home.
On this day, the crowd is overrepresented not by fledgling wizards but by moms with kids in tow. The bookshop also draws in customers with book launch parties, readings, signings and a monthly poetry salon led by former Rhode Island Poet Laureate Lisa Starr.
"The bookstore being packed in the middle of the week, it blows my mind," says Royce. "It's validation that people want that experience in a community setting."
In a rare admission of self-interest, Royce says, "I wanted a bookstore, so I built one," but adds in the next breath: "I knew it would add value to the community and would be successful. I was amazed at how successful it has been."
Creating and nurturing such gathering places is central to Royce's vision for Westerly: Among his quieter efforts have been buying a bait and tackle shop and turning it into the Weekapaug Innlet breakfast, sandwich and ice cream shop (which took place even before he reopened the Ocean House and revitalized the Weekapaug Inn and the Watch Hill Inn).
He also bought the building where the successful Cooked Goose breakfast and lunch restaurant is located on the road between downtown and Watch Hill, and leases it back to the owners. It's a popular crossroads for residents of both communities, close to Royce's home in the riverside neighborhood of Avondale.
Royce's collaborative community ethos is also embraced by local leaders including Philbrick, who offers up meeting space at the Savoy for local organizations — "We're a business that's all about what we can give back to the community," she says — and Maureen N. Fitzgerald, president and CEO of the Ocean Community YMCA. The Y's administrative offices are headquartered in the former home of the Other Tiger; its 8,500-square-foot wellness center was renovated in 2013 using the funds from a 2008 capital campaign. Programming involves free monthly community yoga, including a hot meal and a mentoring initiative led by a full-time social worker.
Thanks in part to the Royces' generosity — they were a lead donor to the campaign along with the Champlin Foundation and they continue to support the annual scholarship program — the YMCA has grown to almost 10,000 members drawn from both seasonal and permanent residents.
"Chuck has made the community more vibrant and a place to come to be healthy and engage in different activities that didn't exist before," says Fitzgerald.
But he hasn't done it alone. Fitzgerald points out that the Y also received donations from more than 400 people, and the volunteer board of the United Theatre — where Royce and Fitzgerald serve together, Fitzgerald leading as chairperson— recently expanded to twenty members.
Led by Konicki, the Chamber of Commerce has also poured tens of thousands of dollars into downtown's revitalization, including aesthetic improvements such as wayfinding signs, planters and other beautification projects. It also produces numerous events downtown, which draw thousands to the region and make an impact on the local economy. Downtown business owner Wendy Brown and Westerly town councilman Jean Gagnier also co-chaired Bricks and Murals, a civic improvement project that brought in artists to paint a series of murals depicting local history on the walls of downtown buildings.
"Westerly has changed and prospered because of people who are doing this year-round," says Royce, ticking off the names of Fitzgerald, Konicki and state Senator Dennis L. Algiere, who also is senior vice president at Washington Trust Bank, another big donor in Westerly.
The Washington Trust Ice Rink, which opened downtown eight years ago, is another example of the collaborative nature of Westerly's revival: The Land Trust allowed usage of the land for the rink, the YMCA was tapped to run the programs and the bank provides the operating support.