A Look at a Master Gardener's Safe Haven for Endangered Monarch Butterflies
A passionate master gardener in Warwick creates a seductive waystation of native plants to attract endangered butterflies.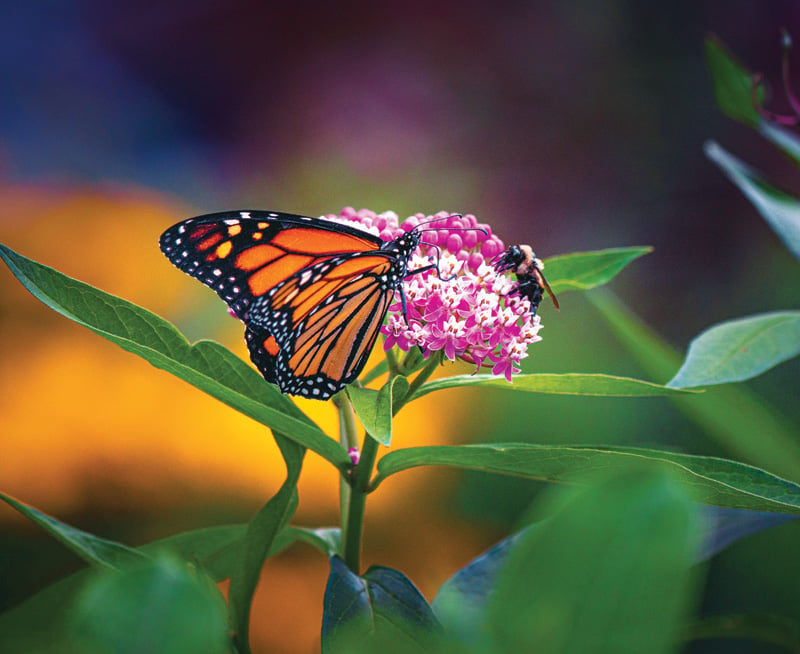 With their art deco-hued orange and black trimmed wings, monarch butterflies are the garden's stylish head turners. Despite their flashy appearance, however, monarchs, which pollinate many types of wildflowers, need all the help they can get.
According to the National Wildlife Federation, their population has plummeted some 90 percent since the 1990s, due to industrial agriculture, climate change and the use of pesticides.
Enter master gardener Sandra Cook. Cook, a self-acknowledged monarch mama, is captivated by these butterflies and has raised almost a thousand in the last four years in the habitat she's created at her Warwick home.
In June, she keeps a watchful eye as they arrive from Mexico and lay eggs in her garden. She brings the eggs into her enclosed porch and waits for them to hatch as caterpillars and then morph into chrysalises, eventually emerging as monarchs. She also carefully washes milkweed leaves for them to savor. "They eat like teenagers," she admits. "Next year, I'm tagging them." A day or so after they emerge, the butterflies are on their way north. In September they're back, this time heading south, some traveling as far as 3,000 miles.
Tucked in a corner of the garden, Cook's waystation is just one feature in her recent transition to an outdoor oasis of native plants, part of a growing movement that promotes biodiversity and a compatible habitat. It's her effort to make her space self-sustaining, supporting native wildlife, birds, squirrels, butterflies, bees, even praying mantises. Native species are declining and "If we're not going to help the world, who will?" she asks. Her goal is a ratio of 80 to 20 percent, native to nonnative plants.
Cook's gift for gardening is in her DNA. When she was a kid, her mother grew impatiens, morning glories and tomatoes, and like members of the family, she points out, plants can last generations. "I have a sedum given to my mom by my brother's mother-in-law," she says. "I also have a peony that my mom got from her mom. It's what inspired me to become a master gardener."
Later she discovered Doug Tallamy's Bringing Nature Home, a primer on how suburban gardening can sustain wildlife with native plants; she calls it life-changing. The deal was sealed when she signed up for URI's "Gardening with the Masters" tour, a pastime she calls a labor of love.
Despite working full-time as an OR nurse at Women and Infants Hospital, Cook may spend an equal number of hours each week puttering outdoors.
"This is my happy place," she says. "I've been known to be outside working after dark wearing a headlamp."
Cook estimates her lawn and garden cover close to 10,000 square feet, but her advice to gardening newbies? Start small. If you don't have a ton of space, try a square foot vegetable garden, where elevated beds (easier when it comes to moving and digging up plants) have replaced the raised kind, and you can grow a lot more in less space. The Square Foot Gardening Foundation has plenty of cheat sheets for inspiration.
And don't give up. "I've had things that didn't work out so I tried something different. Educate yourself. URI's extension program has tons of classes."
Most of all, digging around in the garden is fun and a great stress reliever, the butterfly effect's sweet upside. "Just enjoy it."
Going Native – Where to find native plants.
The Rhode Island Wild Plant Society, where Cook buys frequently, holds a traditional early native plant sale in May and a best native plant sale in June. Check the website for updates and additional useful info.riwps.org/native-plant-sales
Blue Moon Farm Perennials, Wakefield, bluemoonfarmperennials.com
Central Nurseries, Johnston, centralnurseries.com
The Farmer's Daughter, South Kingstown, thefarmersdaughterri.com
Northland Farm and Garden Center, Cumberland, northland.farm
Redwood Nursery and Garden Center, Swansea, Mass., redwoodnursery.com
Wildwood Nursery and Garden Center, East Greenwich, wildwoodri.com