8 Perfect Rhode Island Spots for a Picnic
Grab some supplies and head to one of these destinations.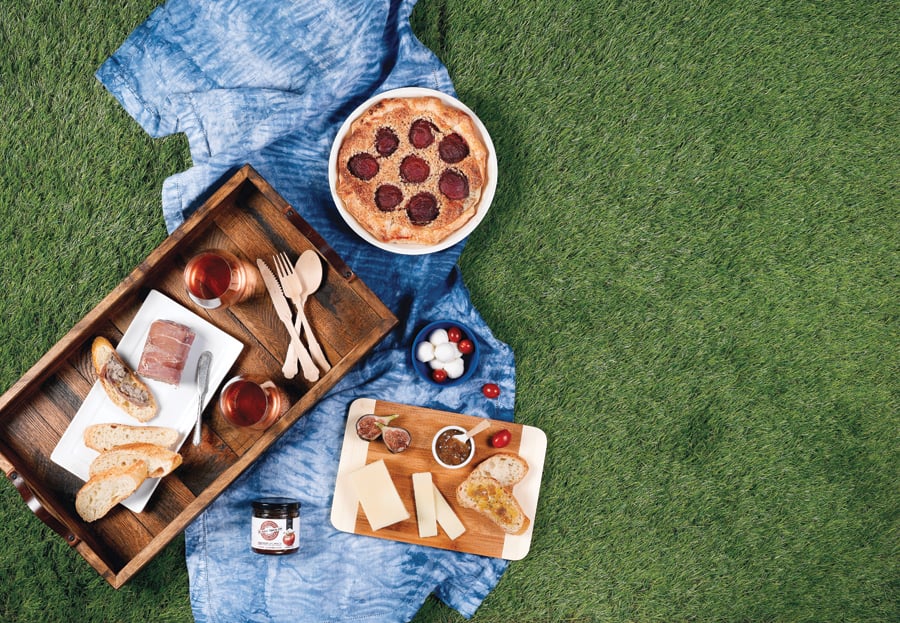 This article has been updated from an earlier version that was published in 2016.
Colt State Park
Route 114, Bristol
A favorite for families, the grounds boast 464 acres of open green spaces, pathways and spectacular views across Narragansett Bay. The park's western border abuts the bay. Lay your blanket by the open air chapel and catch a glimpse of a couple reciting vows or set up your spot by the fishing pier (sashimi anyone?). More than 400 picnic tables dot the park, or roll out your towel at the adjacent Bristol Town Beach.
---
East Bay Bike Path
India Point Park, Providence, to Independence Park, Bristol, dot.ri.gov
If an active day is more your thing, then pack a picnic into a backpack, hop on your bike and head to the East Bay Bike Path. The fourteen-and-a-half-mile paved bikeway stretches from Providence to the East Bay, traveling through six parks. With the new link across the Washington Bridge now open, city dwellers can find themselves along the bay by afternoon.
---
Waterplace Park
1 Financial Way, Providence, waterfire.org
Right smack in the middle of the city, there's this little pocket of tranquility. The basin is set down from street level, while the amphitheater-style lawn overlooking the pond grants a fabulous view with a cityscape backdrop. Take a mid-work-week respite, or brave the crowds on WaterFire nights. When the canal is alight with dancing flames, claim your spot and unpack a gourmet picnic set to the romantic soundtrack.
---
Fort Adams State Park
84 Fort Adams Dr., Newport, 847-2400, fortadams.org
Not just a hangout for the pastel-wearing, yacht-sailing, polo-playing set, Newport is home to Fort Adams State Park. Any history buff would be happy to have his or her lunch in the shadow of this imposing coastal fortification. The walking path grants unobstructed views to Jamestown; glimpses of Castle Hill and Rose Island's lighthouse; and a panoramic vista of Newport Harbor.
---
Roger Williams Park
1000 Elmwood Ave., Providence, providenceri.com
Within the park's 435 acres lie open green spaces, 100 acres of scenic ponds, the Rose Garden, Roger Williams Park Zoo, the Museum of Natural History and Planetarium, the Botanical Center, the Casino, the Carousel Village, the Temple to Music, the Todd Morsilli tennis court and the Tim O'Neil baseball fields —
phew! Tire out the kiddos at the zoo or on the pond's swan paddleboats, setting up camp in a shady spot.
---
Ninigret Park and Salt Pond
Rte. 1A, Park Lane, Charlestown, 364-1227, charlestownri.org
If you're looking for a one-stop location that can provide waterside fun and park perks, Ninigret Park could check all your boxes. About 227 acres are dedicated to grassy spaces, a well-equipped playground, baseball fields, bike course, tennis and basketball courts, picnic areas and a freshwater swimming pond with beach.
---
Wickford Harbor
Town Dock, Brown Street, Wickford Village, wickfordvillage.org
The quiet little town of Wickford offers a peaceful way to absorb Rhode Island's charm. Spread a blanket along the harbor wall adjacent to Brown Street, and watch boats drift through the harbor to the sounds of clinking rigging from yachts moored nearby. With a few benches and areas to set up a chair or two, this is the perfect dockside dining spot.
---
Green Animals Topiary Garden
380 Cory's Ln., Portsmouth, 847-1000, newportmansions.org
Enjoy the fine work of the Preservation Society of Newport County with a picnic. One of the country's oldest topiary gardens, complete with sculpted animals that give the property its name, this is a charming spot away from the crowds of Newport. An immaculate lawn slopes towards the water with picnic tables under the shade of mature trees.