2021 Best of Rhode Island: Readers' Poll
From Blackstone Valley to Newport County, RIMonthly.com visitors named the best in the state in an online poll.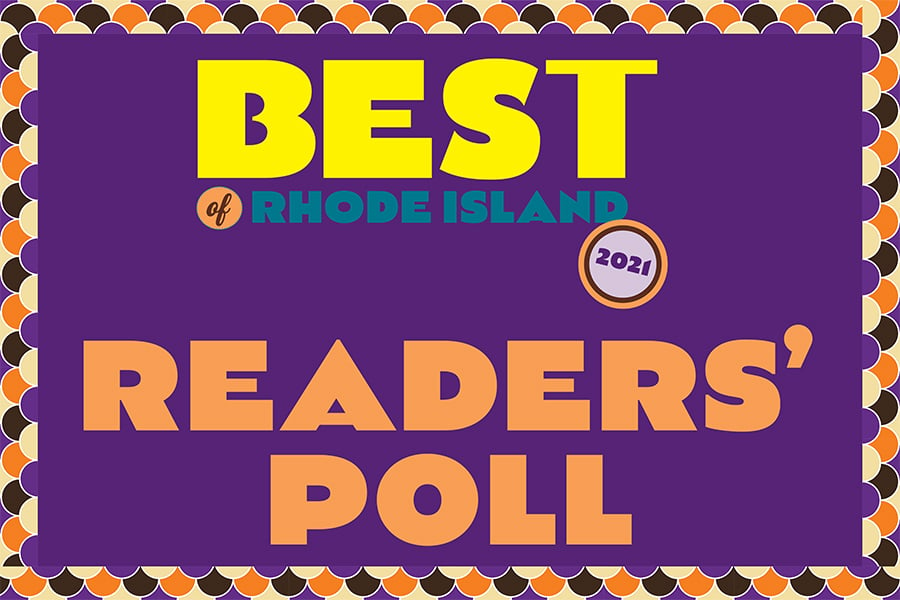 The Best of Rhode Island poll was conducted online between April 1st to April 30th, 2021. All visitors to RIMonthly.com were eligible to vote. The following are the results of a tabulation of the votes cast in both statewide and regional categories. We are confident in our tallies of votes cast. The results are not an endorsement by Rhode Island Monthly magazine but an accurate accounting of legitimate votes cast.
Hall of Fame
Reserved for those folks who have consistently proven themselves to be the best throughout the years.
Statewide
Restaurant
Sophia's Tuscan Grille, Warwick
New Restaurant in 2020
Centredale Revival Company, North Providence
Mexican Restaurant
Condesa Restaurante Mexicano, Multiple Locations
Indian Restaurant
Rasa Restaurant, East Greenwich
Brunch
Massimo Ristorante, Providence
Cheap Eats
Angelo's Restaurant, Providence
Gourmet Doughnuts
KNEAD Doughnuts, Providence
Bagels
Providence Bagel, Multiple Locations
Dessert
Pastiche Fine Desserts, Providence
Waterfront Dining
Matunuck Oyster Bar, South Kingstown
Bar Cocktail List
Ten Prime Steak and Sushi, Providence
Wine List
Pane e Vino, Providence
Beer on Tap
Mews Tavern, Wakefield
Local Brewer/Brew Pub
Grey Sail Brewing, Westerly
Bar to People Watch
The Hot Club, Providence
Burger
Chomp Kitchen and Drinks, Multiple Locations
Irish Bar
Aidan's Pub, Bristol
Oyster Bar
Matunuck Oyster Bar, South Kingstown
Clam Shack
Iggy's Doughboys and Chowder House, Multiple Locations
BYOB Restaurant
Sophia's Tuscan Grille, Warwick
Locally Owned Family Friendly Restaurant
Laura's Bar and Grill, Smithfield
Mobile Food Vendor
Basil and Bunny
Pop-Up Vendor
Menta Graze
Farmers Market
Scituate Farmers Market
Locally Owned Seafood Market
Fearless Fish Market, Providence
Locally Owned Kids' Toy Store
Luca Boutique, Warren
Locally Owned Home Decor Store
Brown and Hopkins Country Store, Chepachet
Locally Owned Day Spa
Pure Eco Spa and Boutique, Westerly
Locally Owned Music Store
Rob Coyne School of Music Education, Warren
Local Concert Venue
Blackstone River Theatre, Cumberland
Locally Made Beauty Products
Rachyl's Goat Milk Soap, North Scituate
Locally Made Food Products
The Backyard Food Company, Cranston
Locally Made Bottled Drink Products–Alcoholic
Sons of Liberty Spirits Co., South Kingstown
Locally Made Bottled Drink Products–Non-Alcoholic
Yacht Club Soda, North Providence
Independent Bookstore
Barrington Books, Barrington
News Anchorwoman
Patrice Wood, NBC 10
News Anchorman
Gene Valicenti, NBC 10
Morning News Anchorwoman
Alison Bologna, NBC 10
Morning News Anchorman
Mario Hilario, NBC 10
Television Meteorologist/Male
Mark Searles, NBC 10
Television Meteorologist/Female
Kelly Bates, NBC 10
Television Sportscaster
Frank Carpano, NBC 10
Television News Reporter/Male
Brian Crandall, NBC 10
Television News Reporter/Female
Lindsay Iadeluca, NBC 10
Morning Radio Show
Gene Valicenti, WPRO
Morning TV Show
The Rhode Show, WPRI 12
Radio Talk Show Host
Gene Valicenti, WPRO
Local Band
The Naticks
Local Lifestyle Blog
Recipe Hippie
Local Fashion Designer
Amy Page DeBlasio
Locally Made Jewelry
Baxter's Fine Jewelry, Warwick
Luca and Danni, Cranston
Photographer
Stephanie Alvarez Ewens Photography, East Providence
Local News Blog
John DePetro Show
Rhode Island Themed Instagram
Buns and Bites
Rhode Island YouTube Star
The Miss Allie Cakes
Twitter Feed
John DePetro Show
Rhode Island Podcast
Outlander Cast: Mary and Blake
Annual Music Festival
Newport Folk Festival
Annual Art/Crafts Festival
Scituate Art Festival
Hiking Trail
Newport Cliff Walk
Local Tour
Providence River Boat Company
Food Event
Food Truck Friday at Roger Williams Park Zoo, Providence
Craft Beer Festival
The Zoo's Brew in a Box Virtual Beer Tasting
Nonprofit Fundraiser
Nathan's Angels
Place to Volunteer
Big Brothers Big Sisters of Rhode Island Children's Wishes
Local Boutique for Wedding Dresses
The Bridal Garden, East Greenwich
Wedding Caterer
Emery's Catering, Warwick
Wedding Photographer
Sara Zarrella Photography, Exeter
Wedding DJ
Elite Entertainment, East Greenwich
Wedding Live Band
Take It to the Bridge
Wedding Cakes and Desserts
Sin, Providence
Wedding Stationery
New England Invitations, East Greenwich
Paper Moon Invitations, Cranston
Little Birdie Papercraft, Warwick
Wedding Jewelry
Baxter's Fine Jewelry, Warwick
Wedding Florist
Cherryhill Flowers, Johnston
Bloom Back Flowers, Providence
Wedding Hair
Pro Radiance Artistry, East Greenwich
Wedding Makeup
Pro Radiance Artistry, East Greenwich
Wedding Planner
Kristin Nicole Events, Warwick
Wedding Videographer
JB Horn Film, Providence
Honeymoon Planner
Detailed Destinations, North Providence
Unique Local Wedding Transportation
Rockstar Limo, Newport
Waterfront Wedding Venue
Castle Hill Inn, Newport
Classic Wedding Venue
Kirkbrae Country Club, Lincoln