Where to Get Your Zeppole Fix in Rhode Island
Bite into St. Joseph's Day with an Italian favorite.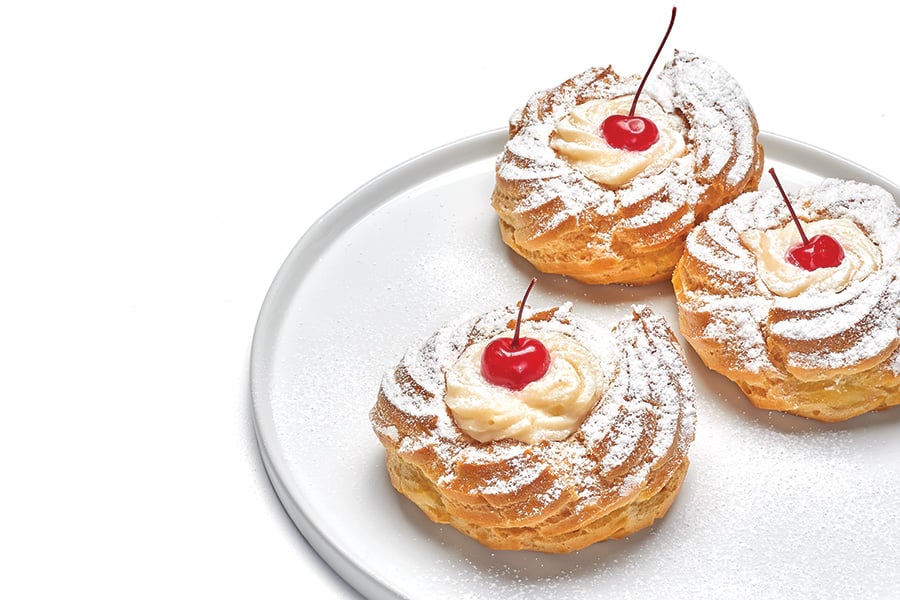 March 19, St. Joseph's Day, is a very big deal in Rhode Island. Every season between February 1 and Easter, LaSalle Bakery turns out thousands of zeppoles from its kitchen. Though the equipment has changed, the bakery still uses the same recipe from the 1930s that Michael Manni Sr. learned from the original owners when he worked there as a kid. Brothers Michael and John Manni bought the business from their dad in 2013. Zeppole come in flavors like original, chocolate mousse and Bailey's Irish cream, which is popular around St. Patrick's Day, as well as a fried version of the original Italian treat. They are one of the few Italian bakeries in Rhode Island that holds true to tradition, by only making zeppoles within a specific window of time, usually from the Super Bowl through Easter. "People ask for them all year long," Michael Manni says. "But we feel that we keep the product special by having it stay seasonal." 993 Smith St., Providence, 831-9563; 685 Admiral St., Providence, 228-0081, lasallebakery.net
For more bakeries for zeppole:
A and J Bakery 1458 Park Ave., Cranston, 228-8696, aandjbakery.net. Seasonal.
Antonio's Bakery 2448 West Shore Rd., Warwick, 738-3727, antoniosbakery.net. Seasonal.
Borrelli's Pastry 765 Tiogue Ave., Coventry, 821-0130, facebook.com/borrellispastryshop. Seasonal.
Calvitto's Pizza and Bakery 1401 Park Ave., Cranston, 464-4200, facebook.com/CalvittosBakery. Seasonal.
Colvitto's 91 Point Judith Rd., Narragansett, 783-8086, colvittospizza.com. Year-round.
DeLuise Bakery 701 Oaklawn Ave., Cranston, 943-4567; 1251 Chalkstone Ave., Providence, 351-5826, deluisebakerycranston.wordpress.com. Year-round.
D. Palmieri's Bakery 624 Killingly St., Johnston, 621-9357, dpalmierisbakery.com. Year-round.
Felicia's Coffee 5757 Post Rd., East Greenwich, 886-4141, feliciascoffee.com. Seasonal.
Le Favorite Bakery 951 Namquid Dr., Warwick, 463-3133, lefavoritebakery.com. Seasonal.
Original Italian Bakery 915 Atwood Ave., Johnston, 919-5777, theoriginalitalianbakery.com. Year-round (traditional), seasonal: pistachio, Irish cream, chocolate, raspberry
Pastryland Bakery 19 Sanderson Rd., Smithfield, 949-0630, facebook.com/PastrylandBakery. Seasonal.
Solitro's Bakery 1594 Cranston St., Cranston, 942-9840, solitrosbakery.wixsite.com/solitrosbakery. Seasonal.
Vesta Bakery 47 Railroad Ave., Westerly, 348-7055, vestabakery.com. Seasonal.
Vienna Bakery 110 Maple Ave., Barrington, 245-2355, viennabakeryri.com. Seasonal.
Zaccagnini's Pastry Shoppe 546 Smithfield Ave., Pawtucket, 723-2699. Year-round.