Wald and Sea Whispers California Cool in Newport
At this new home goods and lifestyle shop, far-flung wares mingle with boho finds from local makers.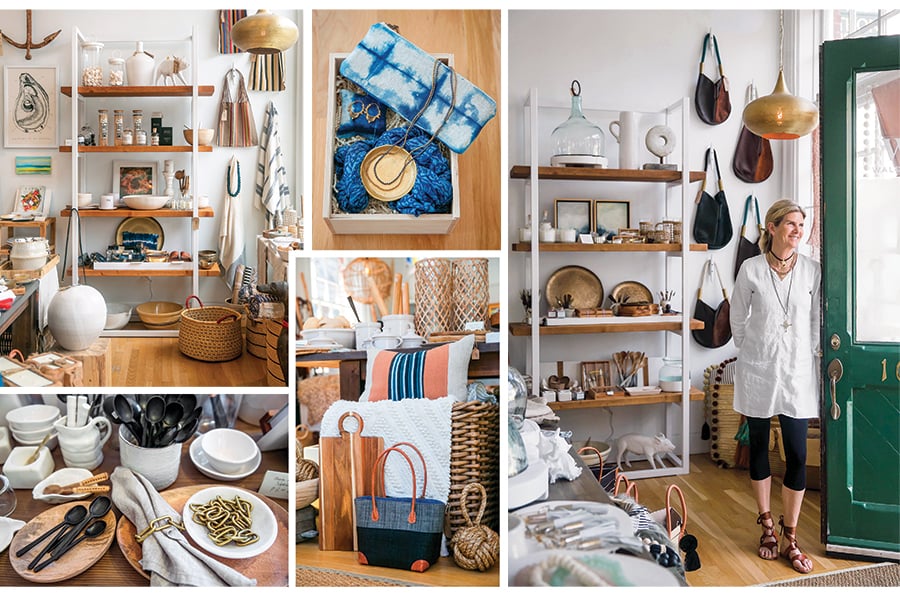 Newport is hardly lacking in eye-candy boutiques. Few, however, have an East Coast-meets-West Coast vibe that you will find at Wald and Sea.
Located on a lively Spring Street corner, Wald and Sea boasts an array of handmade items for those on your holiday list. Owner Kim Wald opened the store in June 2020 when COVID-19 restrictions in Rhode Island were lifted. "Business was slower than it might have been had I opened during a non-COVID year," she says. However, "this was good because I was new to the retail business. It afforded me the opportunity to ramp up slowly."
Wald previously lived in Chicago and California, but called Newport home for four years before moving back to the West Coast in 2013. In 2019, big life changes led her back east, which triggered the idea of opening her own store.
The historic brick building, dating back to 1876 with large windows on the first floor, appealed to Wald when she searched for a location. It is walking distance to some of Newport's upscale hotels and used to house a bakery; the facade still has a wheat bundle pictured at the top.
Airy and bright, the space has a designer's eye and a merchandiser's touch. Wald spent years working as a set designer for commercial photo shoots then in product development and marketing for large corporations such as Levi Strauss and Co. and Oracle. Her background influences how she sources and merchandises and is evident as soon as you walk into the light-filled space.
The interior leans into that California vibe with white walls, muted woods and woven light fixtures hanging from the ceiling. Wald carries handmade ceramics, tableware, beachy woven bags, landscape and portrait paintings, candles and diffusers, brass and gold-plated jewelry and boho pillows and throws. "I pass every product through a simple test," she says. "Would I want this in my home? And, is the item light, airy, warm, organic, earthy, peaceful, welcoming and a little boho?"
Most items are from vendors in California, southern Europe and Morocco as well as local makers and artisans such as Gratitude Boards from Peter Zuerner, ceramics from Jordan Blankenship and coastal landscape paintings from Newport artist Helen Hadley. "I love the local craftsmen's and artists' work the most," she says. "People visiting appreciate it and so do the locals."
Every season you can expect new items in store for both men and women. Wald recently added her own candle line, created a small collection of breezy linen tunics and jewelry collaborations at price points appealing to a variety of customers. "I moved here two years ago and learn something new or meet someone every week," she says. "I especially love the customers who just pop in to say hi with their pups in tow for a treat. It really makes my day." 107 Spring St., Newport, 847-5833, waldandsea.com