Inside Wakefield's World War II Museum
The World War II Foundation will keep history alive long after the Greatest Generation is gone.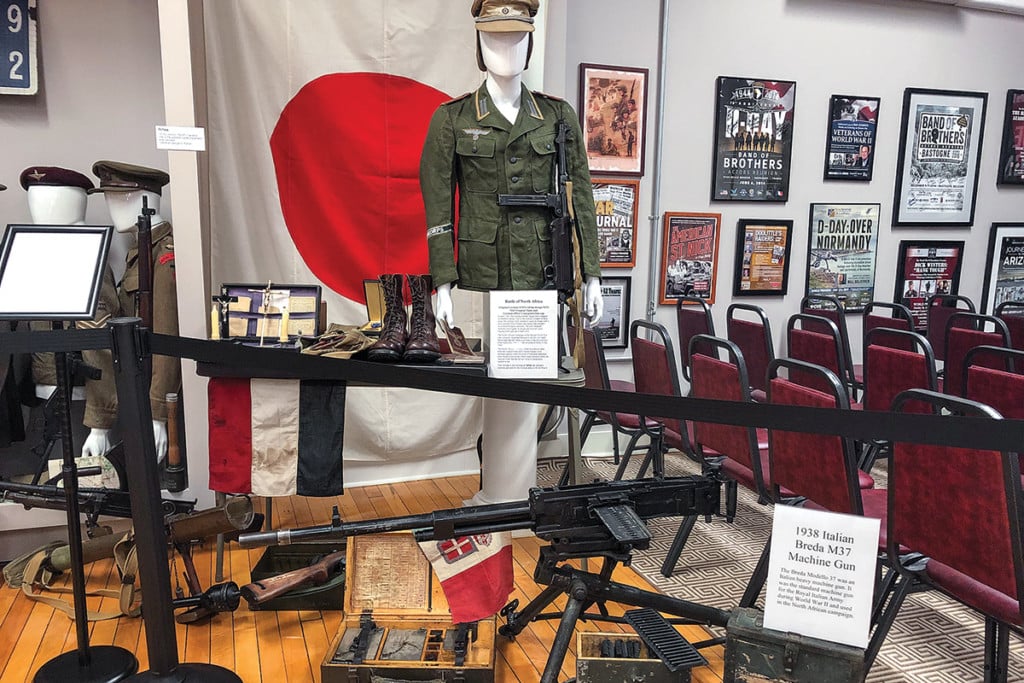 The Greatest Generation is rapidly succumbing to the most ruthless foe: time. Veterans who served during World War II are mostly in their nineties, and each year their numbers dwindle. Lonnie Cook, one of the last Pearl Harbor survivors of the USS Arizona, died in July, followed by another USS Arizona crewman, Lauren Bruner, in September, leaving just three living crewmates to salute his passing.
In downtown Wakefield, however, there's a museum devoted to sharing the stories of veterans like Bruner and making sure that children with no living memory even of the September 11th attacks understand the significance of World War II and learn from the experiences of those who fought.
Occupying a portion of the former Kenyon's Department Store on Main Street, the World War II Foundation Education Center contains more than 3,000 artifacts from the six-year global struggle between the forces of democracy and the Axis nations led by Nazi Germany and the empire of Japan. The collection includes uniforms, weapons, flags, letters, vintage maps and several pieces of battle-damaged gear, including a steel helmet pierced by a bullet from front to back.
"Everything here has a story you can relate to," says museum founder Tim Gray, a former television journalist and filmmaker who has produced more than twenty-three documentaries on the Second World War featuring veterans telling their personal stories of battles like Pearl Harbor, D-Day and the Battle of the Bulge.
Some of the items on display were donated by veterans who took part in the foundation's films, while the rest were collected by Gray over the past forty years. "My wife is happy to have it all out of the basement, to be honest," Gray says.
Gray says that students are more likely to get their knowledge about the war from playing the Call of Duty video game than from school. "I look at that as a teaching moment — at least they know Omaha Beach," he says.
More than 500 students have visited the museum since it opened in January. Visitors are greeted by the museum's most precious possession, a piece of the hull from the USS Arizona, which was destroyed in Pearl Harbor on December 7, 1941, with the loss of 1,177 crew members. "It's the first thing they see because that's when World War II started for the United States," says Gray.
All visitors get to choose a film from among the foundation's documentaries to take home — and hopefully spark further interest in learning about the war and the Greatest Generation that won it. wwiifoundation.org