A Chat With Pop Culture Expert Travis Landry
The boy wonder built a career out of a love of toys and comic books.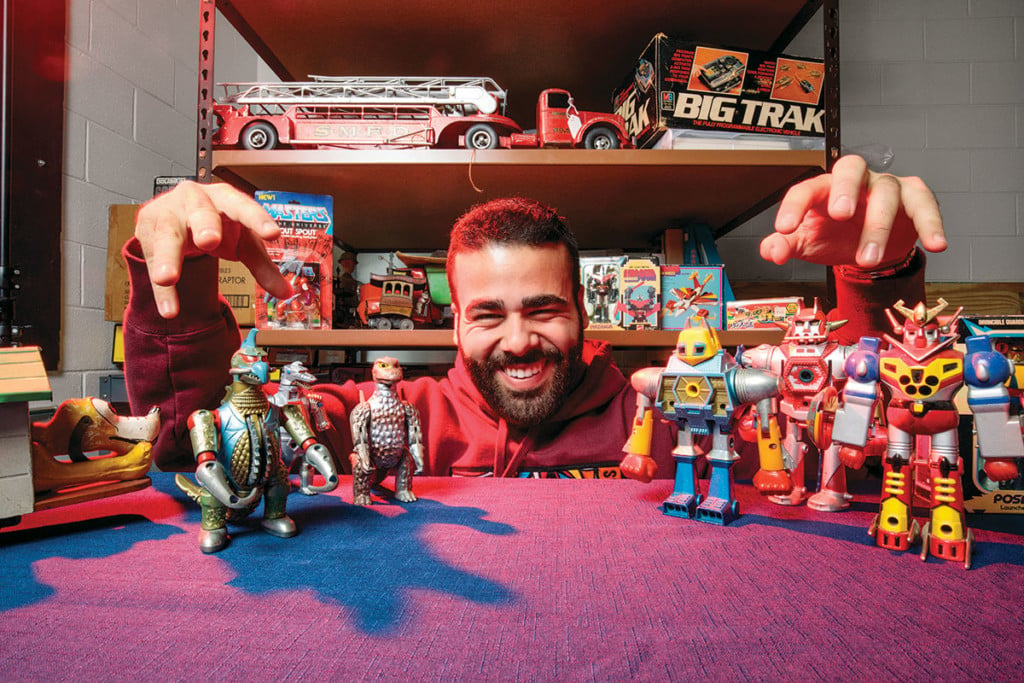 Toy and comic book enthusiast Travis Landry unwittingly became an entrepreneur at age thirteen. Today, at twenty-three, he's made a career out of collecting and appraising rare toys and comic books, currently with Cranston's Bruneau and Co. Auctioneers, where he is a pop culture expert. He's the youngest appraiser ever featured on "Antiques Roadshow," and he's travelled across the country with the show even before graduating from college. The next season kicks off on January 7 on Rhode Island PBS.
Landry has the boundless energy of a kindergartener in full-grown male form. About a decade ago, the Cumberland native ran ads on Craigslist in search of rare Transformers. He negotiated the purchase of his first Generation One Transformers collection from a guy in Connecticut for $700, and then promptly sold it and doubled his money for $1,400.
Landry grew up with parents who collected several things, including Roseville pottery, so the passion for collecting was always in his blood. By the summer before his senior year of high school, he was a diehard toy investor, buying hauls in garages. He responded to an ad he saw for people with great collections to appear on the Travel Channel's show "Toy Hunter." Soon after documenting his finds, the show signed him on as a cast member. That's when the television side of his career kicked off. "My senior year of high school, I was traveling quite frequently through freshman year of college," Landry says.
"Toy Hunter" also led to opportunities with PBS, including appearances on "Antiques Alley," which is where Landry reconnected with his current employer, Kevin Bruneau of Bruneau and Co. He knew Bruneau from attending auctions as a kid with his parents when Bruneau owned Estates Unlimited. Back then, young Landry was into collecting Japanese Katana swords, which impressed Bruneau. He remembered his enthusiasm for old stuff.
"He said, You need to come work for me,' " Landry says. "We agreed to start doing toy auctions together." Now they seek out valuable comic books worth thousands of dollars, rare factory-sealed Star Wars action figures and diecast Japanese toys for auction and give investment advice to other serious collectors.
Landry's pop culture interests extend to fine art, antiques, mid-century modern items and street art. He's helped sell everything from an Andy Warhol piece to valuable Tiffany lamps.
Even though he's been appraising and selling valuable art for years — which interrupted his formal education — Landry plans to finally receive his degree this spring from Framingham State as an art history major. He admits he missed too many classes, though he made up for poor attendance through high scores on quizzes and exams.
The toy collector, appraiser and auctioneer continues to learn about art history through real-life experience on the job. "If one day you want to make money with Star Wars or comics or go find paintings, you can do all that," Landry says. "All of that is out there for you to find, you just have to learn about it." bruneauandco.com