Spend a Day on Block Island
Where to wine, dine, recline and shine in New Shoreham (aka Block Island).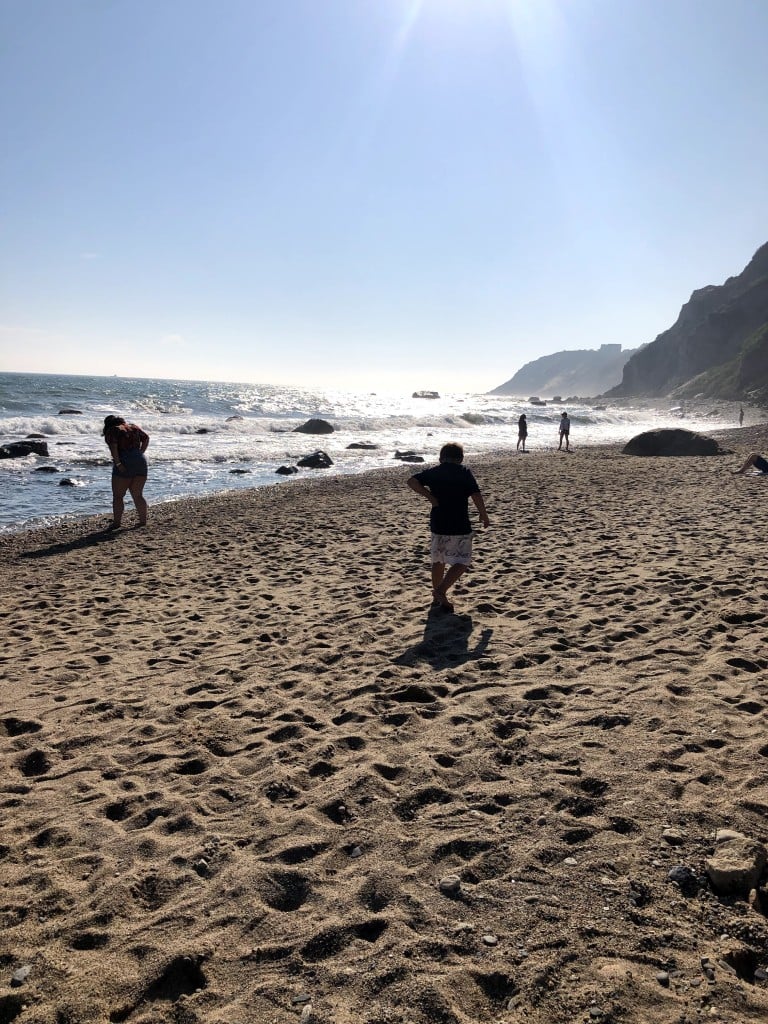 Take full advantage of the summer transportation and take a ride on the Block Island Ferry, just like the song goes. Whether you hop on the traditional, one-hour ride or the hi-speed that gets you on the shores in thirty minutes, you'll be greeted with a full day's worth of activities. So sit back, relax and prepare yourself for an island getaway.
Transportation
There's two ways to get to this pork chop-shaped piece of paradise located about thirty miles from the main shore, and that's via water or the air. Seafarers can sail away on the Block Island Ferry out of Narragansett and Newport, while aerophiles can book a round-trip flight out of Westerly with New England Airlines. Once you're on the island, getting around is a breeze either by car (you can bring yours over!) or on two wheels.Block Island Taxi and Tours offer rides all over the island from the moment you disembark the ferry. Or, be in control of when and where you want to go and rent a moped for you and a friend to cruise. If you're ready for a workout, rent a bike and tackle the island's hilly landscape. Both can be found at Island Moped and Bike.
Accommodations
Overlooking picturesque Crescent Beach, the Block Island Beach House (formerly Surf Hotel) offers the only beachfront hotel rooms—some with private, ocean-view balconies—on the island. The newly renovated hotel also sports  bright, vintage-inspired decor, a lively beach bar and relaxing lounge area that serves good coffee, signature cocktails and food all day long, as well as nightly music on its expansive waterfront deck.
See also: the Spring House Hotel.
Breakfast
Start your day with an iced coffee and breakfast sando to go from Persephone's Kitchen or The Cracked Mug Cafe before you start your day's excursions. If you're not in a rush, pull up a chair at Ernie's Breakfast Restaurant.
Early Bird Specials
Though it may be somewhat small, this island is jam-packed with heart-pumping activities. Start your morning off right with hiking the Mohegan Bluffs; hitting the waves with Diamond Blue Surf Lessons; exploring the coves with Sandy Point Co SUP and Kayak; or even taking a self-guided bike tour. 
Lunch
Grab a mid-day meal to fuel up before the next adventure with patio views at Dead Eye Dick's or The Beachead. If you're feeling spicy, get a taco and street corn from Calavera's or a burrito from Los Gatitos.
Good Afternoon
Tired after a full morning? We don't blame you. Luckily, there are plenty of leisurely tourist activities to partake in. Spend the latter half of the day shopping at Blvck Market or Block Island Trading Company.
Dinner
Wind down the evening with a relaxing dinner with a spectacular sunset at Restaurant 1879. For a date night delicacy, try the oysters at Block Island Oyster Bar and Grill or other seafood dishes at its sister restaurant, Kimberly's. If you're extra hungry, go for a three-course meal at Winfield's. For an exclusive vegetarian menu, check out Eli's Restaurant.
Nightlife
Get the real small-town feel at spots like Poor People's Pub and Captain Nick's Rock-and-Roll Bar. Grab a piña colada in a coconut right next to the ferry at Ballard's Beach Resort to feel like you're truly on an island in paradise.
Looking to island hop?
Martha's Vineyard
Take the Martha's Vineyard Fast Ferry out of Quonset Point in North Kingstown to Martha's Vineyard.
Nantucket
Take the Seastreak Ferry from New Bedford, Massachusetts, to Nantucket.