34 Things to Do, Hear and Watch in May
View a majestic full-moon ritual, take a hike with friendly goats, create a fairy garden and more fun happenings this month. (And no, they're not all on Zoom — huzzah!)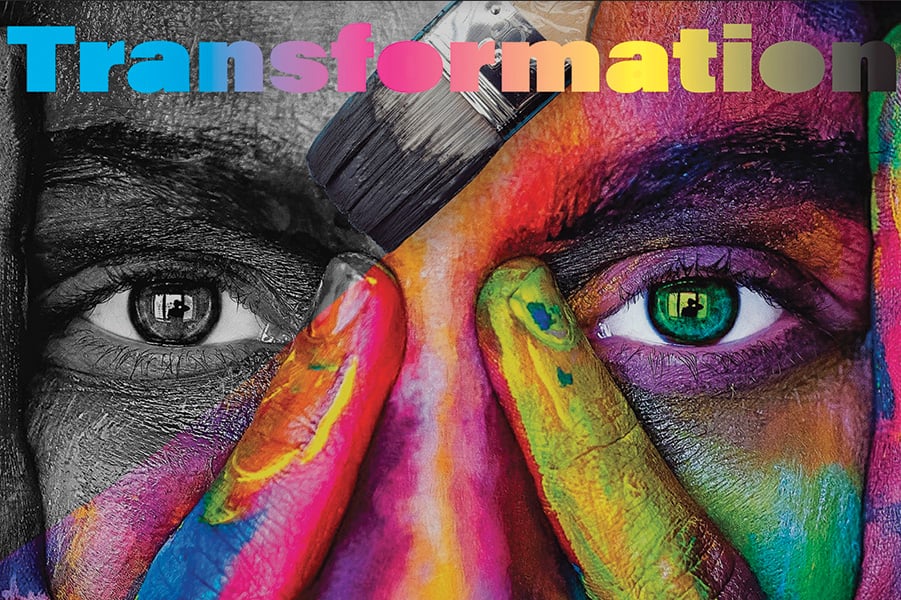 Our Top Picks 
Through June 3
Juried Hybrid Show
Why: It's been a transformative year, to say the least, and the Pawtucket Arts Collaborative's latest show features work that depicts transformation in its varied forms. See how local artists in a range of mediums take on the illuminating qualities of change, as selected by guest juror Francoise McAree. Artwork will be available for purchase and ranges in size, in both 2D and 3D.
Where: Pawtucket Arts Collaborative, 560 Mineral Spring Ave., Pawtucket.
More info: pawtucketartscollaborative.wildapricot.org.
5/26
Night of the Spawning Moon
Why: Once in a full moon, prehistoric horseshoe crabs flock to the protected estuaries in Weekapaug for a mating ritual that dates back 400 million years. Wear muck boots and carry a lamp to observe the crabs glide across the sandy shallows under the guidance of an expert naturalist.
Where: Weekapaug Inn, 25 Spray Rock Rd., Weekapaug.
More info: 888-565-5023, oceanhouseri.com.
5/7
Mother's Day Mimosa Tour
Why: Toast mom this Mother's Day on an open-air cruise through the Providence River. While you sip complimentary mimosas, see Providence in a new light with narration from tour guides from the Providence Riverboat Company. Hats and sunscreen are recommended, and passengers must wear facial coverings while checking in and boarding.
Where: Providence Marina, 15 Bridge St., Providence.
More info: 580-2628, providenceriverboat.com.
Editor's note: Please call ahead to confirm event details.
The Big List
Theater
Trinity Repertory Company
Through May 31: Check out Trinity Rep's virtual showing of The Catastrophist, a co-production of Marin Theatre Company and Round House Theatre. $30 per household. ONGOING: Don't miss the theater's digital content, including a Facebook Live series, Your Half Hour Call with Curt; stories and readings from the resident acting company; clips from past shows; and episodes of Trinity Rep Radio Theater. Free to stream. 351-4242, trinityrep.com
Sandra Feinstein-Gamm Theatre
Ongoing: Brush up your Shakespeare with season two of Gamm's streaming series on the Bard featuring Ricardo Pitts-Wiley, Marianna Bassham, John Douglas Thompson and other contemporary stage luminaries. Free to stream. 723-4266, gammtheatre.org
The Wilbury Theatre Group
Ongoing: Catch up on the theater's stellar virtual offerings, including a reading of Invoice for Emotional Labor by Christopher Johnson, Wilbury crowd-pleaser Roadhouse: The Musical and others. Free to stream. 400-7100, thewilburygroup.org
Contemporary Theater Company
Ongoing: Tune into high-quality (and free!) virtual performances including Love Stories and Other Sonnets, plus silly Family Play Date offerings from Jay and Leslie Cady. Free to stream. 218-0282, contemporarytheatercompany.com
Fairs and Festivals May Day Market
May 1 and 2: Shop a market featuring locally sourced and handcrafted goods for your home and garden. With more than 100 vendors, there's sure to be something to suit your style. 10 a.m.–4 p.m. Free admission. WaterFire Arts Center, 475 Valley St., Providence, finefurnishingsshows.com
Newport Oyster Festival and Chowder Festival
May 21–23: What's better than oysters by the harbor? Bowen's Wharf's annual festival is back this year with precautions planned for a memorable and safe event. Call or visit the website for event times and ticketing information. Bowen's Wharf, Newport, 849-2243, bowenswharf.com
Newport Food Truck and Craft Beer Festival
May 22: Feast on food truck fare crafted by Rhode Island mobile restaurants in the City by the Sea. Pair your food selections with a cold craft beer. Check the website for a complete list of vendors. Noon–5 p.m. $5 in advance, $10 day of. VIP tickets available. Fort Adams, 90 Fort Adams Dr., Newport, 781-405-5639, foodtruckfestivalsofamerica.com
Trips and Tours
Rhode Island Red Food Tours
Ongoing: Explore your favorite capital city neighborhoods on a food tour. Walking tours in Providence include food samplings plus beverage pairings at six local restaurants. Reservations are required. Noon–3:30 p.m. $69–$84. Various locations, rhodeislandredfoodtours.com
Rail Explorers Tours
Ongoing: Take a bite out of brunch or check out the night sky with Rail Explorers in themed, pedal-powered tours — with snacks — from the Southern Circuit to Bayside Station. See website for tour times and ticket prices. 1 Alexander Rd., Portsmouth, 877-833-8588, railexplorers.net
Newport History Tours
Through May: Participate in spring history walking tours presented by the Newport Historical Society. Tours include Discover Colonial Newport; Golden to Gilded; Common Burying Ground; Rogues and Scoundrels; French in Eighteenth Century Newport; Road to Independence; the Point Neighborhood; Newport's British Occupation; and Creative Survival. Attendees must wear face masks and maintain social distancing. Tours at 11 a.m. on Saturdays. $15–$20 per person. Museum of Newport History and Shop, 82 Touro St., Newport, 841-8770, newporthistorytours.org
Newport Gallery Night
May 13: Stroll the City by the Sea and browse Newport's fine art galleries. Check out new exhibits in a variety of mediums, from handblown glass to photography to oil painting and more. Visit the website for a list of participating galleries. 5–8 p.m. Free. Various venues, newportgallerynight.com
Green Jacket Shoal Riverboat Tour
May 22: Join Providence Riverboat Company and guest tour guide David Robinson, director of the Massachusetts Board of Underwater Archaeological Resources, for a seventy-five-minute exploration of the Providence waterways and Green Jacket Shoal. A portion of ticket sales will benefit the East Providence Historical Society. Capacity is limited and reservations are required. All passengers must wear a facial covering while checking in and boarding. 10 a.m. $42–$45. Providence Marina, 15 Bridge St., Providence, 580-2628, providenceriverboat.com
Family Stuff
Asian Lantern Spectacular at the Zoo
Through July 4: Head to the zoo after dark for a wonderland of illuminated, larger-than-life lanterns inspired by the wild. From interactive displays to Asian-inspired cuisine and drinks, this multicultural walk-through event delights all ages. Wed.–Sun. 5:30–10 p.m. Children $23, adults $25, babies one and younger free. Roger Williams Park Zoo, 1000 Elmwood Ave., Providence, 785-3510, rwpzoo.org
Hawks and Hoots at the Audubon
May 15: Get up-close to hawks and owls in small-group stations at this safely distanced celebration of birds of prey. Talk with Audubon educators, learn about their amazing adaptations and discover the habitats that they call home. Children will receive a special Hawks and Hoots fun pack to take home. Each group will be guided by an Audubon staff member as they move through the owl and hawk stations. Face masks, social distancing and advance registration are required. 10–11:45 a.m. and 1–3:15 p.m. $8–$16. Audubon Nature Center and Aquarium, 1401 Hope St., Bristol, 949-5454, asri.org
Music
Knick Live Stream
Ongoing: Check out this ten-week series of full virtual concerts from the Knick stage and co-presented by the United and the Knick. Tune into Madison McFerrin, Cowboy and Lady, the Bruce Harris Trio and more. Free to stream. unitedtheatre.org
Rhode Island Philharmonic
May 1: "String Kingdom." May 15: "Mahler." May 22: Orchestra showcase. All events offer limited live seating with accompanying virtual experiences. 8 p.m. Call or visit the website for ticket prices. Veterans Memorial Auditorium, 1 Avenue of the Arts, Providence, 248-7000, riphil.org
Concerts on the Green at Pump House
May 1–30: The Peace Dale music venue is offering outdoor concerts from the Narrow River Band, Two Cat Tango, Duke Robillard Band, Dan Moretti and the Hammond Boys and others on Friday, Saturday and Sunday nights. Private picnic tables available for reservation. Call or visit the website for show times and ticket prices. Pump House Music Works, 1464 Kingstown Rd., Wakefield, 824-9971, pumphousemusicworks.com
Museums
Museum of Work and Culture
Ongoing: The museum may be closed for in-person tours, but virtual tours are available to the public every Wednesday at 2 p.m. Follow a docent through a dozen immersive exhibits using a combination of video, audio and images. Themes include the Industrial Revolution, immigration and nativism, Americanization, labor and unions and more. 2 p.m. Members free, non-members $5. 331-8575, rihs.org
RISD Museum
Ongoing: Experience art through performances, snippets of conversation, hands-on art making and encounters with artists. There are several exhibitions on view through the end of the calendar year
including "Raid the Icebox Now," "Black Flyyy" and more. Virtual exhibitions are free. 454-6500, risdmuseum.org