The Largest WaterFire of the Season Will Be a Cultural Extravaganza
This is not your average WaterFire, with a focus on BIPOC and cultural experiences.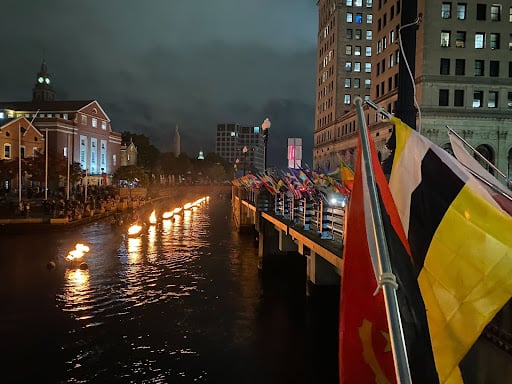 Downtown Providence will be lit with the warm glow of a full WaterFire lighting on Saturday, Aug. 13 for a very special celebration. The weekend's events are sponsored by the Papitto Opportunity Connection (POC) to celebrate the vibrant communities of color here in Rhode Island. Connect with the community village of more than forty POC-funded nonprofits that offer critical services and opportunities to Black, Indigenous and people of color (BIPOC) in the state.
There's plenty of fun to be had along with the networking experience. Put your golf skills to the test on an interactive putting green while learning how Button Hole provides critical thinking and life skills for inner-city youth, and get first-hand insights on how to grow fresh produce with SouthSide Community Land Trust, which is working to eliminate food insecurities in Rhode Island's inner cities. The night promises to be an immersive cultural experience, featuring performers representing Black, Hispanic, South Asian, Southeast Asian and Latino cultures on three separate sound stages.
Visit the Washington Street bridge stage to hear the captivating vocals of Providence rhythm and blues singer Alexus Lee, and bring your dancing shoes for a salsa lesson too. On the Steeple Street stage, you can catch master percussionist Sidy Maiga performing with The Bridge Where We Met to create an electrifying West African fusion of music. You may even get to see the Rhode Island Kung Fu Club perform a Chinese lion dance, which brings positive energy and good luck. You may work up an appetite from all that dancing, which is why there will also be an array of food trucks all owned and operated by people of color. Feast on the global cuisine served up by your local food truck favorites, and take a picture with the assembly of flags representing 193 nations.
POC was founded by Barbara Papitto to invest in education, job skills training and entrepreneurial ventures for Rhode Island's BIPOC communities. Barbara and her husband Ralph had continuously been involved in creating educational opportunities and supporting children impacted by systemic racial injustice, and this organization founded in 2020 is their latest contribution. The organization funds many nonprofits around the state which provide essential programs to the community. This WaterFire will be the second annual celebration, and we hope for more to come. Get updates on POC's website here.