The Helping Power of Service Dogs
The canines assist people in myriad ways.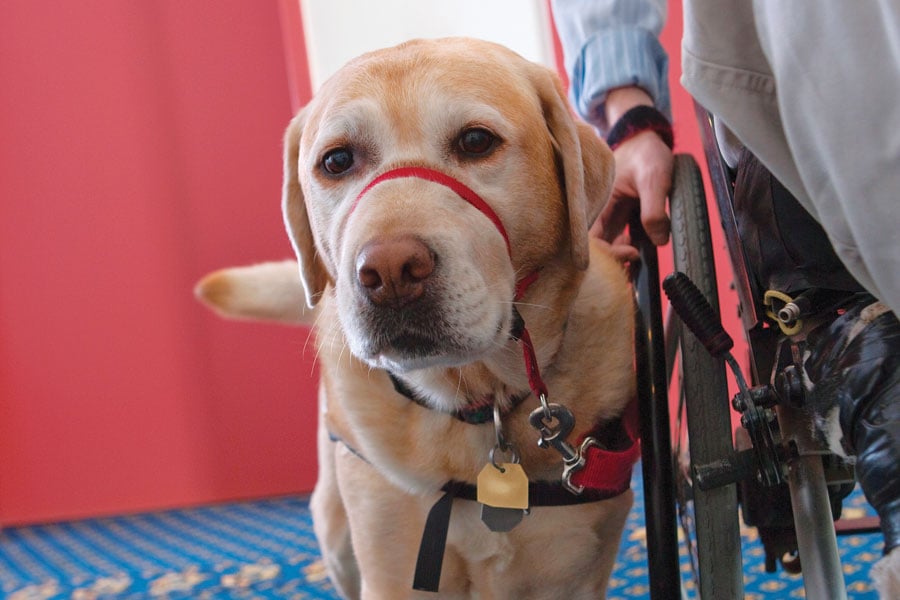 Many people feel healthier and happier when they caress, brush and play with their pets. But some individuals with physical and/or emotional disabilities rely on their animals in ways that most of us can't envision.
A lifelong dog lover and career military man, John DiRaimo never anticipated that one special dog would rescue him. After several earlier deployments, DiRaimo found his last tour of duty — thirteen months in Iraq — especially challenging. Not only did he incur back injuries and partial hearing loss, he witnessed too many casualties, both civilian and military, to simply carry on. "I couldn't take the nightmares of what I'd seen," he says.
Back home, DiRaimo drank excessively, sought combat's adrenaline rush and withdrew from virtually everyone. At his lowest point, his girlfriend found him cradling his service revolver in one hand and a bottle of pills in the other. Diagnosed with Post Traumatic Stress Disorder, DiRaimo began to heal with inpatient psychiatric help from the Veterans Administration. Through a chance encounter, he found NEADS (National Education for Assistance Dog Services, also known as Dogs for Deaf and Disabled Americans), a Massachusetts-based nonprofit organization that trains a wide range of assistance dogs to help individuals with different disabilities or impairments.
"NEADS pups are put into the Prison Pups Program [at Rhode Island's Adult Correctional Institutions and other area prisons] at around three-months-old," explains Colleen Whelpley, a long-time weekend puppy raiser in Providence. "Medium-security prisoners [at the ACI] are responsible for their care, feeding and training, Monday through Friday, twenty-four/seven." Volunteer weekend puppy raisers expose the puppies to diverse experiences and reinforce what the puppies learn in the prison.
NEADS trains prisoners and holds monthly classes for weekend puppy raisers. Each puppy stays with its prisoner trainer and weekend puppy raiser for about twelve to sixteen months before being assigned to a client. NEADS and other nonprofit service dog organizations, including Canine Assistants and the Guide Dog Foundation for the Blind, provide lengthy and intensive training before carefully screening and matching dogs with clients. NEADS, for example, creates a client profile based on an individual's detailed application and interview, which enables the organization to select the most appropriate dog. "We don't force a match; it has to be perfect," says Alyson Cox, NEADS's manager of communications. During his two-week advanced training with his service dog, Park, at NEADS's campus in Princeton, Mass., DiRaimo grew to know and love the yellow Labrador.
If he didn't have Park, DiRaimo, of Cranston, confesses, "I'd be dead. Park always knows when I'm not feeling well or having an anxiety attack." When DiRaimo is depressed, Park is his steadfast companion; when he's anxious, Park affectionately nuzzles him and shields him from conflict. Other than fatherhood and military service, "Park is the best thing that ever happened to me," he says. "Now I have my dog, my responsibility. He takes care of me."
Left: Anthony Iannone, a resident of Elmhurst Extended Care, with DJ PPAT student Madlyn Waskiewicz and her dog, Tuka. Photo by Rachel Czephya. Right: Paul Molloy with his guide dog, Shaun, at his office in Warren. Photo by Nancy Kirsch
Who would expect a broken wrist to permanently alter a life…for the worse? More than ten years ago, that's what happened to Shari Levine, then a physically active woman who golfed, swam and was a self-proclaimed "gym rat." In her private practice as a muscular therapist, she provided relief and treatment to patients in pain. Then, she became the patient. After her broken wrist failed to heal, doctors eventually diagnosed with her Reflex Sympathetic Dystrophy (RSD), also called Complex Regional Pain Syndrome (CRPS), which causes constant, excruciating pain and extreme sensitivity to even the lightest caress or breeze. Other than her left thumb, her left hand and arm are completely immobile and wholly non-functioning. Although Levine has undergone more than a dozen surgeries and consulted numerous specialists, no one has alleviated her pain or offered hope for any improvement in her medical condition.
"I was fearful of going out, and terrified of someone banging into my arm," says Levine of those early years. "I lost my spirit. I lost my business and my independence." Levin found help through Canine Assistants, which required her to complete an application, undergo a home study and ask five people who knew her well to complete personality profiles about her. At Canine Assistants' Georgia campus, each client meets a few dogs with compatible personalities and attributes; for example, active dogs meet high-energy individuals. Then, Levine learned, the dog picks the person: Canine Assistants uses the dog's response to a client to assess who is a good match.
Although her service dog, Juno, can't alleviate her debilitating pain, she's bettered Levine's life and spirits. "If I was hurt and unresponsive, she would…get help," she says. Juno dramatically increases Levine's day-to-day independence. Not only does the dog open and close doors in Levine's apartment and handicapped-accessible doors in public buildings, she tugs down on clothes with front zippers so that Levine can zip them up one-handed. "You don't want to ask someone to zip your jacket for you. Juno's help makes me feel like an adult," says Levine, who shares a spacious apartment with her widowed father in Cranston.
She now enjoys long walks with Juno, a black Labrador and golden retriever mix, whose presence provides comfort in public settings. Not only does Juno shield Levine's left side from crowds and obstructions, people ask more about Juno and less about her arm.
Veteran John DiRaimo with his service dog, Park. Shari Levine shakes hands with her service dog, Juno. Photos by Nancy Kirsch.
Service dogs, like Park and Juno, offer their clients valuable social interactions, greater independence and client-centric help. They alert deaf or hearing-impaired individuals to the source of sounds, they open and close doors, turn lights on and off, and retrieve and carry objects for individuals with physical disabilities or prosthetics.
Unlike service dogs, which can be trained to fulfill myriad duties, guide dogs do just that: They guide blind individuals. Paul Molloy was born with Usher syndrome, which causes hearing loss or deafness and progressive loss of vision. Although Molloy was born profoundly deaf, he was able to drive as a young man and only later experienced vision loss.
To compensate for his worsening vision, Molloy, who calls himself a "very happy deaf man," had a cochlear implant that restored some hearing in his left ear.
Nevertheless, when he could neither see nor hear traffic coming from the right, Molloy realized that a guide dog could do for him what his cane could not.
"The cane doesn't think. Shaun thinks," says Molloy of his guide dog. "Shaun would stop me from crashing into a wall or bumping into people." He revels in his increased confidence and independence, thanks to Shaun, a golden retriever he's had for about a year.
Molloy laughs as he explains how he came to trust Shaun at busy intersections: "My trainer always said, 'Paul, Shaun doesn't want to get hit by a car either. Trust me on this. He likes life.' "
With a master's degree from Columbia University, Molloy moved to Rhode Island to work for the Corliss Institute in Warren, where he is now its director of programs. Getting a service or guide dog is "the freakiest thing a human can do," he says. "You're taking your independence and putting it into an animal that has the maturity of a young child."
Like childrearing, raising these dogs is an expensive undertaking, but only for the organization. "The whole process, from birth to training to placement, costs [more than] $50,000 [for a single dog]," says William Krol, the Guide Dog Foundation for the Blind's communications manager. "Individuals receive their guide dogs and training and a lifetime of care, at no cost to them." Their puppies spend about a year with volunteer puppy raisers to learn basic obedience skills. Later, they receive three to four months of formal guide dog training. Eventually, each dog and client train as a team for two weeks. Matching a dog with a client is a bit of art and a bit of science, says Krol.
The outgoing Molloy wishes people would ignore Shaun and him, as interruptions interfere with his commands to Shaun and calculations of blocks left to walk. "We're always talking to each other as we're walking," says Molloy, who regularly reinforces commands with his dog. Unlike service and guide dogs — raised from infancy and trained intensively for that purpose — pet-assisted therapy (PAT) animals live with their families and make visits to children on the autism spectrum, individuals getting occupational or physical therapy, and lonely, ill or elderly individuals. Service and guide dogs generally have broad public access rights under federal and state laws — and those laws often vary — while PAT animals have varied access under Rhode Island law, depending on the role they fulfill.
Be aware: PAT involves more than taking your mellow Lab to your neighborhood nursing home. A commitment of time, energy and money for training and certification is expected.
DJ Professional Pet Assisted Therapy Program (DJ PPAT) believes that any good-tempered family pet that enjoys interacting and bonding with strangers can be a PAT animal, says Cynthia Vanaudenhove, the program's co-director. In fact, Windwalker Humane Coalition (Windwalker), the credentialing and professional organization that arose out of DJ PPAT, has credentialed many dogs, including mixed breeds and even pit bulls, as well as cats, bunnies and a mini-horse, as therapy animals. Vanaudenhove is president emeritus and a current member of Windwalker.
The DJ PPAT certificate program, which includes a course taught on the CCRI Warwick campus, addresses PAT ethics, DJ PPAT's history and philosophy; "hands-on, paws-on" experiences, with exposure to the typical sights, sounds, smells and environments of typical PAT visits; a mentorship and an internship. After successfully completing DJ PPAT's three courses or a complementary program, says Vanaudenhove, individuals and their pets may apply for Windwalker credentialing and Windwalker membership for individuals.
"There's nothing more fulfilling than seeing your beloved pet so happy while bringing joy to others and seeing that joy reflected in the client's face," says Vanaudenhove.
In South Kingstown, Courteous Canine's Touching Tails is a multi-session pet therapy class, with a prerequisite: Interested individuals must complete a course, online or at Tufts University, addressing privacy and confidentiality issues, and general responsibilities of being a dog handler, says Karen Perusek, owner of Courteous Canine, which also offers other classes for dogs. By training dogs to respond consistently to several commands and to ignore other dogs, loud noises, wheelchairs, restraining hugs and other distractions, Touching Tails prepares the dogs to work in PAT. At the conclusion of the Touching Tails course, the dog/human team must pass tests to be certified to offer PAT.
"People…with [PAT] dogs are willing to attempt to do things [in occupational or physical therapy] that they wouldn't necessarily do otherwise," says Perusek, who holds a master's degree in applied behavior analysis from Simmons College and several additional dog-training certifications. "They're not being judged by the dogs."