"She Brings a Steady Hand": How Sabina Matos is Making Her Mark on RI
Lieutenant Governor Sabina Matos is the first person of color and second woman to hold the title.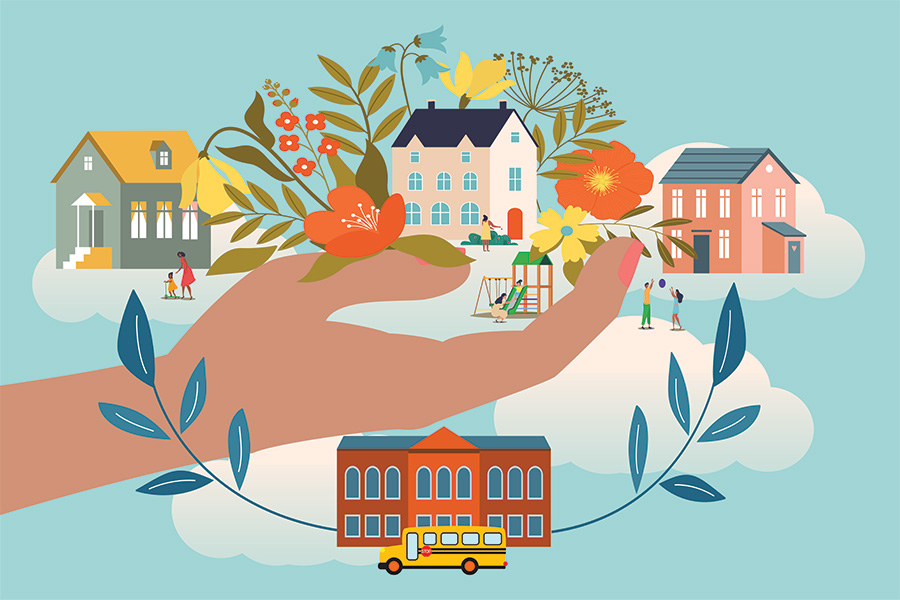 Gray clouds scud overhead while a bubble blizzard rages on the grounds of Pacheco Park. It is Kids Day, one event in the 150th North Smithfield Days celebration. Standing unobtrusively between the bouncy house and Girl Scouts demonstrating their award-winning lashing skills is Rhode Island's newly installed lieutenant governor. Sabina Matos, forty-seven, is the seventieth person to hold the position — only the second woman and the first person of color.
This being Rhode Island, not a lot of pomp and circumstance trails the lieutenant governor, just her director of communications, Billy Kepner, with a Canon SX70 Powershot slung around his neck, snapping pictures for her Twitter feed. In late March, Governor Dan McKee selected Matos out of eighty applicants to fill the post he vacated when then-Governor Gina Raimondo departed to become President Joe Biden's secretary of commerce. Matos kicked off her first 100 days in office with a retail politics blitz of handshakes and smiles in all thirty-nine cities and towns. The pace has been relentless: parades, small business tours, nonprofit visits and clamming on Narragansett Bay. This Saturday alone, she spent the morning at the Providence DaVinci Center's popup market for African American farmers and has a stop at Bravo Brewing Company in Burrillville after this.
"I really wanted to get to know places in Rhode Island I didn't know before. And we've gotten a really warm welcome — strangers telling me: 'We're rooting for you,' " she says. "It makes me realize that this opportunity means so much to so many people; it's bigger than me."
People who know her best say this attitude describes Matos's entire two-plus decades in electoral politics. Americans like their governance with a show. Matos offers not a hint of the sociopathic charm, talent for fluid lying and incendiary displays or bottomless egoism that characterizes many politicians who gain a rabid coterie of followers. She's built a substantial fan base doing the opposite.
"She brings a steady hand," says Peter Marino, CEO of Neighborhood Health Plan, who worked with Matos on the City Council and during the statewide effort to ensure an accurate count for the Census. "She's trustworthy and loyal; someone who has demonstrated grit and integrity. We've had some frank and candid discussion about issues, and she's not afraid to tell me what she thinks. She sticks to her word and she follows up. I think folks enthusiastically follow and they believe in her; it gets back to that trust."
Sabina Matos got her start in Olneyville, a triangular patch of Providence bounded by Atwells Avenue and Routes 6 and 10. The Woonasquatucket River, running through the south end, once powered the industrial revolution of the nineteenth century. And the foundries and textile mills dotting it attracted waves of immigrants: first Irish, Polish, Italian and French Canadian; later Vietnamese, Guatemalan, Dominican. The Matos family moved here in 1994, from New York City by way of Paraiso, Barahona, in the Dominican Republic, where her mother was a teacher and her father had been mayor.
Matos was twenty and spoke no English. But by 2001 she had earned a bachelor's degree in communications and public relations at Rhode Island College and had become immersed in the Olneyville Neighborhood Association. Her activism caught the attention of then-Providence City Council Majority Leader Luis Aponte and the late City Councilman Miguel Luna, who urged her to run for the Ward 15 seat.
"I said no because, you know — women in politics," she says. "They have to be asked seven times before they say yes."
Attorney Bill Lynch, Democratic Party stalwart and its leader for a dozen years, recalls his introduction to Matos. Lynch was trying to diversify the party when he took a meeting with a young Latina seeking advice on getting politically active. He intended to spend a half hour with her; they wound up talking for two.
"I was impressed by her life story. At that time, she was learning the language, she was a young mom, working and juggling a lot of responsibilities," he says. (Matos is married to DHS chief program development manager Patrick Ward and has two children, Diego and Annemarie.) "She seemed completely unintimidated by it. I encouraged her to think bigger and get a plan that was larger than serving on a party committee."
Her first race was tough. Matos challenged twenty-four-year incumbent Josephine DiRuzzo in the 2006 primary. The pushback within the party was strong, Lynch recalls.
"The common refrain was why doesn't she wait her turn," he says. "It was a different time and a different place. It wasn't easy to be Sabina."
She lost by 100 votes.
"I didn't think I would run again," she says. "But I learned that how you lose is as important as how you win. I could have been bitter or I could have used the lessons I learned."
In 2010, she beat DiRuzzo in a rematch.
The Latino community has been organizing itself politically since 1998, first forming the Rhode Island Latino Political Action Committee, followed by the Latino Civic Fund, a nonprofit to promote Latino civic participation. In 2003, the fund founded the Latina Leadership Institute (LLI), which has incubated the political careers of Pawtucket Representative Sandra Cano and Central Falls Mayor Maria Rivera. Matos is a graduate of its first class.
"At that time, she was fairly shy, but very interested in learning how women — especially Hispanic women — could be full participants in civic life in Rhode Island. Very curious, always asking questions," says Melba Depna-Affigne, a founder of the LLI. "I think she has come out of her shyness, but her introverted personality is still there. She doesn't need to be the center of attention when she walks into a room. She's a great listener, and many of the people who work with her highlight that, and through that ability to listen she is able to deal with those difficult personalities."
Shyness has not kept her from pursuing her ambitions amid a pack of aggressive competitors. In 2015, Matos became the first Latina to win council president pro tempore, a ceremonial position to preside over the chambers when the council president is absent. In May 2017, her mentor and ally Aponte, then-city council president, was indicted on charges that he embezzled $13,000 from his campaign for personal expenses. Under pressure, he stepped down from the top spot, but pleaded not guilty and remained on the council. (As part of his guilty plea in June 2019, he resigned from the seat he had held for more than two decades.) Matos became acting city council president for six months, until Ward 14 Councilman David Salvatore made a successful bid for the council presidency. Salvatore lasted less than a year.