Find Your Fragrance at Scentique, a Candle Bar
Be it a date night, girls' night out or even a bachelorette party, make and take home a candle of your own creation.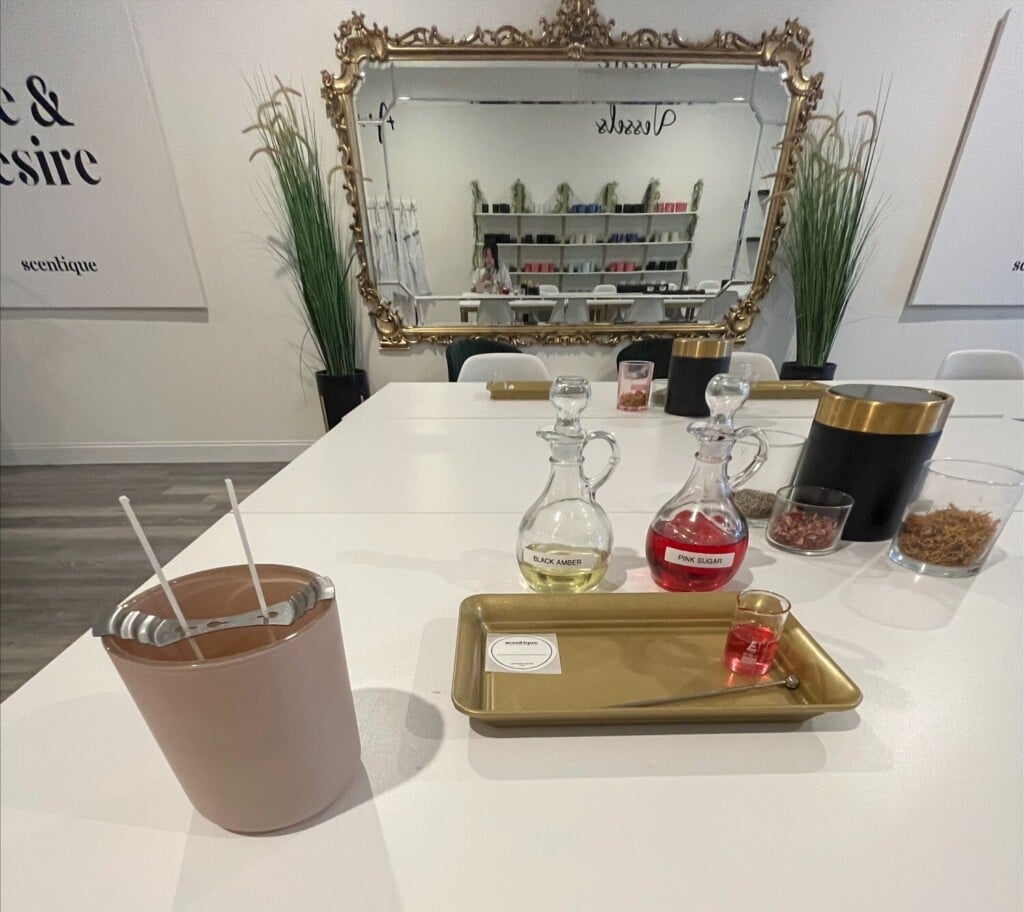 It's nearing the end of winter and we're entering the odd time of year where we burn candles to "just feel something," whether it be prepping for spring florals or cozying up as the last bit of bitter cold keeps us indoors. So why not burn one of your own creation? Scentique, Rhode Island's first candle bar and fragrance studio, allows you to create your candle from scratch and take it home the same day. Come alone or with others!
Where It All Started
Owner Kristin Smith saw a similar concept while in Miami just a few years prior, and thought, "I've never seen anything like that before." So, the only reasonable move was to bring that back to Providence and incorporate "unique" into the name. Upon finding a space, however, it was tough to find a reasonable lease, but landed right on Taunton Avenue in East Providence in October 2021. The block is home to Café Zara & Coffee House, Asian Taste, multiple hair and creative salons with City Hall just across the street, making this an up-and-coming area. Bonus: There's plenty of street parking in the area, making it more accessible than downtown Providence.
The Black-owned, woman-owned business is closed Monday and Tuesday but makes the perfect post-work or weekend activity, whether it's with your significant other for a unique date night or a jaunt out with the girls. The space can be rented out to bridal and bachelorette parties up to sixty people, with guests taking home the ultimate party favor: something practical and customizable.
Arrive in the growing botanical space and approach the wall of scents, ranging from sugary and fruity to musky and woodsy. Every three months, there's something new on the wall, depending on the seasons, too. The scents are already pre-mixed, but that doesn't stop you from coming up with your own concoction. Head over to your mixing station, set up with a beaker and tools (flashback to chemistry labs, anyone?). Smith and staff will guide you through the process, explaining each step along the way. A bit of this and a dash of that and you have your very own soy wax candle.
Bottoms Up!
For now, the bar is BYOB while a liquor license is in progress. So go ahead, crack open a bottle of wine and relax in the egg chairs while your candle sets.
"It's a customizable experience," Smith says. "You leave with something you like."
Although it only takes an hour-and-a-half to set, be sure to wait a full twenty-four hours lighting it up.
Scentique will soon offer tealight-sized mini trios for holiday sets, giving you more options to mix up a unique fragrance.
Open by appointment only, $40 per person (one candle each). Open Wed.-Sun.
136 Taunton Ave., East Providence, 328-5784, scentiqueri.com