RI Designers Kimberly Pucci and Marc Streisand Team Up
The designers have partnered to offer handmade Italian leather handbags, one-of-a-kind jewelry, custom suits and luxury sportswear.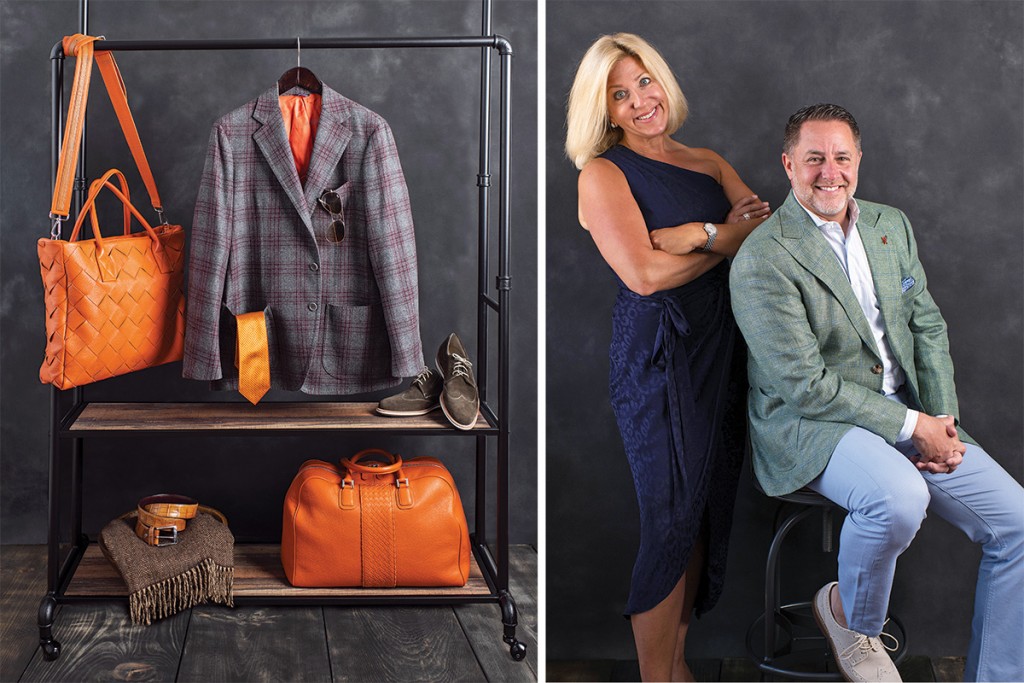 Two of Rhode Island's top custom designers are forming a local fashion A-team. Kimberly Pucci, a luxury handbag and jewelry designer, and bespoke menswear designer Marc Streisand, of Marc Allen Fine Clothiers, have partnered up to offer fans of fine goods access to handmade Italian leather handbags and one-of-a-kind jewelry as well as men's custom-made suits and luxury sportswear, available exclusively through their shops.
Pucci and Streisand are working together to bridge the fashion gap across genders while pivoting their business models during the pandemic. They've created outdoor Sip and Shop events where clients can sip cocktails and browse luxury accessories, jewelry and clothing on the patio at Marc Allen's Newport showroom. Pucci also launched a website and has an appointment-only showroom at the International Yacht Restoration School in Newport. They're collaborating for lifestyle photo shoots that show their accessories and clothing in social-distancing settings in Rhode Island, such as Newport Polo, boating in Newport and croquet at the Ocean House.
The business partnership was sealed out of a coincidence. "The funny thing is that Kim's daughter and my son are in school together over at Moses Brown [in Providence], however we didn't know each other," Streisand says. "One day, I was on LinkedIn and saw something about her luxury handmade bags from Tuscany and I said, 'I need to meet her.' "
It was kismet that their kids attend the same school, and they both hand out bright orange business cards. After they met, they brainstormed ways they could collaborate. Pucci works with Italian leather artisans to handcraft handbags in vibrant hues with custom stitching, hardware and more. She does the same for fine jewelry using gold, precious stones and diamonds, and Streisand deals in custom-made Italian suits, jackets and other clothing and accessories using fine materials. He now offers his clients a connection to Pucci's handmade men's leather bags in his showroom, and provides them with details about her one-of-a-kind women's handbags and jewelry for the ladies in their lives.
Pucci has an extensive fashion background in Tuscany, having lived in Florence for sixteen years and worked with some of the top goldsmiths and jewelry companies in the world. She's also connected to families that own the largest luxury goods factories in Tuscany that craft for Burberry, Manolo Blahnik and Ferragamo, affording her clients access to these high-quality leather goods and jewelry. Working with a men's custom suitmaker made sense to extend her fashion footprint.
"Marc and I are pushing the envelope on lifestyle and collaborating," Pucci says. "We are making sure everybody feels they can wear both Kimberly Pucci and Marc Allen. We're showing them new ways to do that."
Kimberly Pucci, 449 Thames St., Newport, 864-1003 (showroom by appointment only), kimberlypucci.com
Marc Allen, 200 South Main St., Providence, 453-0025; 142 Bellevue Ave., Newport, (seasonal) 619-5750, marcalleninc.com