Rhode Island Real Estate is Still Going Strong
In Rhode Island's hot real estate market, sellers reign supreme and demand far outstrips supply — even amid a pandemic.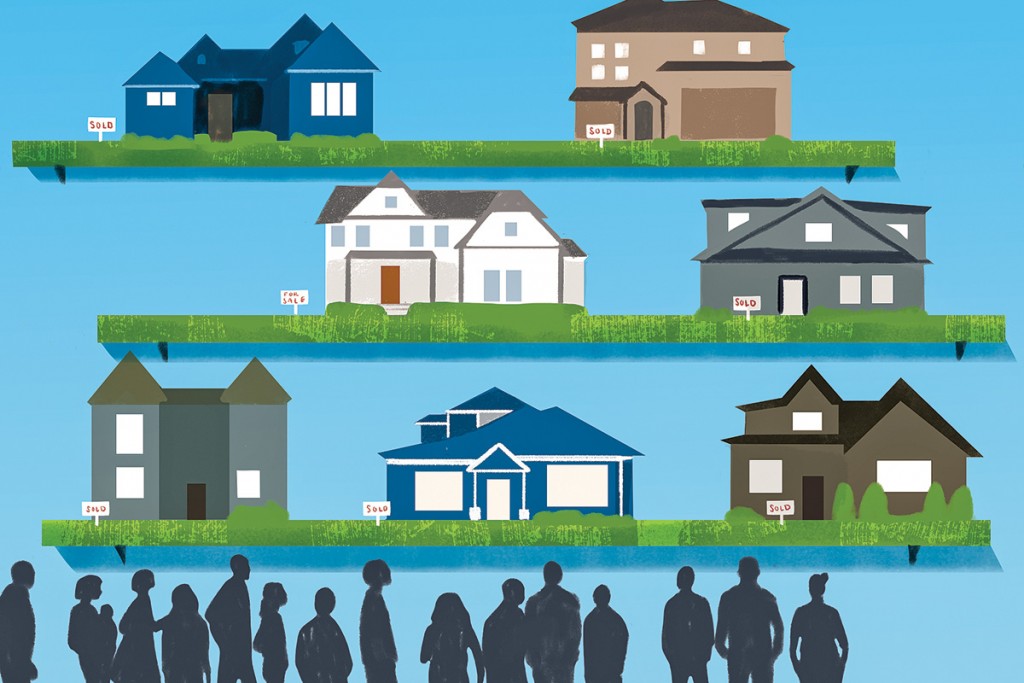 The hard rock blasting from the radio fights the whine of the skill saw as carpenters cut trim. Developer Hugh Fisher, dapper in tasseled loafers and green cords, picks his way over dirty Ram Board to show off a rare and precious commodity: a newly built-single family home. The Cottages at Stonebrooke, hard by West Shore Road in Warwick, features eighteen units elevated by high-end touches such as tray ceilings and lofts.
With construction on the first nine units wrapping up in May, and a starting price at $242,900, only one unit is still for sale. Christina Thomas, a forty-four-year-old veterans service representative, had gotten an early peek and promptly put down a deposit.
"I knew at that location, that it was probably going to go really fast," she says.
In May, the Rhode Island Association of Realtors reported a 7.5 percent increase in the median price of single-family homes sold in April 2020 over April 2019, to $295,500. Foreclosures and short sales were down by 41 percent over the same time period.
The state of today's market is no echo of "the sub-prime conditions that led to the last burst," says Shannon Buss, president of the Rhode Island Association of Realtors. "Our lenders have very tight requirements now. The buyers entering the market are qualified. In fact, I tell the buyers that they have to have all their ducks in a row and be ready to act, because if you sleep on it, you might not sleep in it."
Under the new normal of the coronavirus pandemic, realtors have adjusted some of their sales practices to provide physical distance. The temporary halt saw April's sales soften compared to those of March and of April 2019. Nonetheless, property is moving and supply still outstrips demand.
"We have a delayed spring market," Buss says. "But we are deep in a sellers' market. And interest rates are so low, it's a win for both parties. Refinances are saving $500 a month. That's a big chunk. There is opportunity."
The luxury market, which floats on its own peculiar currents, has seen a consistent uptick.
"Even during the COVID situation, the market is surprisingly strong. We had a couple of $3 million-plus properties go under contract within a couple of weeks of coming on the market," says John Hodnett, president of Lila Delman Real Estate. "This is similar to what happened during 9/11. People in the New York metropolitan area began looking outside of the city for a sanctuary in a quieter, more peaceful area."
Realtor Jonathan Daly-LaBelle credits the Congressional stimulus packages with stabilizing people's finances and the middle-income housing market. "From my perspective," he adds, "additional stimulus will be crucial to ensuring that continues to be the case."
A balanced real estate market has about seven months of inventory; by May 1, Rhode Island had two and a half months. As far back as June 2015, when the RIAR began publishing monthly infographics, the state had five months of inventory.
Residential building permits, as tallied by the U.S. Census Bureau annual survey, have fallen 60 percent, from 3,414 permits in 1999 to 1,394 in 2019. At the same time, each year, the state loses about 500 units to deterioration and demolition.
The reasons are many: a lack of land, Baby Boomers and elderly homeowners staying put, scarce funding for subdivision infrastructure, the high cost of new construction and municipalities' exclusionary zoning ordinances. Incomes have risen, but the paltry supply has pushed housing prices even higher.
"Right now, for renters and homeowners with an income of $50,000, there is no municipality in which you can buy a house and not be considered cost-burdened," says Brenda Clement, director of the Roger Williams University housing studies center. "Rhode Island continues to be a state that does not invest in affordable housing."
The housing shortage has gotten so acute that, before the COVID crisis hit, Governor Gina Raimondo unveiled a package of incentives as part of her 2021 budget proposal. Rhode Island is the only New England state without dedicated affordable housing funds, so the package garnered support from advocates like Clement, the Rhode Island Coalition for the Homeless and Greg Gerritt, a longtime environmental activist.
"We have had a building boom, but we're only getting high-end rental or housing," Gerritt says. "Construction is the one industry that you can pump a little money into and get a short-term boost. We are subsidizing the wealthy and increasing inequality and gentrification."
The proposal would also eliminate a duplicative tax on affordable housing and strengthen the state's housing bureaucracy by creating a coordinating council and hiring a deputy secretary of housing.
"This is an overly tight market; that affects affordability for Rhode Islanders of every income level. And, in the last few years, we hear regularly from employers about the challenges of our housing market these days," says Secretary of Commerce Stefan Pryor. "Homes are where jobs go to sleep at night. It's essential we have housing available to our workforce at the various price points."
Builders are hard-pressed to meet the demand. Long gone are the days when residential home builders could put up a subdivision on septic systems, says Fisher, a homebuilder for forty-four years. The national average cost of a single-family finished homesite — after zoning, engineering, legal, permitting, road construction — is about 18 percent of the sales price.
"In Rhode Island, however, the minimum cost of a finished homesite is 25 percent of the sales price, due to the limited quantity of available home sites and the cost to develop each one," he says. "It becomes a math problem. Sewers are a great cost. There are still parcels that have them, but they are scarce."
The sewers dried up with the federal funding. According to a 2015 report, in the 1970s and 1980s, the federal government carried the load, making substantial grants for water and wastewater utilities before switching to mostly subsidized loans. The funding levels have stayed steady, but inflation has diminished their purchase power. State and local governments have assumed the burden, accounting for 96 percent of such spending by 2014.
But the cost of capital investment might be less of a hurdle than an attitude problem.
"As an industry, we only get to build the local community's plans, and in Rhode Island, the local plan is designed to be unbuildable for the middle income. For the last thirty years, they have passed regulations that reduced density. We have some of the largest lot size requirements in the country," says John Marcantonio, executive officer of the Rhode Island Builders Association. "Towns would rather put up solar panels, decimating residential land. That eagerness has taken a thousand or more potential units off the market. That's fine. Where do you want to put the housing?"
In the 1990s, environmentalists making a pitch for open space preservation convinced municipalities that the least desirable citizen of all was a first grader. In his talks about land use, GrowSmart RI Executive Director Scott Wolf likes to hold up as exhibit one a 1995 report by the Southern New England Forest Consortium, purporting to show that the cost of public education, supported by local tax dollars, wiped out any revenue gains from their parents. These analyses were simplistic and flawed, even though they made some good points, Wolf says, but local councils got the message — and it persists to this day.
"Children are public enemy number one in many communities, because they have bought into a false narrative," he says. "It's a real case where the state's interest as a whole is undermined by what many municipalities think is in their short-term interest. If we lose a congressional district, you can lay a lot of blame on the child-resistant approach to land use decision-making."
Some of the carrots in Raimondo's housing package address these real and imagined impediments. They include money for voluntary partnerships between municipalities and the state for technical assistance in identifying potential development sites, regulatory streamlining, and a program, modelled after one in Massachusetts, to offset the increased educational costs of families with children — if the community can demonstrate they exist. Some of these depend on the successful passage of the two-tiered conveyance tax — and tax hikes are never popular on Smith Hill.
Meanwhile, on the battlefields of open-concept kitchens and double-vanity master baths, the victories go to the fleet of the wallet. Ben Carlson, a fifty-year-old woodworker who won his February bid on a house in Richmond and moved in May, recalls his first open house.
"As soon as we walked in the door, they told us that they already had a bid on the house and if we were interested, we would have to place a bid today. I thought 'Oh, is this the ticket to enter?' It was gone by the end of the day."