Providence City FC Combines the Best of Soccer and Small Business
The homegrown soccer club treats fans to trendy kits, or jerseys, with punchy designs touting local businesses.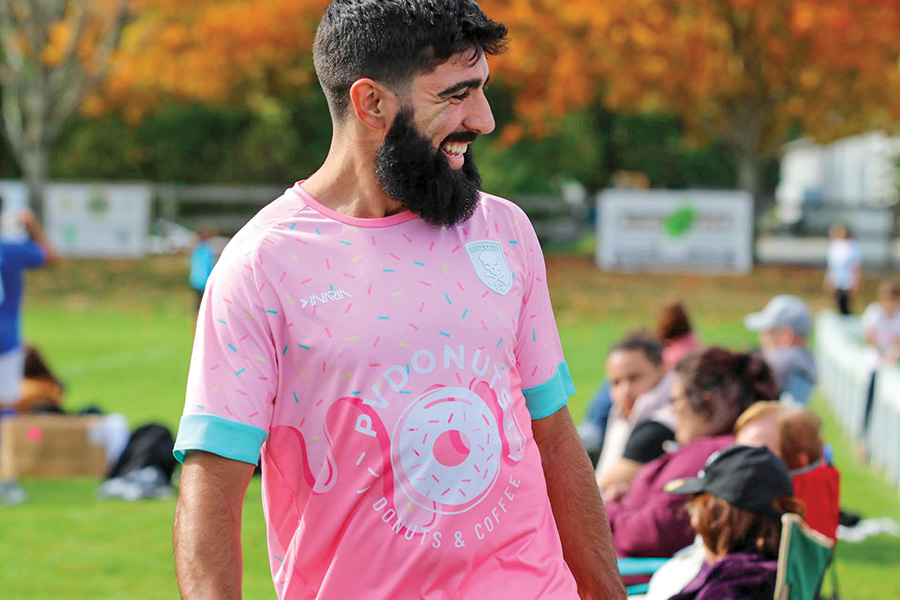 With the PawSox in Worcester, many Rhode Islanders may think this summer is the first since the 1960s without a local sports team.
But for a growing number of residents, the state already boasts an innovative regional team: Providence City FC, a grassroots soccer club with a fan base that spans America, the United Kingdom and beyond thanks to social media savvy founder Jason Rego.
"There's a lot of unfed appetite for soccer in our area," says Rego. "The PawSox had a lot of general fans who didn't necessarily care about baseball; it was an event for them. I think we'll scoop up some of those people."
New fans will find a passionate social media community of thousands who adopted the club after being drawn to its fashion-forward jerseys featuring popular Rhode Island small businesses.
Providence City FC was born when Rego, a former player at Bryant University, wanted to rekindle his love for playing competitive soccer after a disappointing 2016 season with his pickup team. He saw an opportunity to build a competitive club from the ground up, which excited his small business mindset.
"At Bryant, we had a project where we provided free consulting to a local business," says Rego. "I realized how much a small business means to the owner; it's an extension of the person."
Pondering how to fund building a team that could one day compete professionally, a lightbulb went off: custom football kits, or jerseys.
Rego was introduced to the owners of the Hot Club in 2017, which led to the Ocean State Kit, the design that set Providence City FC on its current path. He expected the jerseys to raise awareness amongst the Hot Club's customer base, but he didn't expect to catch the eye of soccer — ahem, football — fans in the United Kingdom.
"There's a big kit collector scene in the U.K. When they found out there's a team in the U.S. that has a similar passion, we became everyone's second favorite team," he says.
With newfound online popularity catching up to the team's on-field success, Rego found a formula that could help build the club of his dreams.
"I realized the power of the Internet to connect with people and build a business," says Rego. "I'm not a millionaire owner. I'm just a regular Rhode Island kid with student loans. Having our kits become so successful helped bring in money so I could reinvest and grow the club."
Since then, the club has released jerseys with creative designs featuring Rhode Island businesses: the HAMR Kit with Revival Brewing, the Klondike Kit with Borealis Coffee, two Treat Yo' Self Kits with PVDonuts, Good Night Lights with Hot Club and more. The club also recently released its 2021 kits: Death by Paisley, No Quarter and PVD Pride.
While Providence City FC is still in the "indie phase," according to Rego, he expects his fans and followers to grow with the club wherever they go next.
"Having as many followers as we do helps legitimize us on the local level. It's been one of the main reasons for our growth. People say, 'Oh, they're just a men's club' and then they realize we have All-Americans and great players," he says. "Growing the club is like anything: It just takes time." providencecityfc.com