5 Places to Pick Your Own Flowers in Rhode Island
From Johnston to Little Compton, these flower farms offer blooms to brighten your home.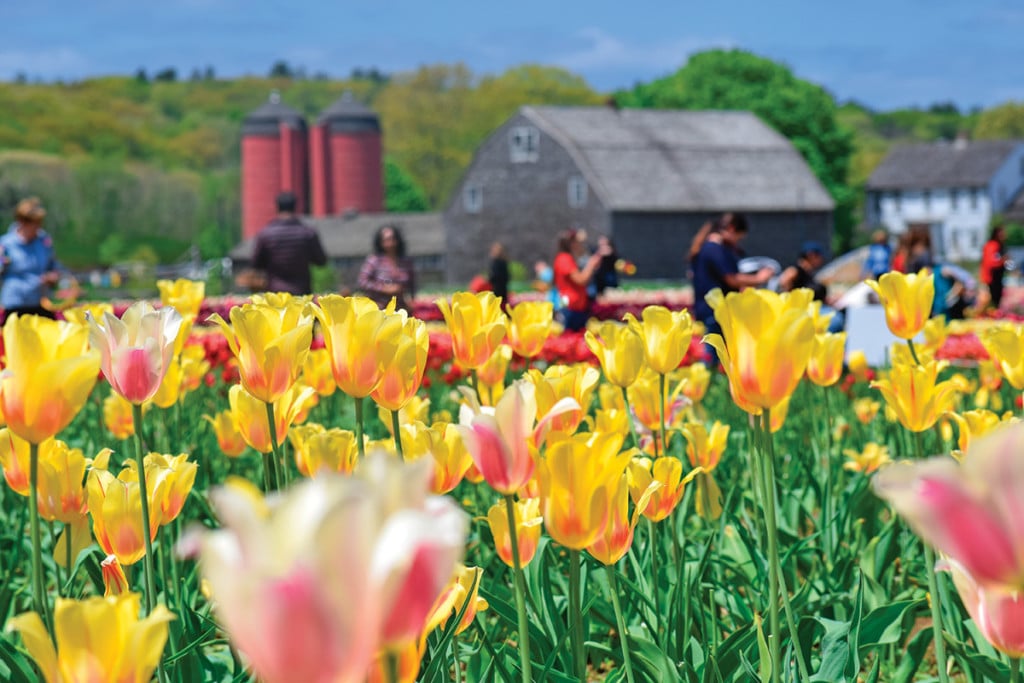 Dame Farm and Orchards
91B Brown Ave., Johnston, 949-3657, damefarmandorchards.com
Flowers: Sunflowers
Cutting season: Early July to early August
Pick times: Monday to Friday 8:30 a.m.–6 p.m.; Saturday 9 a.m.–3 p.m.
Price: $5 admission fee and $1.75 per stem.
What to expect: Up to six acres of sunflowers transform a corner of the farm into a sea of yellow. Pick blueberries during the summer and apples and pumpkins in the fall.
Electric Moon Peony Farm
43 Old Harbor Rd., Little Compton
Flowers: Peonies
Cutting season: Usually the first two weeks of June
Pick times: Dates and times announced on
Instagram at @electricmoonpeonyfarm
Price: $4 or $7 each, depending upon the stem. Admission fee and timed entry this year.
What to expect: More than 1,200 peonies blanket a quarter-acre field. You can choose the blooms, but a staff member cuts them to ensure they'll bloom the following year. In early June, check out the workshop in collaboration with the Local Bouquet on growing peonies and creating bouquets.
Pick Like A Pro
While most farms let you borrow shears, it can't hurt to have your own. Bring a container and water to keep flowers from wilting on the ride home (it's best to play it safe). Toss boots in the car as fields can be muddy. Check ahead to verify farms are open.
Petals Farm
592 Fairgrounds Rd., West Kingston, petalsfarm.com
Flowers: Dahlias and sunflowers
Cutting season: July to October
Pick times: Saturday 10 a.m.–6 p.m.
Price: $1 per stem.
What to expect: While only dahlias and sunflowers can be picked, up to 50,000 flowers grow at this flower farm. You can also buy pre-cut stems and bouquets at the Fishermen's Memorial State Park Farmers Market in Narragansett on Sundays from 9 a.m. to 1 p.m., May through October. Or sign up for a flower share.
West Beach Farm
16 West Beach Rd., Charlestown, 385-628-7112
Flowers: Assorted
Cutting season: July 1 to Labor Day
Pick times: Daily 10 a.m.–6 p.m.
Price: Two stems for $1; sunflowers $1 each. Bouquets start at $12.
What to expect: In June, look for blooms such as snapdragons, Nigella and cosmos at this nine-acre farm. Sunflowers, black-eyed Susans, zinnias, pincushion flowers and celosia join the mix in July, followed by dahlias in August. You can also buy blooms at the Charlestown Land Trust farmers market.
Wicked Tulips Flower Farm
90 Brown Ave., Johnston, 297-3700, wickedtulips.com
Flowers: Tulips
Cutting season: Late April to mid-May
Pick times: Daily, when in season, by reservation only from 10 a.m.–7 p.m.
Price: $17 per adult on weekends; $15 weekdays. $3 for kids ages four to seventeen; free for ages three and younger. Adult tickets include ten stems. Additional stems: $1 each.
What to expect: Sell-out crowds flock to this farm to tiptoe among more than 600,000 tulips. You need to buy a nonrefundable ticket online to pick on an assigned date. Tickets go on sale a few days before the farm opens and are sold a week at a time. For the scoop on ticket sales, sign up for the e-newsletter.
Not in the Mood to Pick?
These farms offer pre-picked stems as well as mixed bouquets.
Dahlia Shed
644 East Main Rd., Middletown, dahliashed.com
Flowers: Dahlias, zinnias, assorted
Season:  July to November
Open: Daily 9 a.m.–6 p.m.
Price: $1 to $4 per stem; $12 to $15 for bouquets.
What to Expect: Multiple varieties of dahlias, zinnias, aster, hydrangeas, calendula, larkspur, foxglove and more. Find stems and bouquets at the self-serve stand in the barn.
Robin Hollow Farm
294-2868, robinhollowfarm.com
Flowers: Assorted
Season: May through October for single stems at area farmers markets
Price: $1 to $5 per stem; $20 for bouquets.
What to Expect: The farm's not open to the public, but you can buy stems and bouquets at farmers markets in Newport, Saunderstown and Providence. Or order bouquets year-round.