Paris Meets Newport in this Airy Pied-a-Terre
This apartment proves it: Newport's New Gilded Age is underway.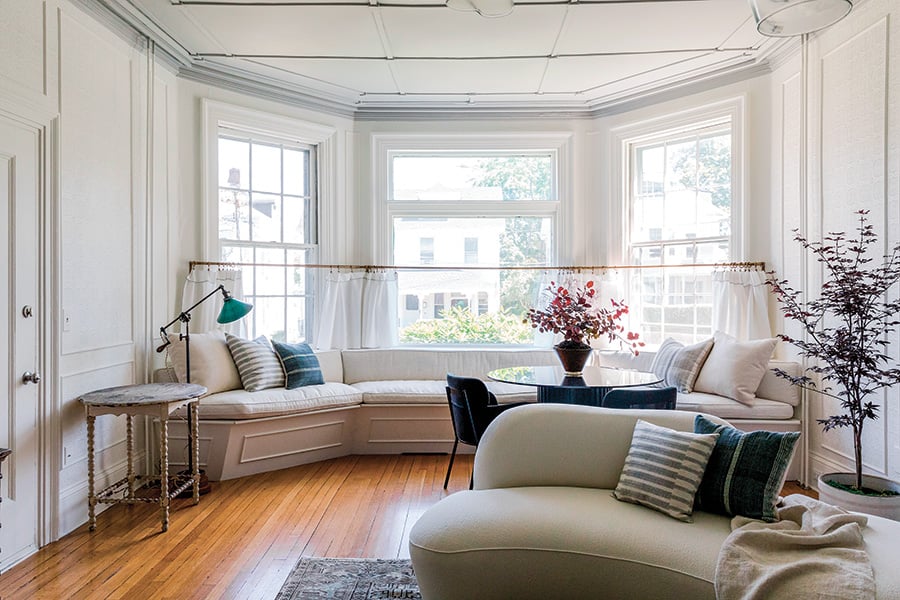 Elements of Style
This 900-square-foot apartment was carved out of a Gilded Age home in Newport. But in a near-blasphemous reversal of expectation, the space was bland, dark and without focus — a pall for its globetrotting homeowner whose art, antiques and furniture were lost in the mix.
"We saw the bones and it just needed a lot of love," says Blair Moore, principal of Moore House Design in Tiverton. "We wanted to create a space that felt as elegant as she does."
The original marble fireplace surround inspired the color palette for a "broody" — that's "bright" and "moody," per Moore — renovation and design.
"A lot of her style had Parisian influences as well as tribal influences, and we wanted to layer in those pieces," says Moore. "We never stick to a singular style; it looks too much like a museum."
Take the oil painting and Indian cabinet, a vignette the homeowner arranged in the apartment's previous iteration. The art, once ornamented in a heavy gold frame, competed with the cabinet's highly detailed woodwork. Off went the gilded weight — repurposed in the bedroom with a lighter work of art — and up went a picture rail for a polished styling that attracts attention for all the right reasons.
Petit Maison
Every room needs a "hero" item, Moore says. In the living room, it's the applied paneling, which adds texture and complements original millwork on the ceiling. In the bedroom, it's a custom bed that grounds a diminutive space without weighing it down. And in the bathroom, it's the sink. The original layout crowded the existing sink into a corner beside the toilet.
"We had to lighten it up. It had to be very crisp and clean," Moore says. "I also wanted the sink on an opposing wall, but we only had a nine-inch depth."
Moore says she searched and searched and finally found a hand-carved marble vessel from France that fit the space. The wall-mounted faucet was trimmed so it'd center on the drain. On the walls, Moore deployed concrete plaster and hex marble tile, which runs up the ceiling in a coved curve. Like the rest of the apartment, every inch of the bath's twenty-three square feet was updated with purpose.
Adds Moore, "The real major takeaway, for me, was creating a functional space that still looks beautiful."