Need Gift Ideas? These Savvy Shop Owners Can Help
Pop over to these local shops and pick out perfect presents for loved ones, whether they're bibliophiles, trendsetters or homebodies.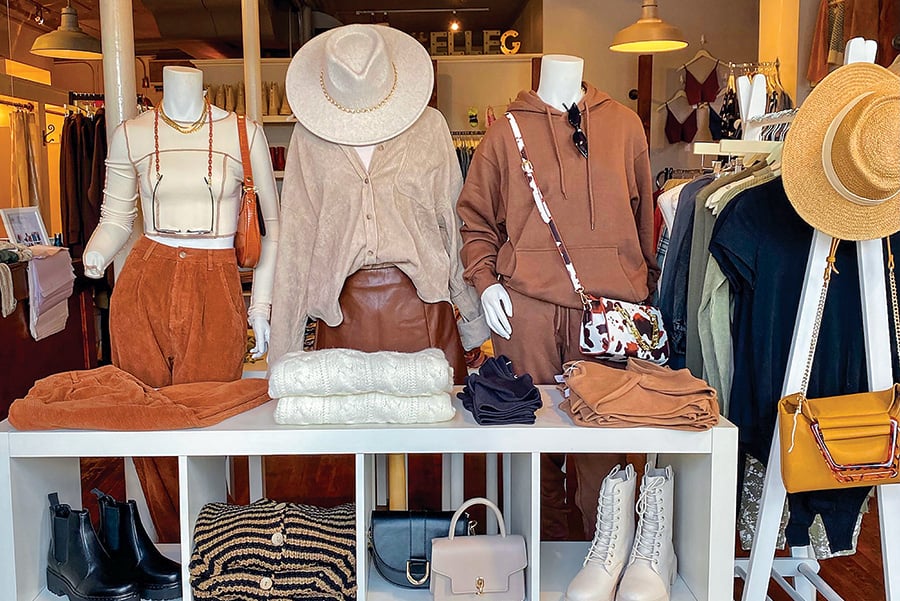 Finding gifts for different members of your family requires creative thinking and maybe even a little assistance from the pros. A second opinion is always helpful, and shops like Riffraff, Elle G and Blanc and Bleu are good places to start.
NORTH
Riffraff Bookstore and Bar: For the Book Lovers
History: You've walked into bookstores that sell socks, stuffed animals and other attention-grabbing knickknacks. At Riffraff Bookstore and Bar, you can pair your shopping experience with a cocktail, draft beer or a Jameson on the rocks.
Riffraff co-owners Tom Roberge and Emma Ramadan were both working in publishing in New York City when they met — she was translating French literature to English, he worked at Albertine Books, a French and English language bookstore — and the connection they shared inspired more than a friendship.
Wanting to leave the city and open a bookstore together, they realized Providence was an ideal location; Roberge's family once lived in Newport and Ramadan attended Brown University. They wanted the opposite of a cafe as well as a place for people to connect with friends and strangers in one setting; merging books with a bar seemed like the right solution. Upon opening Riffraff in December of 2017, they created just that. "People don't go [to cafes] to hang out with other people. They go there to work and do their own thing," says Roberge. "We get that as well, during the day especially, but at a bar, people come to socialize and every once in a while, people meet each other."
recommendation: Roberge has observed that most New Englanders are self-sufficient when searching for books, no suggestions needed. If they do have trouble choosing, he's glad to assist, especially if shoppers request guidance finding something for themselves or someone special.
"I ask a lot of questions to elicit responses I can use to figure out what they're looking for…. There's a broad spectrum in every genre," Roberge says of the fiction, non-fiction and poetry sections within the bookstore. Oddly enough, however, "People ask for more recommendations at the bar than at the bookstore."
When selecting books for someone else, think of the interests you share, then take the time to scour the shelves at Riffraff. The bookstore/bar is all about embracing the eccentricity of Providence, and Roberge and Ramadan enhance this by featuring selections that you won't find elsewhere.
Hours: Tues.–Thurs. noon–10 p.m., Fri.–Sat. noon–midnight, Sun. noon–8 p.m. Riffraff Bookstore and Bar, 60 Valley St., Suite 107A, Providence, 421-4371, riffraffpvd.com
SOUTH
Elle G: For the Fashionistas
History: Lauren Young, owner of Elle G boutique in Wakefield, grew up in a household centered on fashion. Her father, E. K. Greif, worked as a sales rep for shoe and hat companies, so she was constantly surrounded by fabric samples and conversations about trade shows. After graduating from URI in 2010 with a degree in textiles, fashion merchandising and design, she worked her way up to her dream of opening a store in 2012.
Young's fashion sense followed her from Marblehead, Massachusetts, to the Ocean State to provide residents with a little bit of everything within Elle G, which is a play off her first name and maiden name, Greif.
It takes a special eye to suggest the right item to a shopper who walks through her boutique doors. "Most of the time, I can tell just by looking at someone what direction they're going to land in," says Young.
Most of her customers are loyal returners who trust that she can pick out what they need because she's already familiar with their style. "Service is what we strive for here," says Young. "We like to go above and beyond for our customers, and they appreciate it because not a lot of places do that."
recommendation: If you're already in tune with a friend or family member's clothing style, shopping for the holidays is a breeze. However, it's always safe to get a second opinion, especially when there are plenty of options to choose from. It can be tricky to find something special for a customer who's not familiar with their gift recipient's style, but Young says she's nearly perfected the process.
After walking through the store, she asks the customer several questions while picking out specific clothing to see if they find it too basic, outgoing or conservative, and if they want something more fitted or flowy. "They start to see some styles and realize what they like," says Young.
Elle G also carries statement jewelry, handbags, shoes, hats and other accessories that pair well with whatever gift you decide on. "We don't carry just one style for just one customer," says Young. "We like to have a little bit of everything for everyone." The boutique's items are all less than $100 so customers can update their wardrobe and purchase gifts, in person or online, without breaking the bank.
Hours: Mon.–Sat. 11 a.m.–5 p.m., Sun. noon–4 p.m. Elle G, 330 Main St., Wakefield, 284-2091, ellegri.com
EAST
Blanc and Bleu: For the Homebodies
History: The idea of collaboration between home stylists Rebekah Willenberg of Purposefully Picked and Jenna Kinghorn of Styled by Jenna sparked during a farmers market after people stopped by their booth to ask if they had a retail shop. In 2019, the women opened a 400-square-foot store in Pawtucket's Hope Artiste Village. However, COVID helped them realize they didn't need a storefront; Blanc and Bleu's website and social media were efficient business tools.
Their friend, Althea Tower of Riveted Woodworking, introduced them to a space in Bristol's Wood Street Mill Complex that would act as their workshop and weekly showroom. In the summer, they'd host outdoor markets.
Every piece in Blanc and Bleu's workshop is either found and given a more modern makeover or it's a custom piece a customer wants to spruce up. Before starting, they assess for color and style.
"Our biggest sellers are white, gray and blue, hence the name Blanc and Bleu," says Kinghorn.
Typically, when New Englanders consider coastal themes, they think anchors and waves. The Blanc and Bleu crew wanted to bring the same theme to their showroom, but with a twist.
"For coastal, we think of France like Brittany and Normandy," says Kinghorn. Vintage European cottage style is the approach the two women aspire to when finishing a piece of furniture or stocking market baskets in the showroom.
Kinghorn, whose husband, Iain, is originally from Scotland, has several work partners in the U.K. and France. The French market baskets at Blanc and Bleu, which they're known for, are handmade in Morocco and shipped from France, as well as the soaps from the Marseille Soap Company, made from either olive oil or vegetable oil.
recommendation: The French market baskets are popular and plenty versatile; Kinghorn's recommendation is a nod to the classic holiday film It's a Wonderful Life, where George and Mary Bailey present the Martini family with a basket filled with bread, salt and wine to welcome them to their new home.
"Get some local bread from the bakeries and some local wine; we also carry Newport Sea Salt here," says Kinghorn. "These are always fun because they can also be taken to the farmers markets or the beach."
The Marseille Soap Company soaps can be mixed and matched then wrapped together with a bow. Dish and pot brushes are essential for any cooking connoisseur, as well as the soap block Kinghorn uses in her own kitchen.
Furniture and accessory pieces from Blanc and Bleu can be either shipped or picked up from the workshop. The showroom, open to the public on Saturdays, offers a one-stop shop for modernized decor to add that old-turned-new spark to your loved one's home.
Hours: Sat. 11 a.m.–3 p.m. Blanc and Bleu Home, 500 Wood St., Bristol, 433-9439, blancandbleuhome.com