Living History: RI Public School Students Reflect on the Year-and-a-Half That Changed Everything
In their own words, elementary, middle and high school students share the trials and joys of growing up in a pandemic.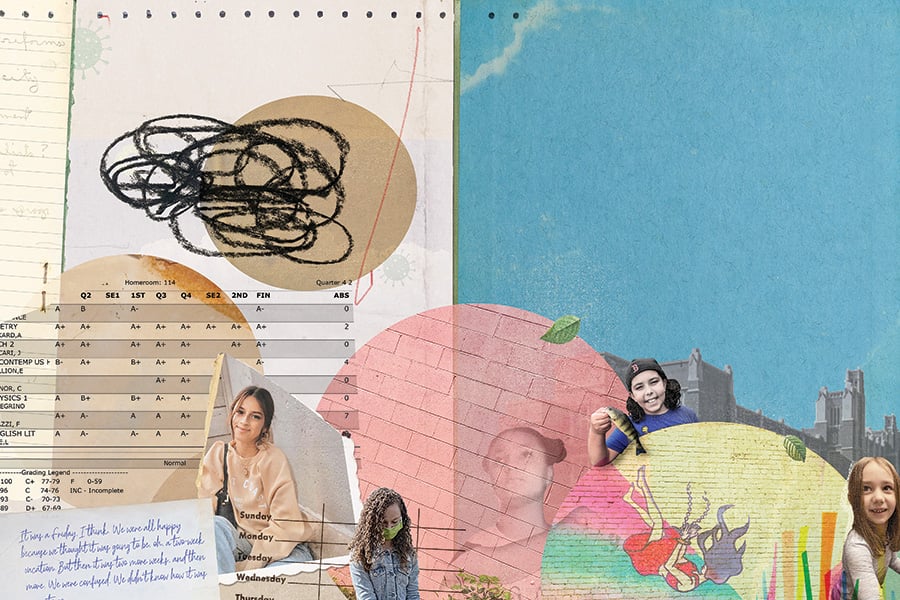 Eleanor, six and a half, kindergarten at Saylesville Elementary School (virtual only), Lincoln.
Okay, so I wake up, I get ready for the day, I get washed up and I get dressed. My Nana brushes my hair and I sit down and I wait for my class to come on. I actually have a second to eat breakfast and then I do my ten o'clock meeting. Then it is my next meeting and I do math. And then, after that, I have a little time to play around and stuff and then I do my eleven o'clock meeting. And then after, I play and eat lunch; I have an hour and I probably go outside or take a walk or do independent work. And then I have my two o'clock meeting with my teacher and read something. Today, I read a book called Ollie's Odyssey. It's about a toy that went missing. And then I just have my night and have my dinner and dessert and then I go to bed and do all of that over again on the next day.
I actually have two favorite things I like to do in school: the eleven o'clock, when there's a mystery scene, and I usually like story time. Today, I was so comfortable because my teacher said, "Get in a comfortable spot to listen to the story." I got so comfortable and I felt like I could barely keep my eyes open. I was just like:
I can listen with my eyes closed. And I literally fell asleep. My mom said, "It's all right. It's not a big deal." I was like: "It is a big deal." I usually pretend to fall asleep in my class, like in cartoons. Mom said, "Were you trying to pretend and then you actually did it?" I'm like, no, I just fell asleep. So I got a little bit less cozy.
I just feel like I'm right there with [in-person classmates]. For my birthday, I had a Zoom dance party with my school friends. That was really fun. And we were just dancing and I was so shy and I didn't like dancing in class. But then after a few minutes that I started liking one song, I was like [dances enthusiastically].
I can read a whole book. And probably in just a few minutes, I can read you a book; if you want me to, I can. But if you don't want me to, that's fine. When I first went in school, I started getting better and better and better at words, so now I can read harder books. They're actually for grownups to read, but I read them all by myself. I read a book last night called How to Catch a Unicorn. And guess what? Before I even told someone, I could spell out the word "experiment" in a snap. This is how long it took me to figure out the word "experiment": [Snaps fingers.]
Remember you said that it was a good offer to read a book to you? Do you want to, or not? Okay, it's right over there. You can count to two to see how fast I am, because people call me the Flash.
Felicity, 16, sophomore at Portsmouth High School (virtual only), Portsmouth
Maybe it was two, three years ago, when I was getting serious with my art. My dad is a fan of manga and is a fan of anime, and I got into anime. And I just kind of started copying it and trying to get better. It's always been a relaxer for me. There was a time I was putting all of my emotions into the art, but recently it's just been like coloring in and painting. I also like to sketch stuff; it requires more thought, though.
Back then, I went to Thompson Middle School, where my brother [Elijah] goes. I was going to go to Rogers [high school in Newport], because they said they had a visual arts course with one of my favorite art teachers. But two weeks before high school started, they canceled the program. They basically were saying, sorry, it doesn't exist anymore, bye.
I was freaking out because I had a bad eighth grade year with a lot of my older friends. I wouldn't say it was bullying, but it was passive-aggressiveness — just not feeling in place. You know, I'm mixed, and a lot of people see me as just a black kid, but I'm not, and then the black kids would be like: "Oh, you're too white. You can't be black." I was tired of that. And I felt like the teachers didn't see my potential or see that I was smart enough to do the honors courses. And every step of the way, my mom had to fight to get me into honors courses and advanced courses.
I was just not ready to go back into that environment. And I knew that the kids that gave me trouble eighth grade year were going to do it again because it's hard to change. My mom was like, we can find something else. And she called Portsmouth and they had a visual arts CTE [career and technical education] program that would accept me.
I went there for a visit and everyone was, like, smiling and happy. I kind of felt like we were in the movie Get Out. I don't know why. [Laughs]
It's interesting. I was there in person for a few months and then the pandemic hit. It's a nice community. They do have some issues, but that comes with, like, everything. Before the pandemic, we were reading The Hate U Give and some boys in my class were like, "If it's a book about Asian people, the pages should be yellow."
And one of my first friends at school, she's half-Japanese, and she just came up to me crying and I was like, "What's wrong?" And, you know, we were doing other stations on topics in the book, like Emmett Till and the Black Panthers. And they were just constantly making jokes. I heard some of it, but I was used to it. I didn't really pay attention to it. But when I saw her crying and she stormed off, I told the teacher. It hurt me to see her hurt.
So I texted my mom that she might have to come pick me up because I stayed a little late with my friend. We went to the vice principal, and he took care of it.
I actually start crying in his office and he started tearing up, which made me cry even more. But it made me feel like I was important for the first time in school. I've never really felt like anyone cared besides my parents.
So school went okay, but after my birthday in March, it was like, all right: Online school for everyone, COVID is here. I honestly felt better about it. I never really did well with the social side of school. I felt like social and school should be separated. I just work better when there aren't so many distractions. But down the line, I started getting depressed and sad because I didn't have that interaction. I couldn't see people, even though I didn't really know half of them. It was weird.
We were on Zoom the whole time, but it was throughout the whole hour. And I swear it was more work than last year because I feel like they crammed everything in — not at the beginning of it because the work was a little easier; they weren't too sure how it was going to go — but it was a ton of work.
I do feel like I learned more and was able to retain more because, again, I didn't have the distraction of other students. And it kind of allowed me to be independent in a sense, because when the other kids did go back into the classroom and they started acting up, the teacher would just move them out of the Zoom frame.
Being with my family throughout the pandemic helped with my anxiety and not getting as depressed as I was in the beginning, because I was scared to step foot out of the house. Being with them is comforting for me.
And now we're together so much, I'm constantly learning and taking in and giving. I've learned a lot, just about life in general.
I always say, no matter who you are, what you do, I'm going to respect you and your opinions. If someone straight-up comes to me and says, "I'm a white nationalist," and can sit down and have a decent conversation with me and not get mad at my opinions, I respect them. Yeah, I can't change what you do or what you believe in. But that doesn't mean I have to hate you because, you know, we're all humans. I feel like we've lost touch with humanity, in a sense. And we've gotten so used to online and just speaking our opinion and thinking there's no repercussions because of it.
Mom telling me her experiences has helped me figure out where I need to go and my dad, he finished college, so it's firing me up. It's like I need to push myself and I need to get going because I can't just sit here and try to stay a child as long as I can. I've already been looking into colleges that have programs in art therapy. I have a list of twenty colleges that I have to narrow down. But in Rhode Island, you can go to school for two years free. So I want to look into what colleges will accept those credits so I can get my general classes done for free.
With Elijah, too, it's helped me to be around him because, you know, I have trouble making friends. Seeing Elijah grow up, even though I make fun of him all the time, I care for him and seeing him doing good for himself — it's good for me. Yeah, I'm trying not to cry.
Elijah, 12, sixth grade at Thompson Middle School (virtual only), Newport.
I play baseball for Thompson Middle School; it's kind of my passion. I played first base mostly, but I can play catcher, right field and sometimes pitching. I had to miss a whole year of baseball. I just had school, and then I'd probably sit down and watch TV, go outside — but it's mostly sitting and watching TV.
I have a batting cage and I usually throw the ball with my dad, so I did get to practice. When he comes home, we sometimes like to throw and run. We were very together as a family. We didn't really have cookouts, as we would usually do. Me and my sister [Felicity], we couldn't really go to sleepovers as much.
My family has a genetic condition, so I was virtual. I got As and Bs and a C. I learned some things, but a lot of it was just what I've learned already from last year, like when I was in fifth grade. But I learned a lot because of my sister.
And it was a little depressing. I didn't get to see a lot of people. I went to school only for testing [the Rhode Island Comprehensive Assessment System]. I was really concerned. I don't want to give it to my family. I was really cautious. When we went into the classroom, I went all the way to the back. It was nerve-wracking, but I think I did okay.
This year, we had a baseball season, but I didn't get to play with them because I'm younger and it was my first year playing for them. And they said they'll probably have me playing next year because I've been on the team already. I went up to bat twice, but I got hit by the ball. The coaches were like, "Hey, you did your mission. You got on base."