West Greenwich Resident Reigns Supreme at King Richard's Faire
Elizabeth Clouse has played Queen Anne for the past five years at the annual renaissance fair.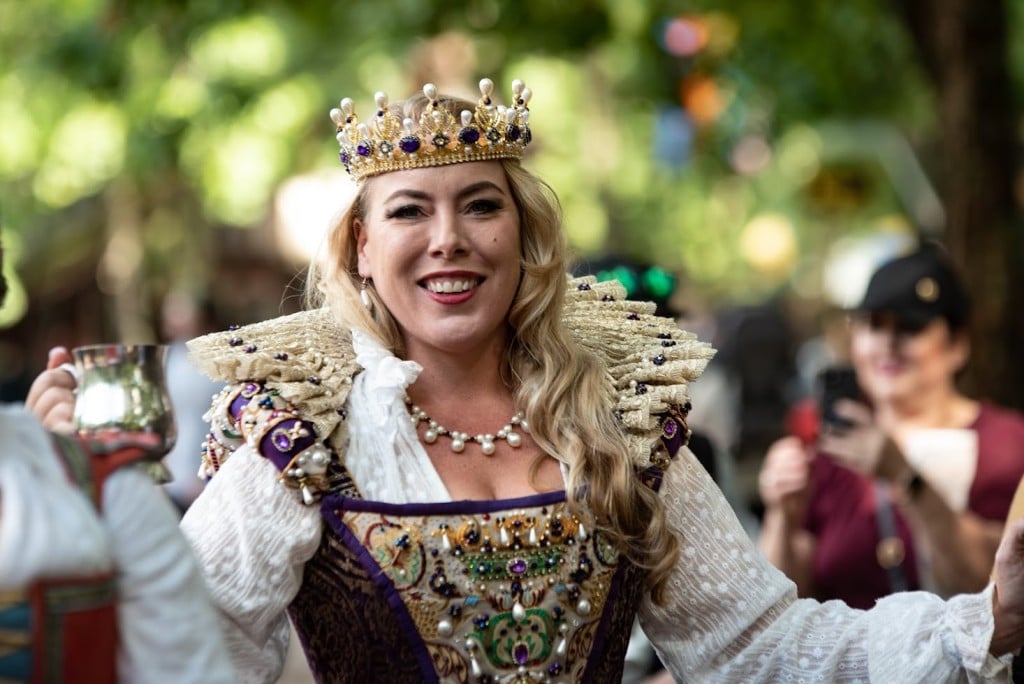 During the day, Elizabeth Clouse is a historical costume designer, wife and mother of two.
On weekends, you'll find her in Carver, Massachusetts, where she holds court as Queen Anne III at King Richard's Faire, playfully mingling with other lords and ladies, royal entertainers and residents of the medieval realm of Carvershire.
"This place is absolutely magical," says the West Greenwich resident, who's in her fifth year performing as Queen Anne. "It's always the highlight of my year."
The popular renaissance festival has been dazzling visitors for more than four decades with period dancers, music, artisans, handicrafts, games, jousting contests, costumes, turkey legs the size of a small child and more within its eighty wooded acres. Clouse first found her way to the medieval magic via her home state of Minnesota, where she dabbled in musical theater and improv before moving to Rhode Island nine years ago when her husband took a job at CVS Health.
The sense of community and the joy of being able to escape reality, if even for just a little bit, are what keep her coming back year after year.
"I love our 'playtrons,' the guests who come here and play with us," she says. "And we have an amazing villager cast who gets every little thing set up. They make this whole place a stage and bring so much joy to everyone."
This year, she and a friend opened a booth where they make crowns, whimsical fairy hats and more historically accurate pieces. She also has some royal outfit commissions for next year's faire, and — of course — designed her own dress.
She loves her adopted state and jokes that she doesn't want to tell anyone about it — she wants to keep its charms a secret.
View this post on Instagram
"I'm really a history nerd," she says. "That's what brought us to Rhode Island — it really has this sense of community. People are very generous and there are all sorts of things to be interested in."
Plus, they're only a half-hour away from Trinity Rep and some of the best Italian restaurants on Federal Hill, which they love to visit when they have the chance.
But for the rest of the fall, she'll be escaping mainly to the woods of Carvershire, making the rounds with her royal charges and helping folks escape reality, if only for a little while.
"I really hope that people get a sense of escaping reality when they visit," Clouse says. "Right now it's a little scary out there. We want this to be a home for people, for people to escape their reality.
"I hope everyone feels welcome."
King Richard's Faire runs weekends through Oct. 23.
RELATED STORIES
6 Places to Pick Up Hocus Pocus-Themed Treats in Rhode Island
Five Can't-Miss Events this Weekend in Rhode Island