Kelly Bates Makes Long-Awaited and Triumphant Comeback with New Role at ABC6
We chatted with Bates to hear more about the warm response she's been receiving since the announcement was made and what she is most looking forward to in the new role.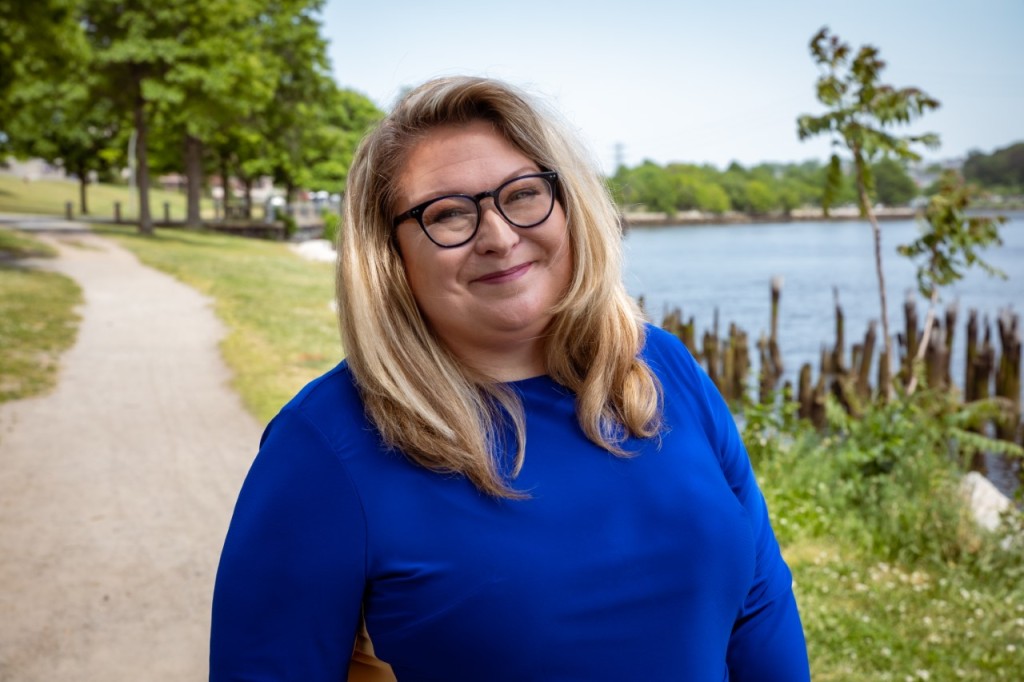 Following a rough departure with NBC10 and a nearly year-long wait for news of her next move, many Rhode Islanders were on the edges of their seats Wednesday upon seeing Kelly Bates' tweet which showed her sporting a thumbs up and read, "Someone had a good day today!"
"Tell me you got a new job please Kelly!" one local tweeter replied, echoing many of our thoughts.
Bates' response? "I did!"
Just minutes prior, it had been announced that the much-beloved local TV icon (and nine-time Best of Rhode Island winner, to boot) is set to become the newest weekend meteorologist and science reporter for ABC6. We caught up with Bates to learn more about the response she's gotten in the wake of the announcement and what she's most looking forward to in the new role.
First of all, congratulations again on your new position!
It's an amazing thing, you know? And completely unexpected.
Has this been in the works for a while?
Well, when the new news director, Allison [Gaito], first came on staff, one of the employees here sent me her e-mail address so I could maybe pick up some work if somebody was on vacation and they needed a backup. So, I sent her an e-mail and we just started talking. Over the course of a couple of months, it sort of evolved, and at the end of May they made me an offer I couldn't refuse!
Your tweet yesterday had us waiting with bated breath!
I didn't mean to be coy! But I was just so excited. I had to keep this under my hat for a while now, so I'm just so happy to finally say something.
It must have been hard to keep this a secret.
Oh, you have no idea.
What has the response to the announcement been like? I can only imagine after everything that happened last year.
Oh yeah, people have been emailing the station, I'm seeing things across all my social media platforms… and I got a bunch of new followers! It's been a tidal wave of love. Not to be lame, but that's what it feels like. It's an overwhelming, positive wave of support. Seriously, I don't know anyone luckier than me. This is amazing.
We're all so happy to have you back on our screens!
Me too! I applied for so many jobs and got maybe four interviews in that whole time and no offers were ever made. But I just kept thinking, 'something is going to happen, and it's going to be awesome.' And then just through the nature of conversation, this evolved into my next step.
You've mentioned in past interviews and on social media, and I'm paraphrasing here, that it's difficult for women on TV, especially as they age, to remain in the game. I would imagine it must be so gratifying to have this opportunity and to prove any nay-sayers wrong.
100%. I mean, do you know any females on TV who got a job when they were fifty? I honestly did not expect to work in this industry again. No way. But you know what, it's incredibly validating to be seen for the work that you've done, and to know that you can still be helpful and useful. I knew it, I just needed someone to believe in me, and ABC6 did. I couldn't be more grateful. Truly.
I know you previously worked at ABC6 from 2000 to 2004—what's it like to be back?
It's very cool. It's cool to sit in the area where I was back when I was pregnant with my kids who are now eighteen and twenty-one. It feels like coming home. This is a place that helped me become come me, and now I'm home.
Plus, everyone in this building has been so welcoming. There's a wonderful warm feeling in the newsroom. People are happy and they're talkative and it's a constructive workplace. It's exciting to be part of what they're building here. Whenever you bring in new management, things change, and everyone here is totally behind Team Allison. And there's a reason: she's an amazing news director. Her vision is something everyone agrees with, and how often does that happen? I'm pretty lucky! I understand that I'm fortunate to be part of this new chapter in the life of ABC6 and of course local television.
Chelsea [Priest] and I have also been friends for well over a decade. We've always talked about how it would be so awesome to be on a weather team together, and now here we are!
We're excited to see where this new chapter goes.
I am too! There's something to being number three in the ratings: you can only move up. And everyone here is ready for it. They're hungry for it. It's really kind of cool. And this weather team is committed to consistency. They have a philosophy of letting people know when they need to know and not making them nervous when they don't need to be. And there's consistency from forecast to forecast. So, when you tune in to Chelsea and then you tune into Jeff [Desnoyers], you're going to see consistency, and that's due to constant communication among the members of the weather team, and that is the key to everything. When it comes to me on the weekends, there won't be any difference.
Are you already back at it? When can we expect to see you on-air?
This week I have been going through the onboarding process and training with Chelsea because I haven't been behind one of these weather computers in nine months. I haven't been in a weather office since August. So, I'm becoming reacquainted with things again. [In this new role] I'm also going to be doing some science reporting, which is another thing I'm really excited about. I like teaching the 'whys' of things, you know, like why things happen, and I'm interested in showing people how science is an active part of their daily lives. It's going to be fun! So next week I will be training with that side of things, and then my first day on-air will be Saturday, June 11 at 6 p.m. My regular times are weekend nights at 6 and 11 p.m.
Oh, but in the meantime, I know ABC 6 has plans to introduce me on TV tomorrow morning at 6 a.m.!
Is there anything else you would like to share?
Overall, I'm just so grateful. I didn't expect life to take me back into TV. Last year, I heard from so many women who left their jobs or were pushed out of their jobs or were treated less than a productive member of a company, and the numbers were actually very surprising. That's also part of why I didn't think I'd be working on TV again. But I love the fact that [ABC6] is taking a chance on me. And I know I will deliver, but it's not the norm to hire someone who's fifty — especially a female who's fifty — to be an on-air talent at a station. It's a rare and unique thing. It's a gift. I walk in the door and it's very emotional being here due to the familiarity, but also the fact that they believe in me. When you work in a place that believes in you, it changes everything.