JWU Alum Noah Rosen Shows Off His Knife Skills with Forge to Table
The chef-approved line of culinary knives is available at local shops including Stock Culinary Goods.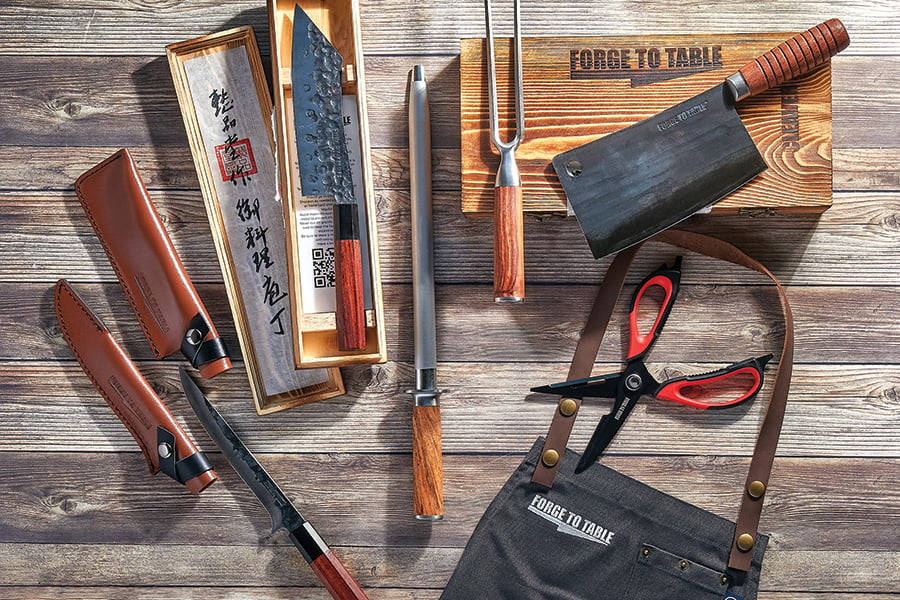 Noah Rosen created a culinary knife company out of his college dorm room. It all started when he tagged along on his dad's business trip to Chicago in 2017 while he was a student at Johnson and Wales University in Providence. Rosen approached a table at a trade show that displayed hand-forged knives made with Japanese steel at a third-generation family forge in Southern China, and the chance encounter turned into a business idea.
The forge owner and bladesmith had been hoping to break into the American market, and it turned out that Rosen would be a key player in that pursuit. "They didn't pick up any American clients besides this culinary kid who came up and said, 'I'd love to have a knife,' " Rosen says. He befriended forge owner Alex Zheng, and helped the family break into the American market by offering blade feedback from a culinary perspective. "Over the next few months, we designed the first chef's knife," Rosen says.
The culinary student returned to school in Providence and, several months later, got a call from his dorm's resident adviser that a package had arrived for him. It was the first knife he helped design, the eight-inch Gyuto. "I was so excited about it and took it to my pastry arts class," he says. "A bunch of my peers said, 'That's a really cool knife. Where did you get it?' "
The model became more refined over the next few months until the first full batch of chefs' knives were made and shipped. They now sell for $89.95 or more each. Rosen commissioned more of his design and Forge To Table became the brand name with Rosen at the helm as founder and CEO. The business kicked off even before he graduated from JWU in 2019. "I realized I had something that culinary students were going to want, and I saw that there was a piece of the market at this price range that was underserved," he says.
Rosen works directly with Zheng, whose third-generation family business was started by his grandfather nearly ninety years ago. "I am the architect and Alex is the engineer," Rosen says, explaining how he helps guide what makes a good knife for a chef or home cook. "With his product design background and my chef background, we're able to create knives that really serve a purpose."
The knives are all hand-forged using steel sourced from Takefu in Japan. "Every knife is going to be different; the weight, the shape, they're all going to be unique because they are not coming off a conveyor belt," Rosen says. Because they are handmade, Forge To Table offers a strong warranty policy, in case something's not exactly right.
The knife collection, which now includes several models from a cleaver and de-boning knife to vegetable and bread knives, is available for purchase on the website. They also sell protective leather sheaths called sayas, aprons and even chefs' Vans fit for long hours spent standing in kitchens. The knives are made in Southern China and shipped out of Rosen's headquarters in Southern California, where he lives now, but they are available for purchase at Rhode Island retailer Stock Culinary Goods, as well as Dole and Bailey and local farmers markets.
"Rhode Island is the only place where we still do markets," Rosen says. Jan Dane at Stock was also the first retailer to carry Rosen's knives while he was still attending culinary school. He showed up peddling the cutlery and Dane immediately agreed to offer them. "She gave us our shot," Rosen says. "It's because of her that we were able to do all this." forgetotable.com