Joe Wilson Jr.: The Leading Man
For the Rhode Island actor, educator and activist, all the world's a stage - one he's trying to mend and mold through the power of art.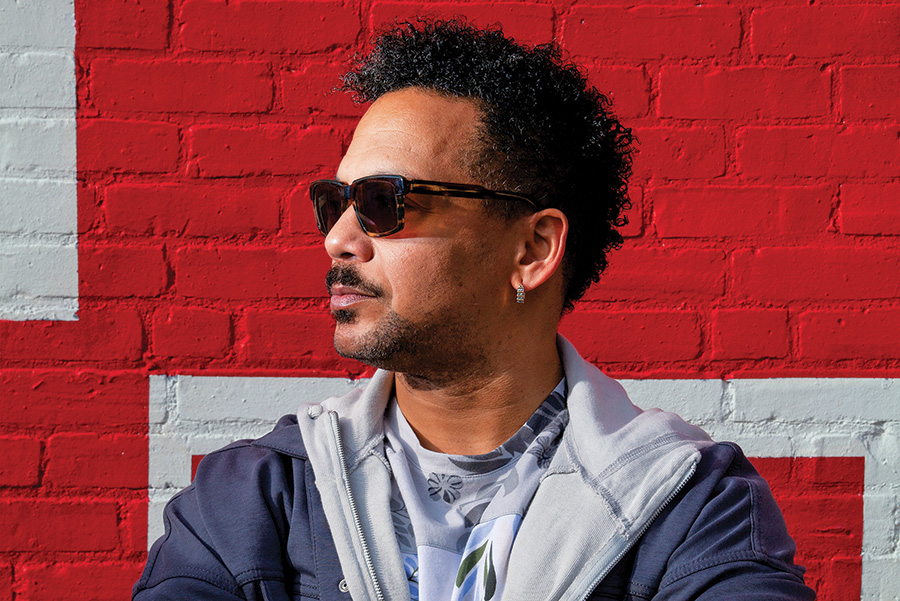 Let's start at the beginning. Where did you grow up?
I grew up in New Orleans, Louisiana. All of my family is mostly still there. My parents left after Katrina, and now they live in Houston along with one of my brothers.
I left in '89. After graduating from St. Augustine High School in New Orleans, I went to the University of Notre Dame. I majored in political science and government. And after that, I ended up going to graduate school and acting at the University of Minnesota at their theater training program. I stayed in Minneapolis and worked after graduate school until 2000, which is when I moved to New York. I took my first show two weeks after I moved there, and I lived in New York for five years before being asked to join the company at Trinity Repertory Company. I've been here since 2005.
So, political science — that could have been a very different life for you. Can you explain where that transition occurred and why?
I always dreamed of running for office. We've always had Black mayors in New Orleans. I always saw images of myself in positions of leadership and service. I was always a very good talker and quite dramatic. So law just seemed like it would be a great thing for me.
The change happened for me in my last year of college. Towards the end of my junior year, I was part of an affinity group of students of color at Notre Dame, along with other alumni. And because I was from New Orleans, we'd always get together and I'd make everybody a pot of red beans and rice or jambalaya. But those meetings, which started off as a social event, really became a place for us to debrief as people of color living in South Bend and being a part of the learning community. Notre Dame was still, at that time, a little bit of a hostile space for people of color. We ended up shutting down the Golden Dome for a day. I'm proud to say that ten years later, when my brother went to Notre Dame, many of the things we had on our list of demands my brother enjoys.
But that all said, after that movement I was so exhausted and so disillusioned and so tired of it all, I dropped out of my student government stuff because I'd already taken the LSATs and I'd gotten accepted to five law schools. I just wanted to bide my time in my senior year and not mess up my GPA. So I took an acting class and it changed my life. It introduced me to a whole new group of people, a whole new way of collaboration.
It also allowed me to tap into who I am. I was in the closet and, as a gay man, it gave me the opportunity to not only explore who I was and to be comfortable in my own skin, but in an environment that wasn't much different from what I desired when I wanted to be a lawyer and a politician. I was amid a community of people working together to be in service of a common goal. We saw each other in a way that was different from the way I had felt I was seen or the way that I was giving myself permission to see others in my community, and it radically changed my life.
Is that when you decided to study theater formally?
All the new friends I made, they were going off to audition for graduate programs in acting. I thought, you know, "I'll go and audition with you all just to see what could happen." I ended up getting accepted into triple the graduate programs in acting that I did law schools as a non-major. And so I took it as a sign. I called my parents when I said, "You know what? I don't think I'm going to go to law school. I'm going to go to acting school."
How did they take it?
They flipped. They were like, "You're destroying your life. What are you doing?" They had no capacity to understand what it would mean to make a life in the arts. It wasn't something that was a part of our family's tradition. When we had a little bit of spare money, we went bowling. We went out to a nice meal — a fried oyster po'boy. The arts were viewed as a luxury item.
As much as my parents were afraid, so was I. I didn't know what I was doing, but I knew why I was doing it because of the way it made me feel. It's been a journey. Back then for me, a career was, well, hopefully I'll be like Denzel. Or hopefully I'll win a Tony Award. And even that has changed for me over the course of my career as I began to understand the full capacity of my life and my obligation as an artist.
Did your parents come around?
I think that over the course of my career, especially the past seventeen years in this company, their idea about what it meant to be an artist in a community — or an artist period — expanded.
I watched my parents over the course of their lives also grow. I watched my father go from working at an aluminum can company and my mother working as a bank teller to my father working for Xerox, fixing coffee machines and then becoming a manager. I watched my mother begin a career at Shell Oil. I watched them go back to school to get their college degrees. I watched my dad then decide that he wanted to be a lawyer. My father graduated from law school the same time I graduated from Notre Dame.
Ultimately, my father was called to the ministry and became a United Methodist minister. I watched my mom go back to school. She rose in the ranks of Shell Oil, becoming one of the few women of color in a position of power within the financial sector of that business. So, as I tell my parents, I watched them grow up. I watched them evolve. I watched them change. I watched them continue to reinvent themselves for the sake of finding the space where they could live authentically in their own lives. And so I told them, "Me becoming an artist is your fault." (Laughs)
Tell us about your stint in New York.
Being a southern boy, we're often taught to be afraid of those big northern cities. So in an off-Broadway rock opera version of Romeo and Juliet in Minneapolis, I got cast as Mercutio. It was supposed to go to Broadway, but it didn't. But from that show, I met my agent in New York. That December, I got a call from his office saying, "There's a production of Jesus Christ Superstar on Broadway that's looking for chorus ensemble members."
So I flew into New York, had a great audition, but the auditioners said to me, "Joe, you're fantastic; we wish we had seen you earlier." And I'm like, damn it; I can't be late for another audition again, and I need to make the move to New York. I was in New York for two weeks and got a call back from Superstar saying that someone dropped out of the show. I booked the part. And I also booked a show called The Green Bird, which was Julie Taymor's next piece after the debut of The Lion King.
Why didn't you stay?
My career in New York was one of feast or famine. I'd work on Broadway, off-Broadway in the regions. I bartended at a gay restaurant in Chelsea. I worked again, bartended again. It began to be wearing on me. I was also there for 9/11 and that was tough.
But, lo and behold, I got a call to audition for a show at Trinity Rep called Ain't Misbehavin', directed by my friend Kent Gash, and I auditioned for it and I booked the show. And so I left New York to come and do it at Trinity. People still tell stories about that show, when I got lowered down from a rope, shirtless, sweaty, smoking a joint. (Laughs)
While I was here in rehearsal, Oskar Eustis, the artistic director at the time, talked to my agent and they said, "Would you be willing to audition for Top Dog?" And I got it. It's a play about two brothers and, because both of us were so close in age, we flip-flopped roles every other night. It was thrilling. It was also a co-production between the Alliance Theatre in Atlanta and New Rep in Boston, so on the final leg of this two-hander, living out of a suitcase, looking forward to going back to New York, I got a call from my agent saying, "Trinity wants to keep you." And I said okay.
Was it an easy decision for you?
Like most things in my life, I've not always had a clear picture of why I make the decisions that I make. I work through my gut. I think it's part of what makes me a good actor and a decent artist. And I just felt like this was another way for me to be embedded in a community. It was the best decision I've ever made in my life, coming here to Providence and being a part of this community.
What were your first impressions of the arts in Providence?
Seventeen years ago, what was happening here was exciting; it seemed it was a city that was uplifting culture and the arts — putting arts at the center of public policy. I think there's been even more of a fortification of the arts as a centerpiece of who we are as a city, who we are as a region.
The fact that people welcomed me in this community to come and help raise money for other nonprofits or to be involved with the Manton Avenue Project — they saw me as an asset because of my work with Trinity Rep.
I saw actors having the opportunity to play all kinds of parts, as well. I saw people being stretched. I saw producers and directors showing a different kind of a creativity and vision around how they saw bodies in space and in relationship to story. And I found that very appealing and liberating, that I was allowed to see myself in lots of different capacities.
This brings to mind, for me, the controversy surrounding Oklahoma. Some viewers found it gut-wrenching to see you in the role of Jud Fry. Can you take me back to that time for you?
I've talked about the opportunities that have been presented by the regional theater. That notwithstanding, the regional theater has an assortment of blind spots. The idea of colorblind casting is a fallacy; how you put bodies into space is important, and it has to be done so with intention. And I'll say this about Oklahoma: I always wanted to play Jud Fry because I've always been attracted to the outside character, the character who's on the fringes of society. I also know that I'm a baritone and there are not many great baritone roles written in the American musical theater. I also knew that we were adding in a song in that show, which for me, really gave you a sense of the humanity of that character.
And so I was excited about playing the part. The problem with that experience was we weren't as intentional as we could be about what it meant to have a Black man in that part, being sung to by a white Curly attempting to convince this Black man to hang himself — to self-lynch. There was a sense that the production wasn't very intentional about the power of that image. I think that folks found the image triggering. They found the image jarring, shocking.
I think there's a place for that in the theater. I don't think any of us go to the theater to feel safe. We go to the theater to be challenged. We go to the theater to step outside of who we are and who we think we are. But all that said, we have to be more intentional in how we tell stories in the American theater.