Inside the Whimsical World of E. Frances Paper
The local boutique paper company designs greeting cards that mix fine art painting with adorable characters.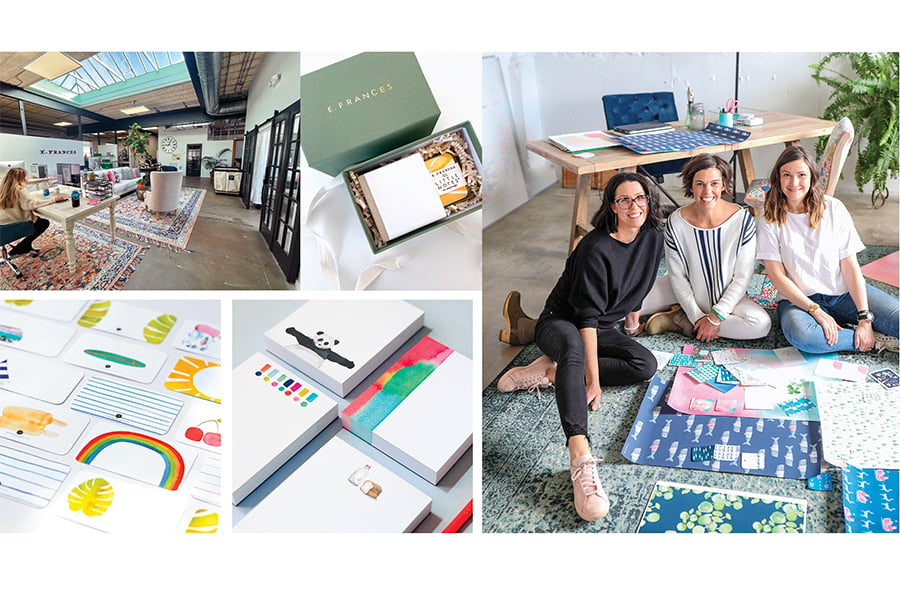 Inside a chicly renovated car garage with a twenty-foot skylight painted to match the color of the Newport bridge sits the Newport-based headquarters of E. Frances Paper. The business is spearheaded by three working moms who break up the work day with impromptu dance parties. They also might be found roller skating through the inventory aisles. Their greeting cards and paper goods are just as fun as they are.
Founded in 2013 by sisters Ali Flippin and Jenni Laundon, along with their cousin, Emily Roberts, E. Frances Paper is a line of greeting cards, notepads and assorted paper goods that use whimsical characters and splashy watercolors to spread positive messages with a clever voice. Their best-selling Little Notes come in a box of eighty-five and are meant to be used "unsparingly" for everything from lunch box notes to to-do lists. Cards for all occasions are illustrated with fun designs like coffee cups hugging, a polar bear doing ballet and even an elephant on roller skates. In a new line released for Mother's Day, one card is emblazoned with a "mommy clock" that is split in half by coffee time and wine time.
As the creative director, Flippin is inspired by her family, children's books, color palettes and fashion. Using watercolors to give the cards a unique look, she strives to express special sentiments and feelings using charming illustrations. After developing a love for art throughout her childhood, Flippin received a degree in fine art and fashion design from Massachusetts College of Art, where she also taught fashion illustration. When she began designing wedding invitations for family members, she was inspired to create greeting cards and make a career out of her longtime passion for design.
"We grew up with little pieces of paper taped everywhere with [Ali's] designs," says Laundon, director of sales at E. Frances. "This is all her talent and we just get to revel in her artwork."
Laundon lovingly describes her sister's illustrations as "prute," a mix between pretty and cute. While Flippin executes the design work, the creative process is shared by all three women. They often find inspiration for cards during their everyday conversations and collaborate to bring their ideas to life. Roberts likes to say that the company has three brains.
During the pandemic, E. Frances Paper released a "socially distant" line of postcards to be shared among faraway family and friends. Flippin, Laundon and Roberts say they hope to bring people together with messages that can be cherished and saved forever, unlike an email that gets deleted or a text that is never looked at again. Greeting card sales spiked during COVID and the women of E. Frances say they're happy to think about the joy that is spread when someone receives a beautifully made greeting card in the mail.
"We're on track for selling over a million cards a year. That's over a million recipients a year," says Roberts. "When you think about it like that, it's the best feeling ever." efrancespaper.com