Inside the Hyper-Political Process of Redistricting in RI
In the deep blue Ocean State, redrawing electoral district boundaries is akin to a blood sport.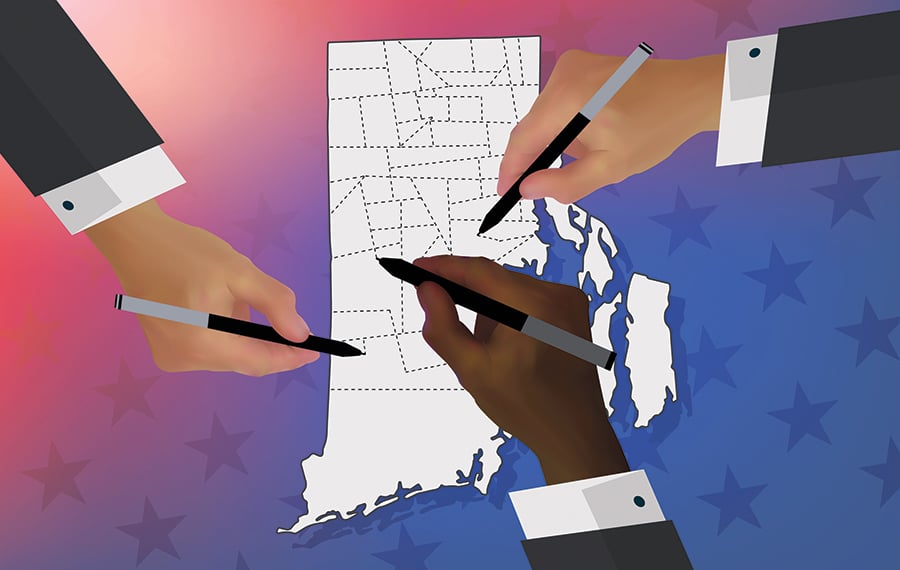 The late State Senate President Rocco Quattrocchi commanded "an army of legislative foot soldiers so loyal, they were dubbed 'Rocco's Robots.' " In 1982, he deployed seven of them to the state redistricting commission, a once-in-a-decade body that apportions the state and federal House and Senate seats according to the latest United States Census results. The 1980 count showed that Providence had lost 23,000 residents, meaning it would lose one of its Senate seats. Quattrocchi saw an opportunity to re-draw the battle lines — and take out an opponent on the East Side. The new map dispersed traditional Providence neighborhoods to other districts, and placed the only Republican, Senate Minority Leader Lila Sapinsley, in the same district as Senator Richard Licht, then a young Democratic insurgent.
Thus, the judiciary was enlisted. Licht challenged the new map in Superior Court, where a judge ruled the districts violated the state constitution and diluted the African American vote. A mad scramble ensued. That July, the Senate drew and enacted new maps in two weeks. But Governor Joseph Garrahy vetoed the plan as unusable in the short run-up to the November election. The General Assembly passed a bill establishing the old district lines. The GOP promptly sued in federal court requesting that the state be enjoined from holding an election using the 1974 districts, or according to any map that did not pass constitutional muster.
At trial, Licht and Sapinsley attested to the other's record as an irritant to the leadership. Licht called Sapinsley "an effective minority leader" and "a whistleblower." Sapinsley returned the compliment, characterizing Licht "an independent Democrat. Others call him a maverick. He does not follow the leader blindly."
That was enough for Senior United States District Judge Raymond J. Pettine. He declared the map a partisan gerrymander, finding that it violated the one-person, one-vote doctrine, and ordered a special election with new Providence districts. Licht handily won the Senate District 3 race. Republicans gained fourteen more seats, bringing their Senate representation to twenty-one. The Democrats booted Quattrocchi from the leadership.
According to Secrets and Scandals: Reforming Rhode Island, 1986–2006, by H. Philip West, the debacle cost the taxpayers $1.5 million, but Quattrocchi declared himself the aggrieved party: "I didn't rob a bank, I didn't kill anyone," he told the Providence Journal. "If I did, it would be justified. But I treated all those people fairly."
Rhode Island politicos love to tell this story. Of course, there's the charming alliteration, but also the satisfying plot twists at the end. These decennial sagas have enough ambition, revenge and rebellion for at least one season of "Game of Thrones."
"Redistricting is always a blood sport — more exciting than the Olympics, but you have to wait ten years for it," says Steven Brown, executive director of the Rhode Island American Civil Liberties Union (ACLU).
Once again, that time is upon us. In mid-August, one day before the Census released its most current population counts, General Assembly leaders announced the eighteen-member commission. Two-thirds are legislators and, of the six members of the public, two are former legislators. Stephen Ucci represented voters in Cranston and Johnston for sixteen years and co-chaired the last redistricting commission. Democrat Harold Metts served a combined thirty years in the House and Senate. Metts was also the lead plaintiff in a 2002 redistricting lawsuit that led to the creation of the Senate District 6, which he held until he was defeated in the 2020 primary by Tiara Mack.
"The General Assembly chose to run the same play that it's run for the last thirty years, which is to create a commission that they control completely — whether by putting members of the assembly or putting public members who are really partisans," says John Marion, executive director of Common Cause Rhode Island. "It's a remarkable thing; for six public seats, they managed to find two legislators who haven't been out of office for a year. The current maps reflect decades and decades of gerrymanders that were created to settle political scores in the state house."
Metts says he is no threat to any legislator; he's advocated for the Black community for thirty years in many capacities unrelated to politics.
"I respectfully disagree with their assessment. I want to make sure that we have some community representation on the issues important to us," he says. "They don't take you seriously unless you have a seat at the table."
Representative Brian Newberry, a Republican commission member who represents North Smithfield and part of Burrillville, says the "commission is mostly for information gathering and for show. It does not draw the districts; the districts are ultimately drawn by the consultant and whoever the leadership appoints to be the point person. You can't remove politics from political redistricting. It will always be political."
The word "gerrymander" was coined in 1812 at a Boston dinner party and given form in a Boston Gazette illustration, to describe the salamander-shaped district created by Massachusetts Governor Elbridge Gerry, who packed the Federalists in one political subdivision to benefit his party, the Democratic-Republicans.
By one measure, Rhode Island is considered one of the most gerrymandered states in the nation. The efficiency gap, a metric created by Harvard law professor Nicholas Stephanopoulos and Eric McGhee of the Public Policy Institute of California, applies a simple mathematical formula to the number of "wasted" votes by either party in a particular district map. A district packed with one party's voters will result in consistent, overwhelming electoral victories. The winning party "wastes" the excess votes beyond what is needed to win. In a district that's been cracked, the margins are not so lopsided, but the mappers have moved just enough of one party's voters out of a district to ensure consistent losses. The losing party "wastes" its votes because it never had a shot to begin with. Rhode Island's efficiency gap in state house elections, as the pair calculated in 2012, showed a robust and durable gerrymander favoring Democrats.
In some ways, gerrymandering has never been easier. Over the last fifty years, the two major parties have ideologically sorted themselves into liberal and conservative parties, and voters cast fewer split votes and switch parties less frequently. Computer technology and granular data make the path to packing or cracking a district clear.
Democratic leaders have promised that this time would be different.
"I can say that the process that we use is very transparent," says Democratic Party Chairman Joe McNamara. "I don't think it's going to be a difficult lift this time around. The [House] Speaker [Joseph Shekarchi] and the Senate President [Dominick Ruggerio] have stated that transparency and public participation will be priorities in the process."
This was met by a healthy dose of skepticism.
"There's quite a lot of people who are at risk, including Republicans, conservatives, even people often thought as leadership loyal," says Senator Sam Bell, a Providence legislator who's part of the progressive caucus. "But the progressives who have mounted the strongest challenges to leadership are far and away the most vulnerable to redistricting. The senate president told us he's not going to retaliate. I very much hope that will be the case. But I'm not sure I trust them."
Certainly, good government groups and those invested in preventing minority disenfranchisement vowed to parse every new line.
"The Latino population grew by 40 percent in the last ten years," says Dr. Pablo Rodriguez, a long-time political activist. "The Latinos in the urban core are now moving out into the suburbs. The borders of Providence, Woonsocket, Pawtucket and Central Falls are all changing and that could translate into more Latino representation."
The ACLU's Brown is focused on transparency.
"This time, the public will be able to work with redistricting software and offer specific recommendations," he says. "But, it's just as important for the commission to let the public know how they are making their decisions. I don't want to pre-judge, but I'm hoping they will take community input seriously."
Harvard's Stephanopoulos says the United States is currently in the midst of a "totally unprecedented movement" aimed at taking the reins from legislators. The models for independent redistricting commissions range from Iowa, which uses a bureaucratic office, to California, which selects districting commissioners via lottery.
"You'll never get politics out of redistricting if politicians, who are most affected by the process, remain in charge of the process. But if you have a non-partisan, independent body doing the line drawing, you can absolutely reduce, if not necessarily eliminate, the role of partisanship in the process," he says. "There are more than a dozen states and every other foreign country that uses single-member districts that have respected relatively non-partisan commissions, where virtually no one suspects of being covert or secret partisans, that manage to draw the lines without trying to help or hinder either party or any particular candidate."
Federally, the For the People Act includes a package of redistricting reforms that protect the political power of minorities and prohibit maps that give a party an undue statewide advantage under a statistical test.
In 2020, a bipartisan resolution, supported by Common Cause Rhode Island, the League of Women Voters and the National Association for the Advancement of Colored People (NAACP), would have given Rhode Island voters a chance to amend the state constitution to create an independent redistricting commission of fifteen members appointed through an open application process administered by the secretary of state. Elected and appointed federal, state, municipal or party officials or employees, political consultants or lobbyists, or their family members would be specifically prohibited. The commission would be required to draw districts under various criteria including partisan fairness, community boundaries and ethnic enclaves. The commission would be banned from considering the location of any incumbent's or candidate's residence.
"I'm always concerned about elected officials picking their voters, as opposed to voters picking their elected officials," says Jim Vincent, president of the NAACP RI. "I felt an independent commission of non-legislators would have been ideal."
The bill was buried in the "held for further study" graveyard.
When Quattrocchi monkeyed with district lines, he didn't rob a bank — but he stole voters' rights to representation and killed their best chance for policies that met their needs. That wasn't fair
at all.
Ellen Liberman is an award-winning journalist who has commented on politics and reported on government affairs for more than two decades.