Inside a Reimagined, Born-From-the-Ashes Family Home in Stonington
A creative couple harnesses innovative technology to reimagine their nest after fire destroys the family home.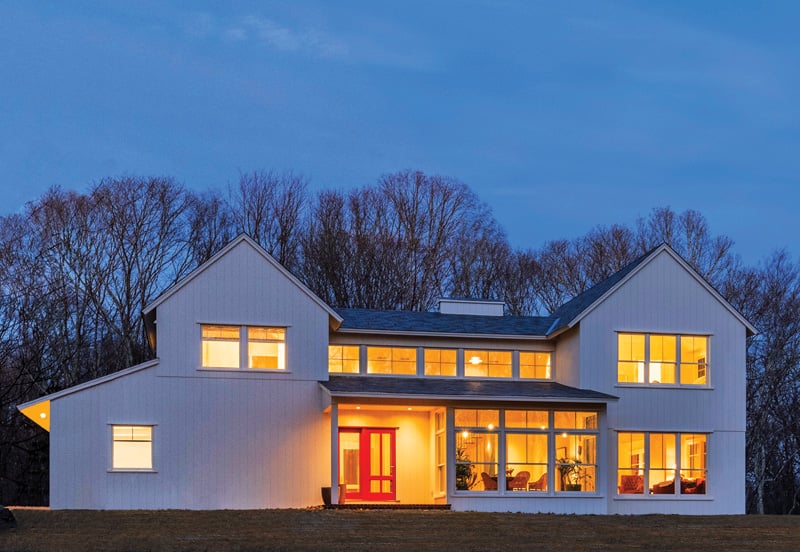 Up from the Ashes
When a roof fire damaged the shingle-style home of architect Michael McKinley and his wife and designer, Kathy Calnen, they were ready to reimagine their space. They wanted something sustainable that more closely reflected the style of the nearby farms in Stonington, Conn. Also on their must-have list: geothermal heating and cooling, solar panels and other features incorporating recycled, maintenance-free and fireproof materials.
"As far back as ten years before, we'd used geothermal in other projects," says McKinley, principal of Michael McKinley and Associates. "I'd be envious of clients' homes with radiant flooring, for example, but ours wasn't suitable for retro fitting," he says. "The fire forced us into the position of our clients who were doing their forever house. Now here we were in the same position. We hadn't planned it, but we became like our clients," he adds. "The bright side of losing a house is you get to do a new one. That's not always the case."
It's All in the Details
The efficient 3,200-square-foot-house has four bedrooms, three full bathrooms (including the master suite's spa-worthy steam shower) and a sunny conservatory that also acts as dining room, library and screened-in porch. The overall concept nods to the couple's love of classic, timeless themes and all things Italian and Spanish. There wasn't any aspect on which they disagreed, McKinley says.
"We've always liked the same kinds of materials. We honeymooned in Italy and brought things from our past into our house. There's nothing trendy." The cohesive design extends to the kitchen, which Calnen calls a real machine. She's an avid cook and baker, and building from scratch was her opportunity to create a smart, functional layout. Case in point: drawers for the silverware and dishes are at hand when emptying the dishwasher. Also: the high gloss, black pearl granite cooktop, which is almost indestructible, she says. "It's a workhorse."
Keep it Simple
Geothermal systems, which harness the consistent temperature below ground to heat and cool a house, eliminate fossil fuel, and depending on the time of year, may generate electricity back to the grid. Installation is more expensive than the conventional approach (homeadvisor.com estimates about $10,000 locally) but costs can be returned in energy savings in as little as five to ten years. Maintenance is pretty straightforward, McKinley says, but you need to know what you're getting into. "There's always a risk in working with innovative technology," McKinley says. "We had problems related to an undersized pump but now it's replaced, we don't even know it's there." The couple's previous, oil-heated house was more highly detailed in trims and moldings; its reincarnation is simpler but puts an emphasis on systems. And on a chilly late winter morning, an energy-efficient home with radiant heating in the floors is very appealing, they agree. "It envelopes you in warmth."