How to Perfect The Open Concept Kitchen
A corner kitchen in a Narragansett home gets a facelift worthy of its water views.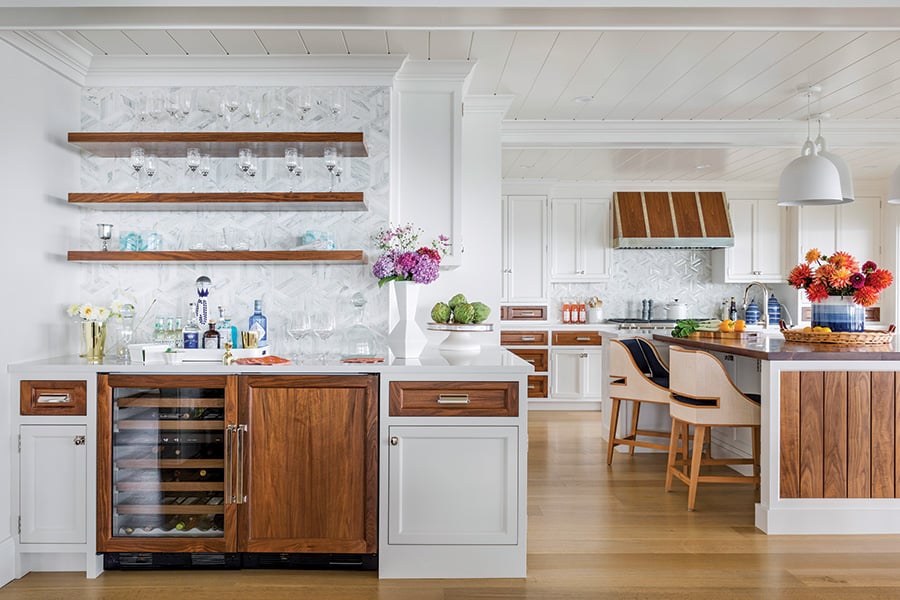 This oceanfront abode is decidedly contemporary. The exterior holds that line — three levels of floor-to-ceiling windows, decks and patios, all looming large over a small lawn and a sandy Bonnet Shores beach — but, for a long time, the interior told another story. Instead of the kitchen serving as the soul of the home, it was tucked in a corner behind a bulky wall and a two-tier peninsula, each bit of it shrouded in shades of brown: honey maple cabinets, beige tile floor, granite countertops with amber and chestnut veins.
The homeowners, who bought it in 2019, hoped to air out the kitchen into an open floor plan that shares space, and sight lines, with the dining room.
"They requested to have water views from both the kitchen and the island," says Jocelyn Chiappone of Digs Design Company. They also hoped to shake off the dark datedness, but without swinging to the opposite end of the color pendulum. "Now, kitchens are so open into the living areas that to have a really large, all-white kitchen tends to feel a little sterile and a little stark."
In a power move only Chiappone, who's known for her tailor-made kitchens, could pull off, the finished look layers the two extremes — dark walnut atop bright white cabinets and quartz, tied together with polished nickel — for a wholly modern design that's functional and striking.
"We also added a bar section, which wasn't even on the wish list for the client," says Chiappone. "We did the panel-ready wine fridge with the walnut; that was a first for us, which was fun."
Grounding and warm, the walnut lends a nautical appeal to the space without veering into cliche.
"We paired it with a lot of navy blue, including the chairs in the dining area, which are stain-resistant," she says. The palette continues through to a cozy living space in the enclosed porch, which, like a yacht on the Atlantic, cuts a sharp angle straight over the ocean.
"The views are magnificent," says Chiappone, whether the homeowner is lounging or chopping vegetables. "The most important element about this project was having it be a really wonderful use of the space." digsdesignco.com
Inside the Reno
Year built: 1991
Project timeline: About a year
Team: Digs Design Company; Frank Karpowicz Architects
Biggest tip: "Hire a professional. It's just too easy and costly to make mistakes, so it's well worth working with someone who has been doing it for years and years."