How to Create the Perfect Coastal Facade
Dated and dark no more, this chalet delivers Nantucket summer cottage vibes to South County.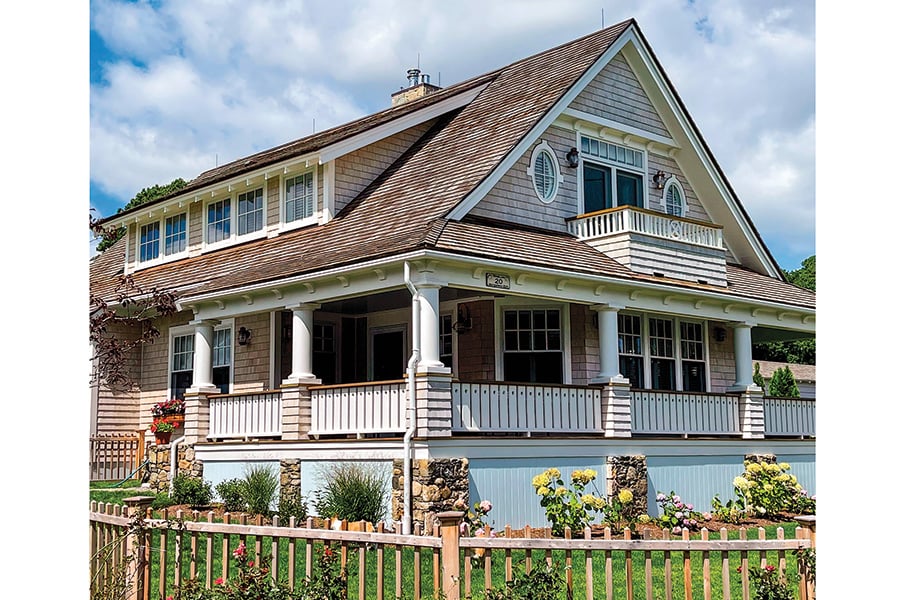 Don't let the façade fool you: This quaint shingled chalet, near the yacht club in Saunderstown, is much larger than it looks. Ron DiMauro, of his namesake DiMauro Architects, designed it that way.
The homeowners, a professional couple with children, "wanted a place to relax the soul," DiMauro says, "to comfort them and to lessen their stress, and they wanted that feeling
as soon as they drove up."
And, wholly judging a book by its cover, DiMauro intuited that the exterior renovations would alter the mood inside the house, too. The old porch obstructed first-floor water views, so DiMauro redesigned it from scratch, simultaneously expanding it while creating an illusion of smallness with shed dormers and heavy brackets resembling exposed roof rafters.
"This perception lowers the massing and makes the home look more welcoming," reveals DiMauro, in spite of its nearly 2,400 square feet. Spindly columns were replaced with sturdier versions that were shingled at the base.
"We also beefed up the fieldstone bases under the columns for a better proportion and we closed off the underside of the porch — it was an open lattice — with one-by-six vertical wood boards," he adds, painted in a foamy green in homage to the sea. The house, once clapboard yellow, was given the coastal treatment with white cedar shingles pre-dipped in a warm gray to look like they were weathered from the sun. The roof is red cedar shingle.
On the second level, a roof overhang was removed, instantly brightening the second-floor master bedroom. There, DiMauro swapped a dated half-round window and casements in favor of a sun deck bookended by porthole-style windows — oval instead of the traditional round, which DiMauro attests are more elegant.
The result? A cottage aesthetic that's definitive of New England's waterside communities, from Martha's Vineyard and Nantucket to, today, the pebbly shores of Narragansett Bay. dimauroarchitects.com
Inside the Reno
Year built: 1930
Project timelins: Three months for design and construction drawings; ten months to renovate.
Team: DiMauro Architects; Pastore Builders
Biggest surprise: "Their covered porch. The beam was so low that you could not see the water from inside the house when you stood up — you had to duck — so we removed the entire covered porch and built a new one."