Global Conscience
Barrington mom Navyn Salem's factory makes a peanut paste that's proven to save the lives of children around the world. Can she make malnutrition a thing of the past?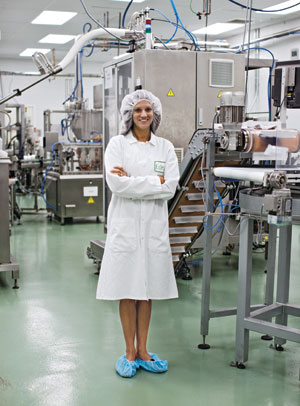 Navyn Salem was roasting marshmallows around a bonfire in Nantucket with her husband and four daughters one evening last July, but her mind was half a world away. It was the peak of the famine last summer in the Horn of Africa, where ten million people faced the worst drought in sixty years. Stories of refugees streaming into camps in Kenya and Ethiopia filled the news networks and requests from aid organizations were pouring into Salem's nonprofit, Edesia Global Nutrition Solutions, which is based in Providence's North End.
She runs the only factory in the United States that makes Plumpy'nut, a fortified peanut paste that has been lauded for its unprecedented success in saving the lives of starving children around the globe.
Those children are never far from Salem's mind. As always, she kept her Blackberry close during her vacation, checking her emails early in the morning for requests to provide Plumpy'nut for an urgent airlift to Nairobi, for example. "I'm never really on vacation, I'm just in other places sometimes," Salem says.
After returning from the beach, the family would turn on the television to around-the-clock stories on hundreds of thousands of Somali refugees and watch footage of boxes of Plumpy'nut getting unloaded from planes to help them.
Salem, whose ancestors come from the East African nation of Tanzania, couldn't forget the stories she'd seen about African mothers trying to carry their children sixty miles without food or water to reach a refugee camp in Kenya. Many times, those mothers had to decide between which children they could carry. "Imagine leaving one behind," Salem says. "Those are the choices that mothers there have to make."
In some ways, the Barrington mother feels as if she lives in two worlds. She finds it hard when her daughters want to eat every forty-five minutes. And when she tries to get her children to eat dinner by reminding them of starving children in Africa, unlike most mothers, it's something she's witnessed firsthand.
"It's very important for her to be with her family and spend that quality time," longtime friend Annie Abbruzzese says. "But being challenged at a time of crisis when there are people who could really use lifesaving food, she doesn't want to turn her eyes away from that.
To read more of this story please visit your nearest newsstand or click the link below.