Five Real Life Haunted Places
You could visit a staged haunted house, or you could track down spirits or watch movies inspired by local spots that are downright disturbed.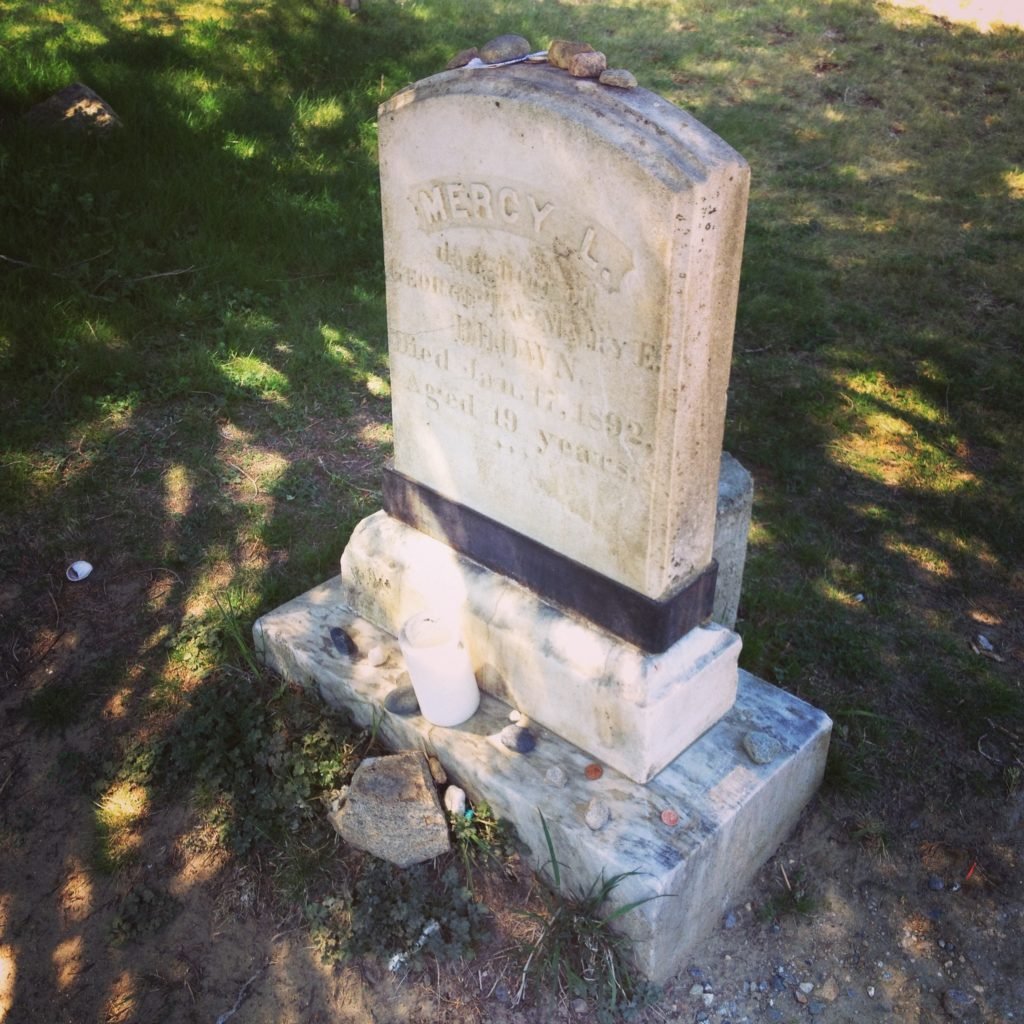 1. Chestnut Hill Cemetery, grave of Mercy Brown
This is perhaps the best known haunted place in Rhode Island. Mercy Brown's grave is nestled in the Chestnut Hill Baptist Church Cemetery, flowers and trinkets adorning her well-worn tombstone. When Mercy Brown died in 1892 from tuberculosis, it was nothing abnormal. But as more and more people began to die from the dreaded disease, suspicion arose that supernatural powers were to blame. Mercy's mother and sister were dug up for inspection and after seeing sufficient decomposition to the bodies, were deemed safely dead. But Mercy, whose body was being stored in an above ground vault due to the frozen ground, seemed almost alive with blood still red in her heart and liver. Precautions were taken and Mercy Brown's heart was cut out and burned, ending her supposed vampire activity. Take a trip to the graveyard for a chance encounter.
Chestnut Hill Cemetery, 467 Ten Rod Rd., Exeter
2. The Ladd School, Exeter
Founded in 1908 by a eugenics doctor, the school was created in an attempt to cleanse society of its "undesirable" inhabitants, including "the simple minded," criminals and the "sexually immoral." Like other similar institutions of the time, it was full of cruelties. Whether it was brutal forced sterilizations or the 1955 murder of a severely disabled child, this school was definitely not fun and games. Read more about the Ladd School.
This stuff is way too freaky to be real, right? Relive the real-life horror of the Harrisville house by watching the acclaimed movie, The Conjuring. It's the 1970s, and a normal family moves into an unassuming home in the boonies. Only, this was the former property of a deceased Satanist named Bathsheba who killed her own daughter to appease the Devil. The house was put on the market late last month and is pending sale, so click here see for yourself what all the fright is about.
4. The Graduate/Providence Biltmore Hotel
The Graduate may seem like a lovely place to stay, but with Stephen King and Robert Bloch (Bates Motel) drawing inspiration from its hellish tales, there's much more than meets the eye. Back in the day, the hotel was built with the backing of a Satanist who performed various rituals in its halls and was the scene of murders galore during Prohibition — think moonshine-induced brawls. Once known as the Biltmore, it now goes by the Graduate. Think it's still haunted? Check in if you dare.
The Graduate, 11 Dorrance St., Providence, 401-421-0700, providencebiltmore.com
5. Lizzie Borden House Bed and Breakfast
"Lizzie Borden took an ax and gave her mother forty whacks. When she saw what she had done, she gave her father forty-one." So goes the catchy rhyme that is a brief slice of the complicated and horrifying story of Lizzie Borden. Lizzie was acquitted, but locals still wonder: Did Lizzie kill her stepmother and father with an ax on that fated day in 1892? Intrepid guests can stay the night to figure it out for themselves.
Lizzie Borden House Bed and Breakfast, 230 2nd St., Fall River, Mass., 508-675-7333, lizzie-borden.com