Feast and Fettle: Rhode Island's Local Gourmet Meal Delivery Service
It's like having a personal chef without the hassle of someone cooking in your kitchen.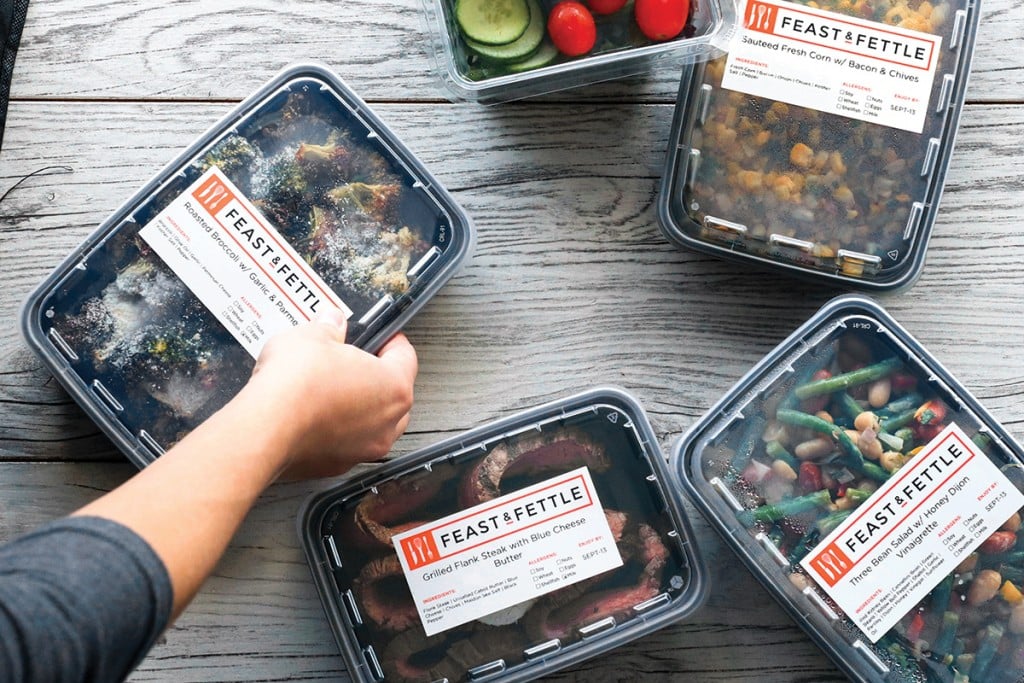 ork all day, gather the family, start prepping dinner, eat, wash dishes and get the kids ready for bed. Repeat. For working parents, serving healthy, home-cooked meals on a nightly basis does not leave much time for other evening activities. Feast and Fettle meal delivery service is like having a personal chef without someone cooking in your kitchen. Founder and chef Maggie Mulvena Pearson graduated from Johnson and Wales University in 2013, and started working as a nanny and personal chef for a few years in the Providence area. Then, she launched a full-fledged meal delivery service in 2016 that could help a variety of professionals, couples and families.
"In my opinion, it's outdated to have a personal chef because it can be intrusive. You have to clean your kitchen, you have to pick up the food and the chef is in your home. It's a little more time-consuming from the client perspective because you have to have a lot of things in order," says Mulvena Pearson. "This business is more what people want because it's convenient, and we offer that personal chef experience. Plus, we can make accommodations."
Feast and Fettle meals can be catered to vegetarians, vegans and gluten-free folks as well, and the nutritional information and ingredients for each dish are listed on the website so you know if your choice contains wheat, nuts, egg, soy, dairy or shellfish. Members simply go on the website to place orders for the weekly subscription service, but the plans offer no commitment and members can use the service as frequently or infrequently as they want. There are single, couples and family plans to choose from, and prices vary; it's about $99 a week for two entrees with four sides for couples, and $159 for a family plan that feeds four with two entrees and four sides. With Feast and Fettle, you don't have to do the grocery shopping or the prep work; just reheat and enjoy.
"Most of our members are double-professionals, and it allows them to have more time with their families and experience that home-cooked meal," Mulvena Pearson says.
When the business launched in 2016, the meals were prepared at Hope and Main in Warren with a three-person staff and one delivery van. The service has expanded from its humble beginnings into its own commercial kitchen and office space in East Providence, now with more than twenty employees and six vans. According to Mulvena Pearson, Feast and Fettle has more than doubled its revenue each year, and the business now delivers all over Rhode Island and the surrounding areas in Massachusetts. The company's most recent expansion was into the Boston metro west area, including Wellesley, Newton and Brookline. With the success of the company's expansion, Mulvena Pearson continues to look to the future.
"We want to be able to operate this kitchen so efficiently that we can just take the kitchen model and put it outside of Boston," she says. "Then we would just replicate the kitchens around New England."
Feast and Fettle meals are prepared one day before delivery for maximum freshness, and they don't deliver further than two hours' drive from where meals are made. Delivery is free and takes place on Mondays and Wednesdays. This model makes mealtime easy, while reducing the carbon footprint for the whole family. And, Mulvena Pearson adds, Feast and Fettle's local delivery route reduces the need for extra packaging. All plastic used by the company is recyclable and cooler bags and ice packs — which keep food fresh for up to four hours — are reusable, too.
"We package everything family-style so it encourages people to eat on plates," she says. "I really want people to be sitting down at a table eating a meal. Whether they made it or not, it's homemade, so they can experience that in these unique times. People can't do everything nowadays."
Feast and Fettle, 881 Waterman Ave., East Providence, feastandfettle.com.