Entertaining with Claudine
Claudine Pepin and Rollie Wesen throw a backyard dinner party — one for the books — at their home in Barrington.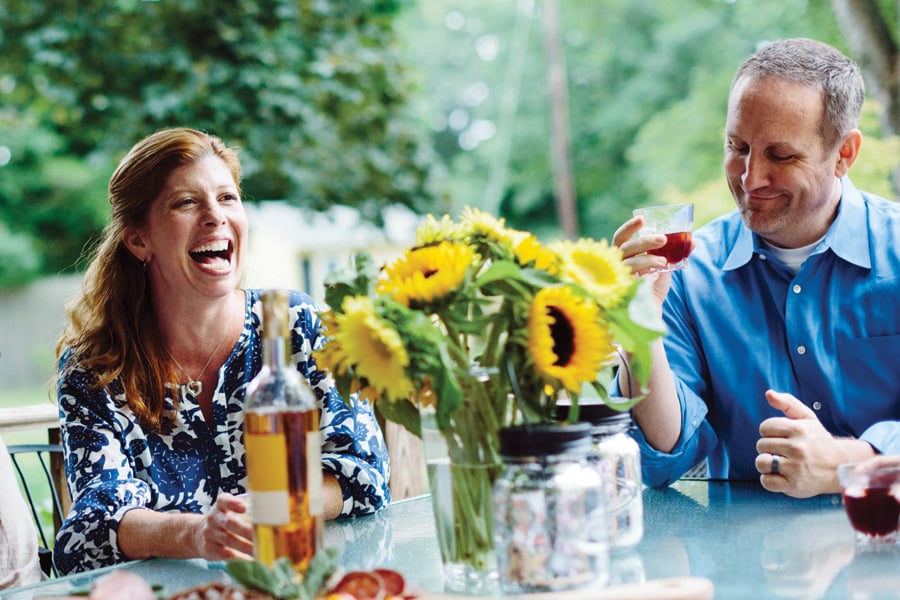 "Dad, are we having caviar?" asks ten-year-old Shorey Wesen, daughter of Claudine Pepin and Rollie Wesen and granddaughter of the legendary French chef Jacques Pepin. Shorey's barefoot and swinging from a rope tied to a tree in the backyard of the family's modest Colonial home in Barrington, where they've lived for three years. The house is painted yellow but in need of a fresh coat. Wesen and Pepin are entertaining a small group of friends and their daughters, and the adults are arranging tables and chairs on the back deck under a canopy of twinkling lights and tangled wisteria, providing coverage on this misty summer evening.
Wesen recalls one time at the Aspen Food and Wine Festival when Shorey — hoisted on his shoulders — pulled on his hair and said, "Daddy, I see caviar. Take me to the caviar!" Once they approached the table, she scooped spoonfuls of it, much to the distributor's delight.
Clockwise from top left: Charcuterie plate of cured meats. Charlotte Reimer signs the dinner party menu book while Mathilde looks on. Homemade infused vodkas include black cherry, tangerine and watermelon. Pepin prefers her wine on ice. Pepin and Wesen share a kiss as they cook for friends.
The delicacy isn't on the table tonight, but there will be charcuterie, cauliflower vichyssoise, marinated lamb, squash ragout, flatbread with tzatziki, blueberry pie and a spread of the finest cheeses. Pepin and Wesen throw dinner parties often and for holidays, Jacques Pepin will often help cook Christmas or Thanksgiving dinners at their home. When it comes to summer parties, the menu reflects what's growing in their garden: half a dozen tomato varieties, squash, string beans, fresh herbs and more. This year's harvest came late, so they relied on Four Town Farm in Seekonk.
Shorey is known to munch on raw green beans straight from the backyard and she eats everything the couple eats. She celebrated her third grade graduation with dinner at Persimmon in Bristol where she enjoyed quail eggs with caviar. She also loves Brussels sprouts, broccoli and steak, but hates sweet potatoes. "I don't think there's such a thing as kid food. Maybe it's less spicy, obviously a smaller portion, but kids eat regular food," Pepin says. "You can't expect kids to eat regular food if you've been feeding them processed stuff their entire life."
Shorey inherited her love of fine cuisine from her parents. "I had caviar in my playpen," Pepin says. As a young woman studying at Boston University, Pepin went on to film three James Beard Award-winning television series with her father, Jacques Pepin, including "Cooking with Claudine," the premise of which was to teach her how to cook, "Encore with Claudine" and "Jacques Pepin Celebrates." She and Shorey also made appearances together on "Essential Pepin."
It comes as no surprise that Pepin married a chef in 2003. Rollie Wesen was working at Jacques Brasserie in New York City, and Pepin was there for a dinner as a brand ambassador for Moët and Chandon and Dom Perignon. After the meal, she toasted Wesen. Meanwhile, Wesen thought he was cooking for Jacques Pepin's mother, but it turned out to be his sassy auburn-haired daughter. She was the one who planned their first date: dinner at Le Bernardin, which is where they later celebrated their ten-year wedding anniversary.
The couple moved to Barrington to be closer to Pepin's mother and father, who live in Connecticut, and because Wesen was hired as a culinary instructor at Johnson and Wales University where he teaches several courses, including "Conscious Cuisine" and "Classic French Cuisine." They call it a lovely community where everyone knows each other; the school district doesn't hurt, either. Wesen is at JWU most nights, but when he is home for dinner, he's the cook in the house. "I would say 80 percent of the time, I do 80 percent of the cooking," Wesen says. "And I do 60 percent of the dishes," says Pepin. Their kitchen boasts a wall of pans Wesen gathered in his travels and many that have been given to Pepin by her parents, mounted on a piece of repurposed wood from a barn that mimics a wall ten times its size in her parents' home. They have butcher-block counter tops from IKEA and an electric stove. A six-burner gas stove waits in their garage to be installed. "We will be going to gas," Pepin says with a laugh, "which is the last bastion of what we need to do to this house."
"Our grill works better than our stove," says Wesen. He's talking about the giant KitchenAid grill with a built-in rotisserie and side burners out back, which is what they're using to cook mostly everything tonight.
Clockwise from top left: The cheese plate is from Persimmon Provisions. Pepin and Wesen's pan collection. An illustrated menu is a tradition in the Pepin/Wesen household. This page includes the dishes for the "Rain or Shine" dinner party. Friends of the family raise a toast on the back deck. Shorey Wesen and Grace Booth swing in the backyard. The blueberry pie is made with berries from Four Town Farm in Seekonk.
Wesen and Pepin have made some friends in the neighborhood who appreciate good food just as much as they do. Party guests include Liz and Steve Booth of Barrington and their two daughters, Grace, fourteen, and Annie, twelve. The Booths raise backyard chickens, own a collection of food-related photography that once graced the walls of Farmstead restaurant and Steve has an assortment of 280 kitchen knives displayed on a wall like priceless paintings. He does all the cooking in the household, and his hobby is mixing up tinctures like the black cherry-infused vodka that's being served at cocktail hour this evening. Liz made a meatloaf, once. "But it was a very good meatloaf," Steve says.
Champe Speidel, James Beard Award semifinalist for Best Chef: Northeast, and wife, Lisa — the owners of Persimmon restaurant in Bristol — arrive with magnums of rosé and pinot blanc and a cheese plate of Berkshire blue, seven-year cheddar and raw sheep's milk from their shop, Persimmon Provisions, in Barrington. "We had been in Barrington for all of about five minutes and we found Persimmon Provisions," Wesen says. Also present are friends from Denver, Servane Reimer and her two daughters, Charlotte, eleven, and Mathilde, thirteen, who stopped by for their third annual visit after a five-week trip to France. Servane's husband, Bob, couldn't come this time because of work, but he did make the rustic cutting board on which the cheese is being served. The families met while Wesen and Pepin lived in Denver, where their girls studied at the same French immersion school.
Before dinner is served, Pepin yells out to Shorey, something in French. "She only listens when you yell at her in French," says Steve Booth. Pepin says she told her to put her shoes on because she hates when Shorey climbs into her bed with dirty feet. The five girls put sandals back on, go inside to wash their hands, then sit down to eat at the kids' table, where they enjoy the same dishes the adults are eating. At the big kids' table, the conversation involves — what else? — food and wine. Surprisingly, Wesen and Pepin rarely drink pricey wine. And they prefer it on ice. "We don't drink very expensive wine at home unless it's a special occasion, because we drink wine every single day," Pepin says. "And if I feel like putting ice in my red wine, I will do it. My father does it, and when he does it, everyone is like, 'Oh my goodness!' "
The courses are served family-style with guests helping themselves, and there's no fussing over formalities. Pepin offers a toast thanking everyone for sharing the evening, then guests sign the family's menu book. It's a tradition in her household passed down from her parents; before every dinner party, they create an illustrated menu in a book that lists the courses, the cocktails and the wines enjoyed. Sometimes Pepin illustrates a theme, sometimes it's her father's artistic talent that graces the pages and sometimes it's up to the kids to dream up a design. For tonight's dinner, titled "Rain or Shine," she drew seashells as a border around the handwritten menu. Flipping through pages, the couple has documented every dinner party they've thrown since they've been together.
"My father has done it ever since I can remember. We must have eight or ten books at home," Pepin says. "And people do crazy things. They'll say 'I love this wine,' so they'll dip their finger in the wine and put it on the page. Why not? Or sauce gets on it or whatever. It's food."
Tzatziki
Courtesy of Rollie Wesen and Claudine Pepin
Time: 20 minutes
Serves 6
2 English (traditional) cucumbers
2 Tbs kosher salt
1 tsp lemon zest
2 tsp lemon juice
2 cloves garlic, minced
1 cup Greek yogurt
3 Tbs minced fresh mint
1 tsp kosher salt
½ tsp freshly ground white pepper
One day ahead if possible, peel and dice the cucumbers to ¼-inch thickness. Toss with kosher salt and let rest for 30 minutes in a strainer. Rinse well and refrigerate overnight. (This process removes excess water that will otherwise make your finished condiment runny.)
Pour off any excess water from cucumbers. Combine with lemon zest, lemon juice, garlic, yogurt and mint. Mix well.
Season with salt and pepper.
Serving Suggestion: Serve with spicy grilled lamb or fish.
Cherry Flower Cocktail
Courtesy of Rollie Wesen and Steve Booth
2 oz black cherry-infused vodka*
½ oz St. Germain liqueur
2 oz tonic
2 wedges of lime
For the cocktail, divide ingredients into two glasses with ice and stir. Garnish with lime.
*Make the black cherry-infused vodka by adding a pound of pitted and de-stemmed cherries to a re-sealable glass container filled with vodka, and refrigerate for two weeks. Strain before serving.
Gilligan's Island Cocktail
Courtesy of Rollie Wesen and Steve Booth
1 ½ oz local rum (Thomas Tew from Newport or Berkshire Mountain Distillers Ragged Mountain Rum)
½ oz Domaine de Canton ginger liqueur
2 oz San Pellegrino Limonata soda
1 dash of Fee Brothers West Indian Orange or Grapefruit Bitters
1 wedge of lime
Add ingredients to a glass with ice and stir. Garnish with lime.
Chilled Cauliflower, Potato and Leek Soup
Courtesy of Rollie Wesen and Claudine Pepin
Time: 1 ½ hours
Serves 12
1 large head of cauliflower
1 Tbs olive oil
3 Tbs unsalted butter
1 medium onion, peeled and sliced
1 leek white, sliced and washed thoroughly
1 celery stalk, minced
2 garlic cloves, peeled and smashed
2 Tbs kosher salt
8–10 cups water or chicken stock
2 large russet potatoes, peeled and sliced ½-inch thick
1 bouquet garni* (bay leaf, fresh thyme, black peppercorns)
1 tsp freshly ground white pepper
1 cup whole milk or light cream
½ bunch chives, minced
Preheat the oven to 375 degrees.
Prepare the cauliflower: discard the green leaves, reserve 20 ½-inch florets for garnish and slice all the remaining white parts to a ½-inch thick.
Toss the cauliflower florets in olive oil with salt and pepper and roast in the pre-heated oven for 8 to 10 minutes until golden brown and tender. Reserve for garnish.
In a large pot (10 qt.) on medium-high heat, melt the butter, then add the onion, leeks, celery, garlic and 2 Tbs salt. Sweat until translucent without caramelization or browning.
Add 6 cups of water or stock, the sliced potatoes, the rest of the cauliflower and the bouquet garni and stir well. All the vegetables should be just covered with liquid. Bring to a light boil, then simmer gently until the potatoes begin to fall apart, approximately 30 minutes.
When the potatoes and cauliflower are soft, remove the bouquet garni and puree the soup in blender, food processor or with immersion blender. Pass through large-holed sieve. The soup should be very thick.
Return to the stove and add additional stock or water until desired consistency is achieved. Season with salt and white pepper. Simmer on low stirring regularly for 10 minutes.
To finish, stir in milk or cream.
Chill quickly in a wide flat dish in the refrigerator or in a metal bowl set in ice water.
*A bouquet garni is a small sack of herbs and spices made with cheesecloth that seasons during the cooking and is removed before serving.
Serving Suggestion: Garnish the soup with the roasted florets and minced chives.
Grilled Flatbread
Courtesy of Rollie Wesen and Claudine Pepin
Time: 1 ½ hours
Serves 6
½ tsp dry granulated yeast
½ cup warm water
1 ½ cup (8 oz) all-purpose flour
½ cup (3 oz) whole-wheat flour
½ tsp salt
1 Tbs lemon thyme, picked and minced
2 Tbs fresh sage, minced
2 Tbs olive oil, divided
Coarse salt
Stir yeast into warm water and allow to bloom for 15 minutes.
Combine flours and salt in medium mixing bowl. Stir in yeast, water and chopped herbs. Knead together until elastic ball has formed.
Smear bowl with 1 tsp of olive oil. Add dough back, cover with damp towel and allow to rise about 1 hour.
Preheat grill to high.
Divide dough into 4 to 6 pieces and roll on floured board until ½-inch thick.
Lightly oil grill and lay on flatbread. Allow firm crust to form, then turn bread. Move away from flare-ups.
Remove finished bread to platter. Paint lightly with olive oil and sprinkle with coarse salt.
Summer Squash Ragout
Courtesy of Rollie Wesen and Claudine Pepin
Time: 1 hour
Serves 8
1 large onion, ½-inch dice
4 Tbs unsalted butter
6 garlic cloves, smashed and coarsely chopped
2 yellow squash, ½-inch dice
2 pattypan squash, ½-inch dice
2 zucchini (1 ½-inch diameter), ½-inch dice
2 tsp kosher salt
½ tsp freshly ground white pepper
2 medium tomatoes, ½-inch dice (or 2 cups cherry tomatoes, halved)
½ cup fresh basil, minced
In a large saute pan over medium heat, sweat onions in butter. After 2 minutes of cooking, add the garlic.
Cook for 2 minutes more or until onions begin to turn translucent.
Add all the diced squash, salt and pepper, and cover. Every few minutes, remove cover and stir gently. Squash should be steaming in its own juice. When squash begins to soften at the edges, remove cover, turn heat to medium high and allow the liquid to evaporate.
When nearly dry, add diced tomatoes and basil.
Cook additional 3 to 5 minutes until tomatoes begin to soften, but not completely falling apart.
Add additional salt and pepper, butter or a dash of olive oil as desired.
Blueberry Pie
Courtesy of Rollie Wesen and Claudine Pepin
Time: 2 hours
Serves 8
2 ½ cups (12 oz) all-purpose flour
½ tsp salt
2 tsp sugar
6 Tbs (3 oz) butter
6 Tbs (3 oz) vegetable shortening
¼–½ cup ice water
3 pints blueberries
½ cup sugar
½ cup brown sugar
1 Tbs vanilla
2 tsp lemon juice
1 ½ Tbs cornstarch
2 Tbs corn syrup (or 1 lightly beaten egg)
Preheat oven to 350 degrees.
Mix together the flour, salt and sugar in a medium mixing bowl.
Lightly soften the butter 10 seconds in the microwave. Rub butter and shortening into the flour mixture until coarse pea-sized granules are formed.
Mix in half the water and incorporate by hand. Continue adding water a tablespoon at a time until the dough just comes together and pulls away from the sides.
Knead the dough gently for a minute or two. You should still see patches of yellow butter in the dough.
Set aside for 20 minutes.
Spread the blueberries on a cookie sheet and sort for under-ripe, wilted or old berries. Remove any stems.
Place berries in a medium mixing bowl. Add sugar and brown sugar. Crush berries lightly by hand to release some of the juices.
Add vanilla and lemon juice. Mix.
Flour a clean surface and roll out half the dough to ¼-inch thickness. Lay into a glass pie plate, relaxing the dough to cover the bottom and the sides.
Stir the cornstarch into the berries and fill the pie.
Roll out the remaining dough to ¼-inch thickness. To create the lattice crust, cut dough into strips with ravioli cutter or knife.
Lay a short strip of dough at one edge of the glass pie plate. Place a second strip at a right angle. Working from the corner, lay successive strips of dough in alternating directions. To create a woven look, peel back every other crossing strip as you lay new strips. Handle the dough gently to prevent breaking it.
Place pie on a sheet tray and into the preheated oven. Bake for 30 minutes.
After 30 minutes, remove the pie and paint lightly with corn syrup or egg wash.
Adjust oven temperature to 300 degrees. Return pie to oven for additional 20 to 30 minutes or until crust on the bottom is golden brown.
Serving Suggestion: Serve with vanilla ice cream, Greek yogurt or creme fraiche