Enjoy Artistan Chocolates From Aura's Chocolate Bar
Venezuelan native Aura Fajardo Quintero collaborates with Rhode Island food and drink producers at her shop in Cranston.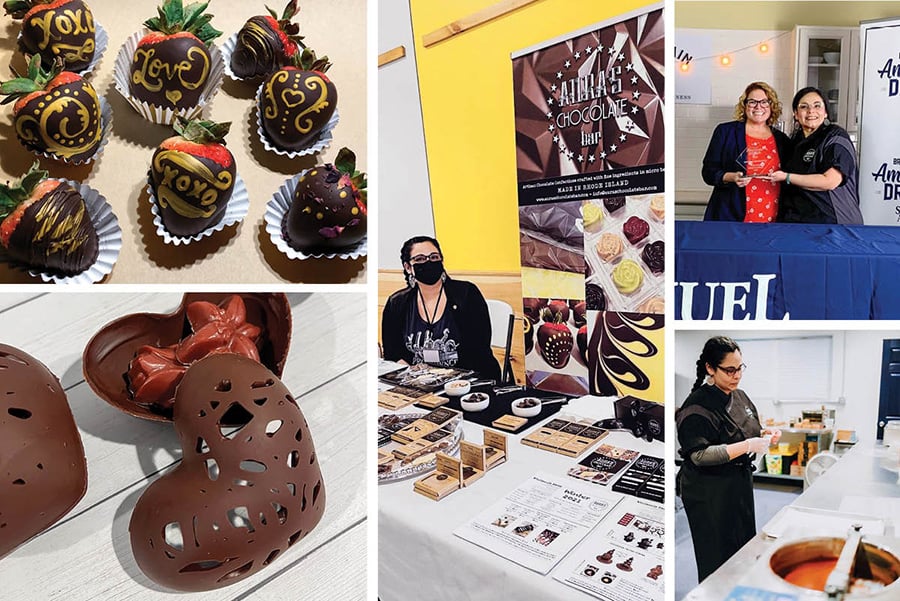 Aura Fajardo Quintero is the cacao queen, creating an artisan chocolate business from the beans up. At first, she thought she might want to be a pastry chef but was wooed into chocolatiering during her studies. A former graphic designer, the Venezuelan native graduated with a degree in pastry arts from Johnson and Wales University. She gained more chocolate-making experience through an internship and various jobs and now runs her own business, Aura's Chocolate Bar, in Cranston.
"I ended up falling in love with chocolate," she says. "It was totally unexpected."
She's a master of creating all kinds of Valentine's Day chocolate treats, which have included the likes of "Surprise" chocolate hearts that crack open to reveal a red molded chocolate rose inside, as well as hot chocolate bombs and artisan chocolate bars embedded with edible rose petals and with unusual flavors of dragonfruit with pomegranate, matcha, chili lime and more. Her Sommelier Series collaborates with local winemakers and spirits companies including Anchor and Hope for the Rose Raspberry and Sons of Liberty for the Battle Cry Whiskey-infused cacao nibs chocolate bars. Fajardo Quintero also sources from local businesses like Newport Sea Salt, Leafy Green Tea, Ocean State Pepper Company, Borealis coffee and more for her flavor combinations.
Last year, Fajardo Quintero won Rhode Island's first Sam Adams Brewing the American Dream pitch competition at Hope and Main in Warren and earned $8,000 toward the purchase of new equipment to expand her business. But she'll never forget her humble beginnings.
"Coming to culinary school was completely out of my comfort zone. I remember my first lab in French pastry, saying, 'What did I get myself into?' I didn't even know how to use a scale," she says. "This is how far away I was from this industry."
But she took classes in cake artistry and chocolate-making and mastered those skills. She completed an internship at Hebert Candies in Shrewsbury, Massachusetts, then got a job at a wholesale bakery in Massachusetts. "I knew I wanted to have my own company. But I also knew that I had to work in the industry for a while," Fajardo Quintero says. "I made thousands of chocolates. I messed up a lot. I am so glad I had the opportunity to mess up and learn."
After gaining experience, she established her own artisan chocolate business through Hope and Main in Warren in 2017. "I applied to work at other chocolate companies, but I never received any replies," she says. "I said if I don't find a place to work, I'll create it. That's what happened. I created a perfect environment where my skills are used."
Fajardo Quintero says Hope and Main gave her the guidance she needed for her startup, plus she met other like-minded small business owners who supported her through the evolution of her own. "You meet so many people doing the same things you are doing. You cry with other entrepreneurs. You complain about the supply chain. You talk about where to get the packaging. They help you through everything," she says. "Hope and Main was an excellent first step."
And it also allowed her to combine forces with other food and drink producers like Leafy Green Tea for the matcha flavor and Town Farm Tonics, which makes elderberry syrup. "Let's mix it!" she says. "And it's beautiful. With high-quality chocolate, it's very hard to go wrong. It just takes a little trial and error. It's what keeps me going." Visit her shop in Cranston of find Aura's Chocolates at various locations across Rhode Island. 250 East St., Cranston, 312-3381, auraschocolatebar.com